"Whither thou goest, I can Not go; where thou lodgest, I do Not lodge; thy people are Not my people; Nor thy God my God!"
Fred Barnard
1878
13.8 x 10.8 cm
Dickens's Christmas Books, The Chimes, "Third Quarter."
Barnard's third illustration for The Chimes: "Whither thou goest, I can Not go; where thou lodgest, I do Not lodge; thy people are Not my people; Nor thy God my God!" (p. 65)
Barnard's illustration of Will Fern compared to those by Richard Doyle and Clarkson Stanfield in the 1844 Bradbury & Evans edition
Illustration for Dickens's The Chimes in Christmas Books (Household Edition, 1878). For Will Fern at the Bowleys' New Year's banquet, the class system of both England and Italy has inverted the biblical promise of "The Book of Ruth" in that he feels wealth and power have perverted their reception of the Christian message, something he makes clear when he states: "Whither thou goest, I can Not go; where thou lodgest, I do Not lodge; thy people are Not my people; Nor thy God my God!" (64). In other words, Will is the spectre of the poor and starving begging to be admitted to the table of Life's feast in Malthus's Essay on the Principle of Population (first edition, 1798; second edition, 1803), and terrifying the complacent, upper-class dinner-guests like the popinjay courtiers in Edgar Allen Poe's "The Masque of the Red Death," first published in May 1842 in Graham's Magazine. Barnard's Fern is more than a "ragged visitor"; rather, the emaciated figure, "miserably dressed," shocks the assembled company as if he were a corpse but lately come out of his grave.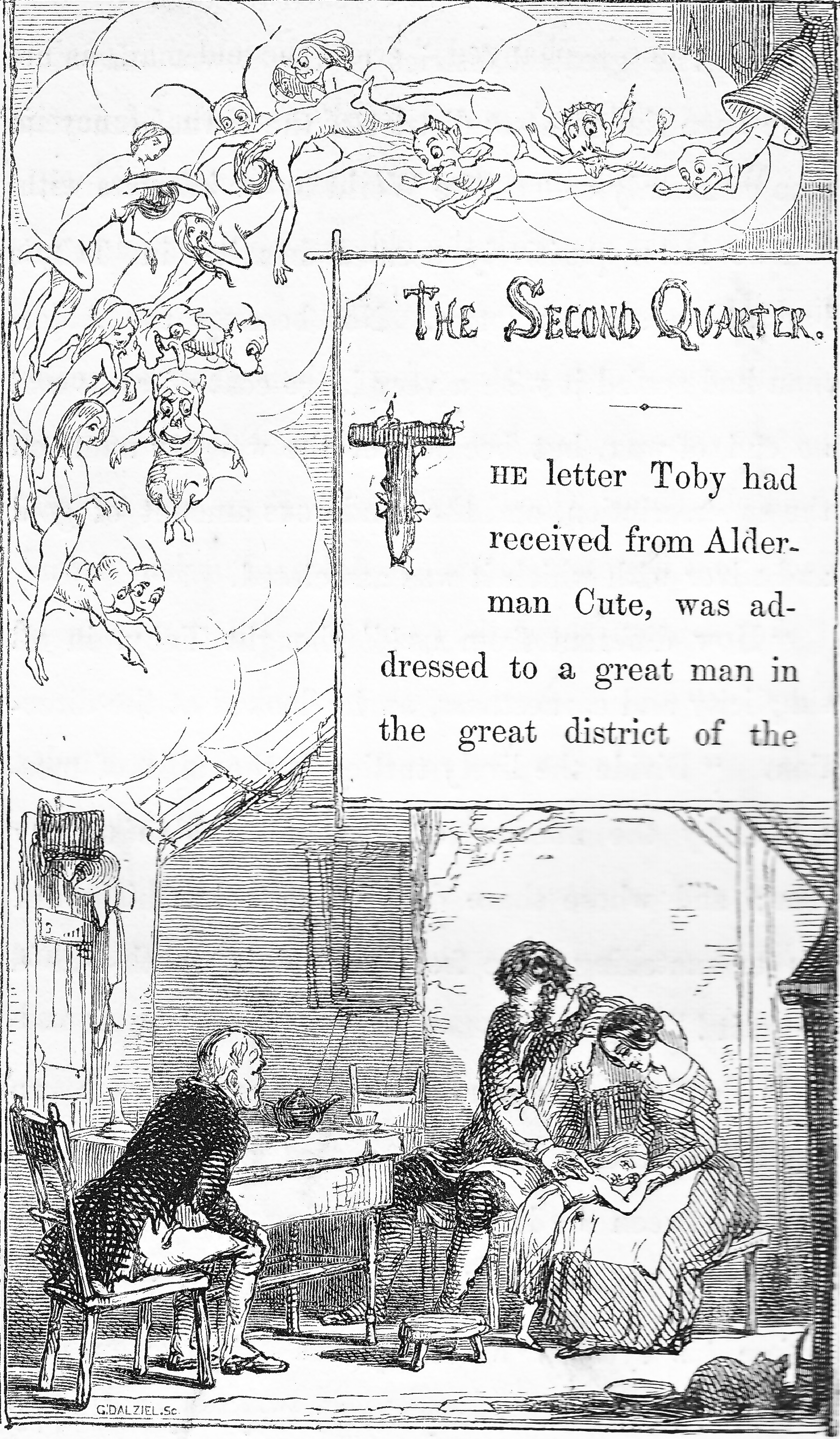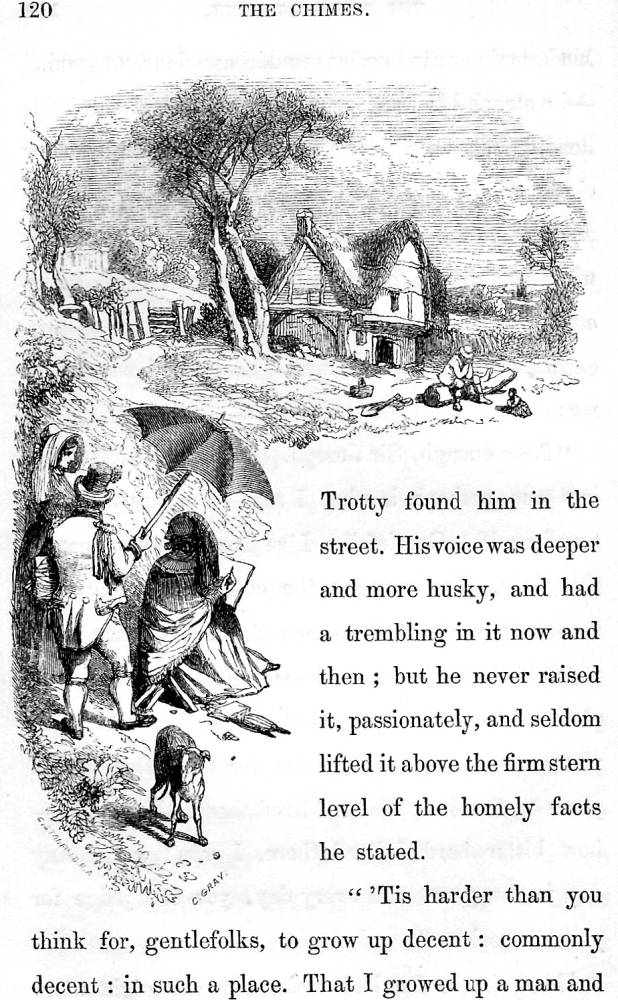 Two illustrations of Will Fern from the 1844 edition: Left: Doyle's "Trotty at Home." Right: Stanfield's "Will Fern's Cottage."
Between the first presentation of the People's Charter in 1839 and the final March on Parliament in 1848 lie numerous literary works responding to the privations of The Hungry Forties and implying the need for political redress, although not explicitly supporting the chief aims of the Chartists, namely extension of the franchise, annual parliamentary elections by ballot, and equalisation of parliamentary ridings. Aside from Elizabeth Barrett's "Cry of the Children" (1842) and Thomas Hood's "The Song of the Shirt" (1843), poems designed to elicit support for the out-of-work and socially disadvantaged, were novels such as Mrs. Trollope's Michael Armstrong: The Factory Boy (1842) and Elizabeth Gaskell's Mary Barton (1848), and the famous non-fiction account of the lives of the working poor, Friedrich Engels' Condition of the Working Class in England (1845), underscoring Edwin Chadwick's analysis of the substandard health conditions and housing of the poor, Report on the Sanitary Condition of the Labouring Population of Great Britain (1842). These works of various genres more than A Christmas Carol per se are the literary and social context of The Chimes, which, like Benjamin Disraeli's political novels Coningsby (1844) and Sybil (1845), examines through fictional characters and situations drawn from contemporary realities the pressing "Condition of England" question. This, then, is the context of radical rick-burner Will Fern's denunciation of the aloof and unconcerned governing classes in Barnard's illustration.
Acting under Dickens's instructions through his London business agent, John Forster, the original illustrators seem to have downplayed the radical and incendiary aspects of Fern's character, focusing instead upon his role as Lilian's guardian and protector in Richard Doyle's depiction of Trotty and Margaret entertaining rural labourer Will Fern and his niece, Lilian, "Trotty at Home", and Fern's rustic habitation in Clarkson Stanfield's "Will Fern's Cottage". The small scale vignette of Will Fern in Trotty's hovel shows a man of middle age with ragged hair, a mariner's beard, and a linen smock-frock of the type work by agricultural labourers in the counties. The Stanfield woodcut focuses on the picturesque thatched-roofed cottage, rather than on the solitary figure sitting on a tree-trunk in front, observed by an approaching party of aristocrats (lower left). Perhaps having done some research into the newspapers of the period, and in a manner consistent with his socialistic bent, Fred Barnard, in contrast, identifies the Will Fern of Trotty's dream-vision as an agricultural Radical, the Annual Register having reported some 102 cases of rick-burning in 1843. One may easily relate the concerns of the Liberal press about the deplorable economic plight of such farm labourers as Fern, reflected, too, in Thomas Hood's "The Lay of the Labourer" in Hood's Magazine for November, 1844. Originally, Dickens gave Fern's county as Hertfordshire, but altered it in proof to Dorsetshire, "doubtless because of the particular notoriety of Dorset at this time as a county where the peasantry existed in the utmost squalor and poverty" (Slater, 266). The particular passage that Barnard has realised, if the viewer takes his cue from Barnard's extensive caption, is this:
"Do I say this to serve MY cause!" cried Fern. "Who can give me back my liberty, who can give me back my good name, who can give me back my innocent niece? Not all the Lords and Ladies in wide England. But, gentlemen, gentlemen, dealing with other men like me, begin at the right end. Give us, in mercy, better homes when we're a-lying in our cradles; give us better food when we're aworking for our lives; give us kinder laws to bring us back when were a-going wrong; and don't set jail, jail, jail, afore us, everywhere we turn. There an't a condescension you can show the Labourer then, that he won't take, as ready and as grateful as a man can be; for, he has a patient, peaceful, willing heart. But you must put his rightful spirit in him first; for, whether he's a wreck and ruin such as me, or is like one of them that stand here now, his spirit is divided from you at this time. Bring it back, gentlefolks, bring it back! Bring it back, afore the day comes when even his Bible changes in his altered mind, and the words seem to him to read, as they have sometimes read in my own eyes in jail: "Whither thou goest, I can Not go; where thou lodgest, I do Not lodge; thy people are Not my people; Nor thy God my God!" ["Third Quarter"; Household Edition, p. 64]
While the fashionably dressed aristocrats seated at Sir Joseph's banquet table are shocked as much by Fern's gaunt, ragged appearance as by his message of class warfare, shadowy figures behind Fern, "the people . . . in their rustic dresses," watch in wonder at his temerity as he disrupts Lady Bowley's birthday celebrations. Sir Joseph has toasted (as many landowners were wont to do in those days before the repeal of the Corn Laws) "the Dignity of Labour" (63), and now Fern as the zeitgeist of the Hungry Forties gives Sir Joseph his lie. One upper-class lady with ornate hairdo and bare-shouldered evening dress, has to resort to smelling salts (lower left) as her male companion lifts his monocle to inspect the scarecrow who has upset the feast. Barnard places his protagonist off centre, in the zone between the darkness of the people (upper right) and the brilliantly lit areas occupied by Sir Joseph's guests, and contrasts Fern's shining forehead, indicative of intelligence and indignation, with the dark shadows behind him, suggestive of his life's miseries and perhaps the bleak future that awaits a society that can stand idly by without correcting the circumstances that lead to such suffering.
References
Cohen, Jane Rabb. Charles Dickens and His Original Illustrators. Columbus: Ohio State U. P., 1980.
Cook, James. Bibliography of the Writings of Dickens. London: Frank Kerslake, 1879. As given in the Publishers' Circular The English Catalogue of Books.
Dickens, Charles. Christmas Books. Il. Fred Barnard. The Household Edition. London: Chapman and Hall, 1878.
Dickens, Charles. The Chimes: A Goblin Story of Some Bells That Rang an Old Year out and a New Year in. Il. John Leech, Richard Doyle, Daniel Maclise, and Clarkson Stanfield. Charles Dickens: The Christmas Books. Harmondsworth, Middlesex: Penguin, 1971. Rpt., 1978. Vol. 1: 137-266.
Hammerton, J. A. The Dickens Picture-Book. London: Educational Book, 1912.
Kitton, Frederic G. Dickens and His Illustrators. 1899. Rpt. Honolulu: U. Press of the Pacific, 2004.
Parker, David. :Christmas Books and Stories, 1844 to 1854." Christmas and Charles Dickens. New York: AMS Press, 2005. Pp. 221-282.
Patten, Robert L. Charles Dickens and His Publishers. University of California at Santa Cruz.: The Dickens Project, 1991. Rpt. from Oxford U. p., 1978.
Slater, Michael. "Notes to The Chimes." Dickens's Christmas Books. Harmondsworth, Middlesex: Penguin, 1971. Rpt., 1978. Vol. 1: 261-266.
Solberg, Sarah A. "'Text Dropped into the Woodcuts': Dickens' Christmas Books." Dickens Studies Annual 8 (1980): 103-118.
Thomas, Deborah A. Dickens and The Short Story. Philadelphia: U. Pennsylvania Press, 1982.
Welsh, Alexander. "Time and the City in The Chimes." Dickensian 73, 1 (January 1977): 8-17.
---

Victorian
Web

Illus-
tration

Fred
Barnard

Christmas
Carol

Next
Last modified 1 June 2012