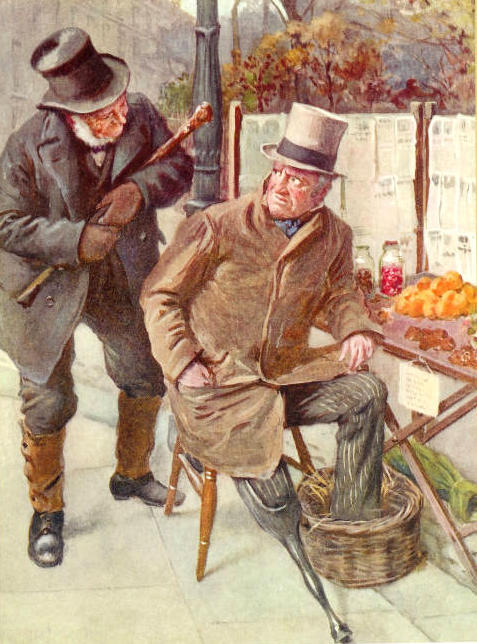 Mr. Boffin and Silas Wegg
Harold Copping
1924
Colour lithography
17.9 cm. by 12.5 cm.
From Character Sketches from Dickens, facing p. 116 (illustrating Our Mutual Friend)
Scanned image, caption, and commentary below by Philip V. Allingham
[You may use this image without prior permission for any scholarly or educational purpose as long as you (1) credit the person who scanned the image and (2) link your document to this URL in a web document or cite the Victorian Web in a print one. ]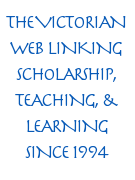 Bernard W. Matz's Original Commentary to Accompany the Plate
Our Mutual Friend, the last completed book that Dickens wrote, has a more intricate plot than the majority of those which preceded it. Although involved, it is well knit and has three distinct themes, the chief one being concerned with a young man supposed to be dead, and being dead to all intents and purposes external to himself, eludes and deceives all those around him. The second is that of the pursuit of a young woman by a man her social superior, and the third of two society adventurers.
The book has more exciting reading than most of Dickens's books, the characters are as finely drawn, and the humour equal to any.
The scene Mr. Copping has chosen for his purpose, that where Mr. Boffin engages the services of Silas Wegg, is a typical example of Dickens's whimsicality and his power of humorous description. [114]
Philip V. Allingham's Commentary
Perhaps because The Mystery of Edwin Drood remained incomplete at Dickens's death, Copping elected not to illustrate it. The novel also contains unsavoury subject matter (drug addiction and the murder of a family member) and a character singularly unsuitable for family reading — the opium purveyor dubbed "Princess Puffer." Of course, the fourteenth novel is nearly as unsavoury as the fifteenth, with its dominant images of a polluted Thames from which the water men Gaffer Hexam and Rogue Riderhood fish decomposed corpses, and piles of garbage from which the Golden Dustman, Noddy Boffin, fishes discarded treasures. Neatly avoiding the more unpleasant aspects of Our Mutual Friend, Copping's "dual character study" exemplifies the novel's comedy. The scene occurs in the second instalment (June 1864), when the illiterate but literature-craving Noddy Boffin, having inherited his old master's estate upon the reported death of his son, John Harmon, decides to hire the seedy Cavendish Square ballad-seller Silas Wegg to become his reader:
"Here you are again,"repeated Mr. Wegg, musing.
"Morning, sir! Morning! Morning!"
"Do you remember me, then?" asked his new acquaintance, stopping in his amble, one-sided, before the stall, and speaking in a pouncing way, though with great good-humour.
"I have noticed you go past our house, sir, several times in the course of the last week or so."
"Our house," repeated the other. "Meaning —?"
"Yes," said Mr. Wegg, nodding, as the other pointed the clumsy forefinger of his right glove at the corner house.
"Did you ever hear of the name of Boffin."
"My name's Boffin. What's your name?"
Silas Wegg. — I don't," said Mr. Wegg, bestirring himself to take the same precaution as before, " I don't know why Silas, and I don't know why Wegg."
"Now, Wegg," said Mr. Boffin, hugging his stick closer, "I want to make a sort of offer to you." [chapter 5]
Copping has taken particular pains to realize the crotchety "literary man" with the wooden leg. However, in terms of the physical descriptions of the characters in Dickens's text, Copping had far less upon which to base the picture's focal figure, Silas Wegg; however, he was able to draw upon the original (albeit rather uninteresting) images of the character by Marcus Stone and endorsed by Dickens. Weggs's wares and his wooden leg appear in the letterpress, as do the pea coat, large walking stick, thick shoes, gaiters, and gloves, of Nicodemus Boffin. Copping contrasts by their facial expressions Wegg's suspicious, easily angered temperament with Boffin's open, generous, genial nature. The illustrator has taken pains to include all physical elements of the background, down to the sign that Dickens offsets from the letterpress by enclosing it in a box; the "little placard" is exactly where the reader expects to find it, "on the front of [Wegg's] sale-board" or counter displaying "the few small lots of fruit and sweets that he offer[s] for sale" (ch. 5, instalment 2 [June 1864]).
The salient detail to which Copping had to pay special attention was Wegg's peg-leg, the disposition of which the novelist had left to the discretion of his original illustrator, Marcus Stone (Cohen 205). Unfortunately, perhaps because the lithograph is a negative image, Copping has made Wegg's peg-leg his right, whereas in such Stone woodcuts as "The Evil Genius of the House of Boffin" (Vol. 2, plate 5) and "Mr. Wegg Prepares a Grindstone for Mr. Boffin's Nose" (Vol. 2, plate 9) the peg-leg is clearly Wegg's left. Dickens himself had highlighted a succeeding scene between Boffin and Wegg, that in which the semi-literate vendor reads Gibbon with little comprehension to the Golden Dustman, when he was discussing with Marcus Stone the composition of the wrapper. Stone, glorying in his first full commission for his father's old friend, forty illustrations to complement the nineteen monthly parts, used the rediscovered medium of the woodcut in place of Phiz's familiar, and now rather dated-looking steel engravings. Although Stone's style here is markedly more realistic and generally less whimsical than Phiz's, his depictions of Boffin and Wegg were sufficiently animated to serve as models for Copping in 1924.
Note: Illustrations by Marcus Stone
The University of California Dickens Project includes Marcus Stone's illustrations for Our Mutual Friend.
Bibliography
Cohen, Jane Rabb. "Marcus Stone." Charles Dickens and His Original Illustrators. Columbus, Ohio State U. P., 1980. Pp. 203-209.
Matz, B. W., and Kate Perugini; illustrated by Harold Copping. Character Sketches from Dickens. London: Raphael Tuck, 1924. Copy in the Paterson Library, Lakehead University.
---

Victorian
Web

Illus-
tration

Harold
Copping

Next

Charles
Dickens
Last modified 6 March 2009