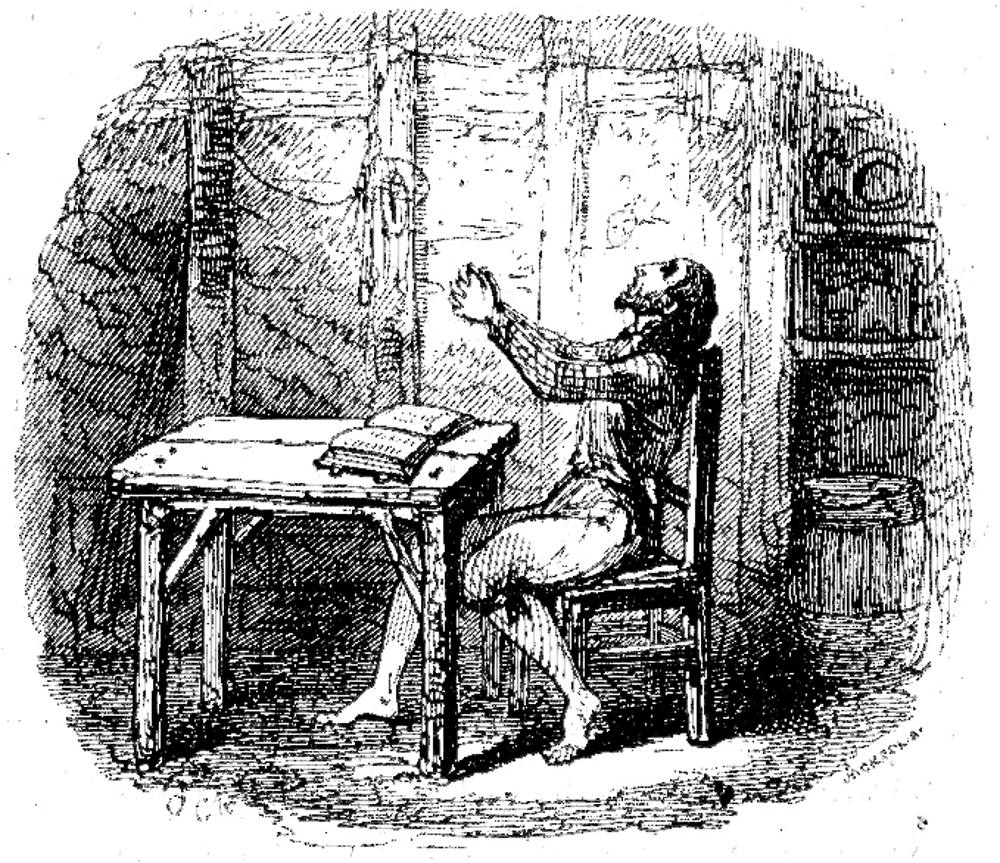 "Jesus, thou son of David! Jesus, thou exalted Prince and Saviour! give me repentance!" by George Cruikshank as the realisation in vignette of one of the more religious moments in John Major's edition of The Life and Surprising Adventures of Robinson Crusoe (1831). The half-page vignette contains a distinctly Cruikshankian touch: as Crusoe looks heavenward, his hands clasped in prayer, a spotlight seems to play upon the wall behind him — in this case, the theatrical chiaroscuro implies the narrator's heightened sense of spirituality. Vignette: 4.8 cm high by 5.5 cm wide, p. 91. [Click on the image to enlarge it.]
Scanned image and text by Philip V. Allingham. [You may use this image without prior permission for any scholarly or educational purpose as long as you (1) credit the person who scanned the image and (2) link your document to this URL in a web document or cite the Victorian Web in a print one.]
The Passage Illustrated: The Chastened Prodigal Son
July 4.​— In the morning I took the Bible; and beginning at the New Testament, I began seriously to read it, and imposed upon myself to read a while every morning and every night; not tying myself to the number of chapters, but long as my thoughts should engage me. It was not long after I set seriously to this work till I found my heart more deeply and sincerely affected with the wickedness of my past life. The impression of my dream revived; and the words, "All these things have not brought thee to repentance," ran seriously through my thoughts. I was earnestly begging of God to give me repentance, when it happened providentially, the very day, that, reading the Scripture, I came to these words: "He is exalted a Prince and a Saviour, to give repentance and to give remission." I threw down the book; and with my heart as well as my hands lifted up to heaven, in a kind of ecstasy of joy, I cried out aloud, "Jesus, thou son of David! Jesus, thou exalted Prince and Saviour! give me repentance!" This was the first time I could say, in the true sense of the words, that I prayed in all my life; for now I prayed with a sense of my condition, and a true Scripture view of hope, founded on the encouragement of the Word of God; and from this time, I may say, I began to hope that God would hear me. [Chapter VI, "Ill and Conscience-Stricken," pp. 90-91]
Commentary
Convinced that God is punishing him for failing to honour the will of his parents, Crusoe interprets his many vicissitudes as a test of his worthiness to be forgiven. He has looked heavenward from the open Bible as he prays aloud, implying his personal piety and Puritan upbringing, for he never questions the existence or mercy of God. Cruikshank's handling seems a little melodramatic, as if he is recording the scene from a stage adaptation, with Crusoe gesturing heavenward in a crisis of conscience.
Related Materials
Parallel Scenes from Stothard (1790), Children's Book (1818), and Cassell (18963-64)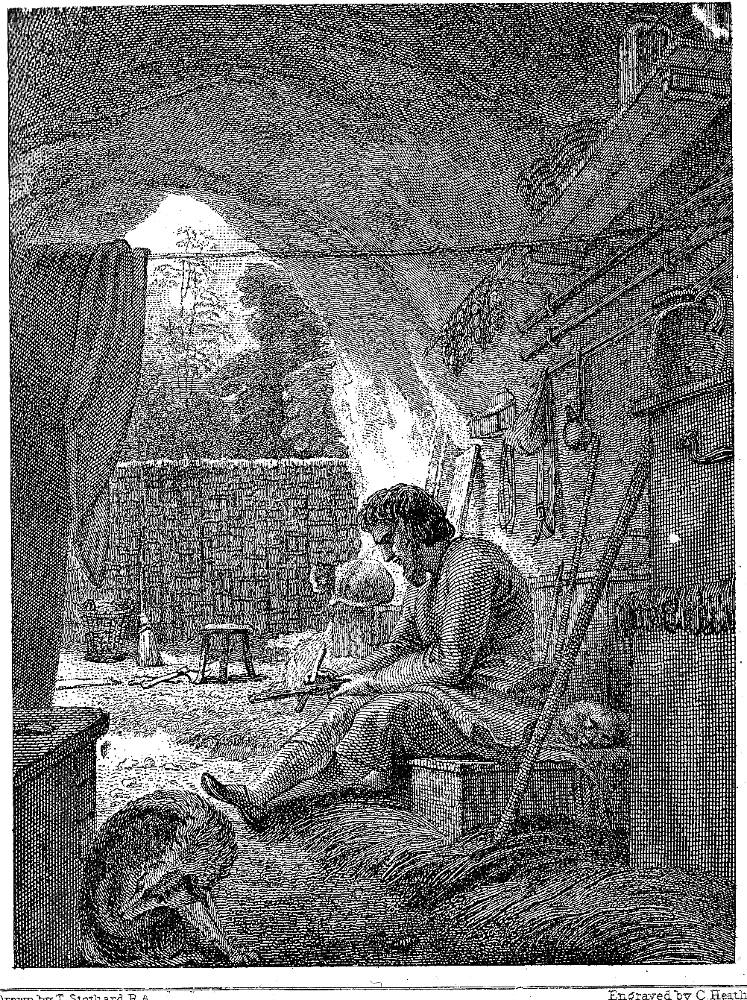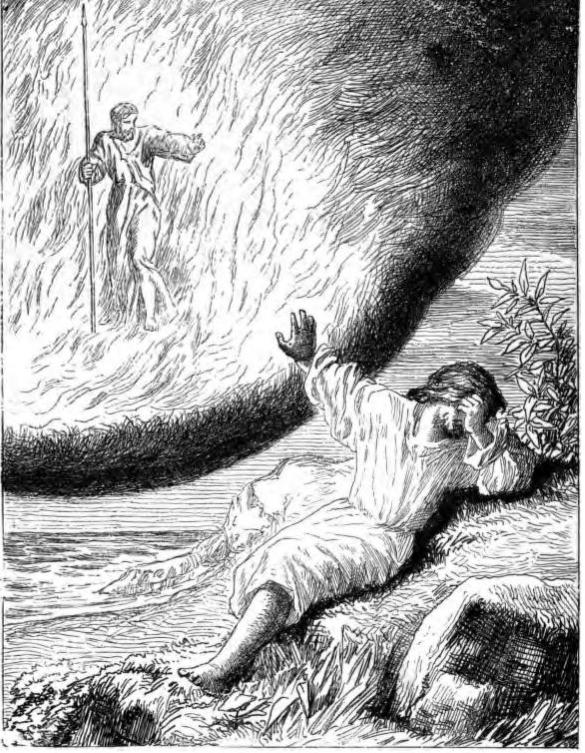 Left: Stothard's 1790 realisation of the solitary and reflective protagonist, Robinson Crusoe at work in his cave (Chapter IV, "First Few Weeks on the Island," copper-engraving). Centre: The children's book illustration that exemplifies Crusoe's personal piety, Robinson Crusoe reading the Bible (1818). Right: Wehnert's more psychological interpretation of Crusoe's spirituality, Crusoe's dream (1862). [Click on the images to enlarge them.]
Bibliography
Defoe, Daniel. The Life and Surprising Adventures of Robinson Crusoe, of York, Mariner, with introductory verses by Bernard Barton, and illustrated with numerous engravings from drawings by George Cruikshank expressly designed for this edition. 2 vols. London: Printed at the Shakespeare Press, by W. Nichol, for John Major, Fleet Street, 1831.
De Foe, Daniel. The Life and Adventures of Robinson Crusoe, Written by Himself. Illustrated by Gilbert, Cruikshank, and Brown. London: Darton and Hodge, 1867?].
Defoe, Daniel. The Life and Surprising Adventures of Robinson Crusoe of York, Mariner. (1831). Illustrated by George Cruikshank. Major's Edition. London: Chatto & Windus, 1890.
Patten, Robert L. "Phase 2: "'The Finest Things, Next to Rembrandt's,' 1720–1835." Chapter 20, "Thumbnail Designs." George Cruikshank's Life, Times, and Art, vol. 1: 1792-1835. Rutgers, NJ: Rutgers U. P., 1992; London: The Lutterworth Press, 1992. Pp. 325-339.
---
Last modified 22 February 2018