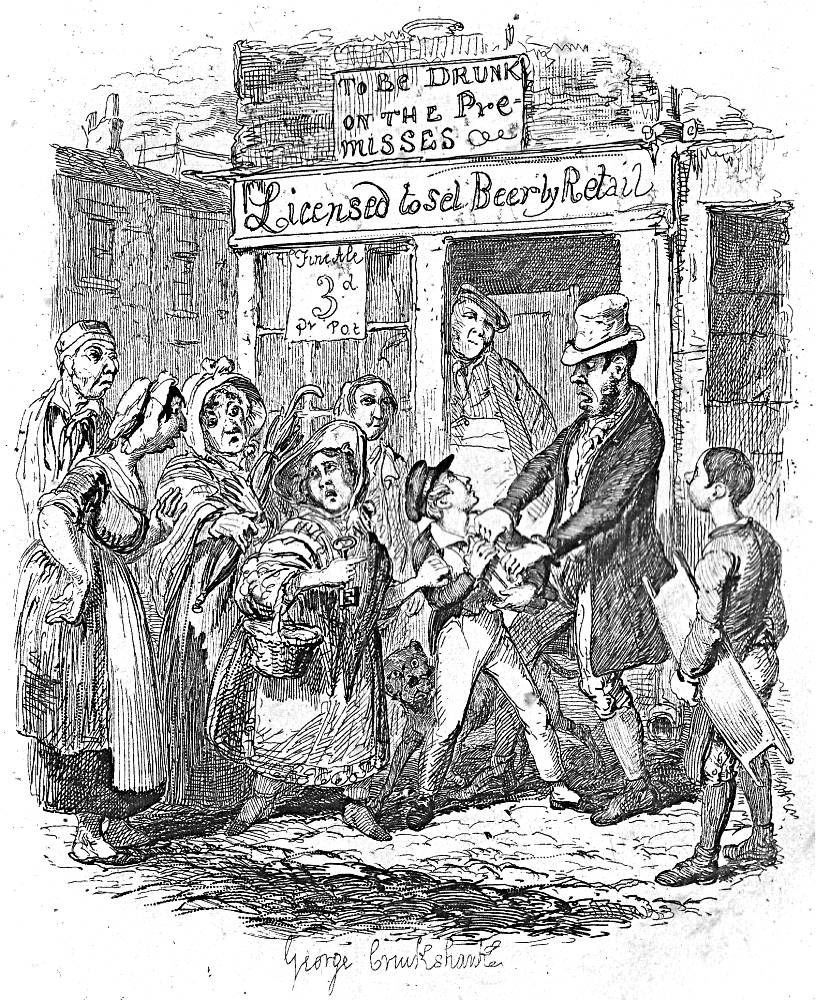 Oliver claimed by his affectionate friends
George Cruikshank, 1792-1878
1846 (originally in Part 7, September 1837)
Etching on steel
Seventh illustration, The Adventures of Oliver Twist; or, The Parish Boy's Progress
Scanned image and text by scanned image by George P. Landow.
You may use this image without prior permission for any scholarly or educational purpose as long as you (1) credit the person who scanned the image and (2) link your document to this URL in a web document or cite the Victorian Web in a print one.
Passage Illustrated
Meanwhile, Oliver Twist, little dreaming that he was within so very short a distance of the merry old gentleman, was on his way to the book-stall. When he got into Clerkenwell, he accidentally turned down a by-street which was not exactly in his way; but not discovering his mistake until he had got half-way down it, and knowing it must lead in the right direction, he did not think it worth while to turn back; and so marched on, as quickly as he could, with the books under his arm.
He was walking along, thinking how happy and contented he ought to feel; and how much he would give for only one look at poor little Dick, who, starved and beaten, might be weeping bitterly at that very moment; when he was startled by a young woman screaming out very loud. "Oh, my dear brother!" And he had hardly looked up, to see what the matter was, when he was stopped by having a pair of arms thrown tight round his neck.
"Don't," cried Oliver, struggling. "Let go of me. Who is it? What are you stopping me for?"
The only reply to this, was a great number of loud lamentations from the young woman who had embraced him; and who had a little basket and a street-door key in her hand.
"Oh my gracious!" said the young woman, "I have found him! Oh! Oliver! O liver! Oh you naughty boy, to make me suffer such distress on your account! Come home, dear, come. Oh, I've found him. Thank gracious goodness heavins, I've found him!" With these incoherent exclamations, the young woman burst into another fit of crying, and got so dreadfully hysterical, that a couple of women who came up at the moment asked a butcher's boy with a shiny head of hair anointed with suet, who was also looking on, whether he didn't think he had better run for the doctor. To which, the butcher's boy: who appeared of a lounging, not to say indolent disposition: replied, that he thought not.
"Oh, no, no, never mind," said the young woman, grasping Oliver's hand; "I'm better now. Come home directly, you cruel boy! Come!"
"Oh, ma'am," replied the young woman, "he ran away, near a month ago, from his parents, who are hard-working and respectable people; and went and joined a set of thieves and bad characters; and almost broke his mother's heart."
"Young wretch!" said one woman.
"Go home, do, you little brute," said the other.
"I am not," replied Oliver, greatly alarmed. "I don't know her. I haven't any sister, or father and mother either. I'm an orphan; I live at Pentonville."
"Only hear him, how he braves it out!" cried the young woman.
"Why, it's Nancy!' exclaimed Oliver; who now saw her face for the first time; and started back, in irrepressible astonishment.
"You see he knows me!" cried Nancy, appealing to the bystanders. "He can't help himself. Make him come home, there's good people, or he'll kill his dear mother and father, and break my heart!"
"What the devil's this?" said a man, bursting out of a beer-shop, with a white dog at his heels; "young Oliver! Come home to your poor mother, you young dog! Come home directly."
"I don't belong to them. I don't know them. Help! help!" cried Oliver, struggling in the man's powerful grasp. [Chapter 15, "Showing How Very Fond of Oliver Twist, The Merry Old Jew and Miss Nancy Were," p. 81-82 ]
Commentary
Although Dickens's official illustrator for Oliver Twist in the 1837-8 serial, George Cruikshank, depicts the housebreaker Bill Sikes as the sordid, lower-class villain out of contemporary melodrama, the figure whom Felix Octavius Carr Darley describes in his series of Character Sketches from Dickens (1888) is once again much more ​of an individual (despite his characteristic long face and white top hat) than a type. In the chapter 22 illustration which depicts Oliver's being surprised and shot at as soon as he has entered to house that Sikes is attempting to rob, The Burglary, George Cruikshank introduces the notorious housebreaker into the narrative-pictorial sequence in a framed portrait, as Sikes watches the unfolding scene with interest. Effectively rendered, Cruikshank's ruffian is unshaven, unkempt, and full-faced — but the small window through which he peers would prevent him from firing his own weapon on the two servants, let alone haul Oliver out of harm's way by the collar in the text on the page facing the steel-engraving. Selecting an equally dramatic moment in the story, Darley depicts Bill Sikes in action, rather than as a static figure, whereas in the Diamond Edition of 1867, Sol Eytinge in Nancy and Bill Sikes captures the disreputable couple's desperation and despondency. In the Household Edition, realist James Mahoney focuses on a different aspect of the chapter entirely, depicting Fagin's chagrin at the Dodger and Charley's having lost Oliver on his first expedition out. In the 1910 Charles Dickens Library Edition, Furniss focusses on Sikes's apprehension of Oliver and, in contrast, on the two adults who wait anxiously for Oliver's return to the tranquil house in Pentonville, the optimistic Mr. Brownlow and his dour, pessimistic friend, Grimwig.
The nine distorted, caricatural forms who surround Oliver outside the effectively realized beer-shop (complete with appropriate signage) compel the reader to identify with the only normal figure, who, by his upper-middle class, tailored suit alone, demonstrates the truth of his assertion that he does not belong to the unusually short, slatternly Nancy and the tall, brutish, ill-kempt Bill Sikes. This, then, is a fundamentally "classist" view of dull-witted working-class society, which Cruikshank intimates congregates in the streets, and frequents gin-shops and beer-shops. By virtue of his height, which Cruikshank has accentuated by giving him a white top-hat, Bill Sikes dominates the scene as he grabs the books out of Oliver's hands and Nancy plays to the female street chorus. Cruikshank appears to have been little interest in Sikes's faithful dog Bull's-eye, who peers out from under the fashionably-dressed Oliver, right of centre. Cruikshank clarifies which of the women is Nancy by giving the short woman in the big hat (left of centre) a basket and large key. The butcher's boy mentioned in the text is likely the figure to the right, as the other male (extreme left) is wearing the skull cap of a carpenter. Instead of a figure looking out of a garret window, Cruikshank has supplied the disinterested proprietor of the beer-shop (above centre) ​. ​Surprising to modern readers, perhaps, is that just a few streets from the respectable shopping ​district ​in Clerkenwell known as The Green one might have encountered a beer-shop and such a cast of characters.
Relevant Illustrations from the Diamond Edition (1867), Household Edition (1871), Darley "Sketches" (1888) and Charles Dickens Library Edition (1910)
Left: Sol Eytinge, Junior's "Nancy and Bill Sikes". Right: Mahoney's Household Edition illustration (1871) "You are on the scent, are you, Nancy?". [Click on images to enlarge them.]
Left: F. O. C. Darley's "Sikes, Nancy, and Oliver Twist" (1888). Centre: Harry Furniss's "Waiting for Oliver" (1910). Right: "Oliver trapped by Nancy and Sikes" (1910). [Click on images to enlarge them.]
References
Bentley, Nicolas, Michael Slater, and Nina Burgis. The Dickens Index. New York and Oxford: Oxford U. P., 1990.
Cohen, Jane Rabb. "George Cruikshank." Charles Dickens and His Original Illustrators. Columbus: Ohio State U. P., 1980. Pp. 15-38.
Darley, Felix Octavius Carr. Character Sketches from Dickens. Philadelphia: Porter and Coates, 1888.
Davis, Paul. Charles Dickens A to Z: The Essential Reference to His Life and Work. New York: Facts On File, 1998.
Dickens, Charles. The Adventures of Oliver Twist; or, The Parish Boy's Progress. Il. George Cruikshank. London: Bradbury and Evans; ​ Chapman and Hall, 1846.
Dickens, Charles. Oliver Twist. Works of Charles Dickens. Household Edition. 55 vols. Il. F. O. C. Darley and John Gilbert. New York: Sheldon and Co., 1865.
Dickens, Charles. Oliver Twist. Works of Charles Dickens. Diamond Edition. 14 vols. Il. Sol Eytinge, Jr. Boston: Ticknor and Fields, 1867.
Dickens, Charles. Oliver Twist. Works of Charles Dickens. Household Edition. Il. James Mahoney. London: Chapman and Hall, 1871.
Dickens, Charles. The Adventures of Oliver Twist. Works of Charles Dickens. Charles Dickens Library Edition. Il. Harry Furniss. London: Educational Book Company, 1910. Vol. 3.
Lynch, Tony. "Clerkenwell, London." Dickens's England: An A-Z Tour of the Real and Imagined Locations. London: Batsford, 2012. Pp. 64-65.
---

Victorian
Web

Illus-
tration

George
Cruikshank

Oliver
Twist

Next
Last modified 27 August 2014