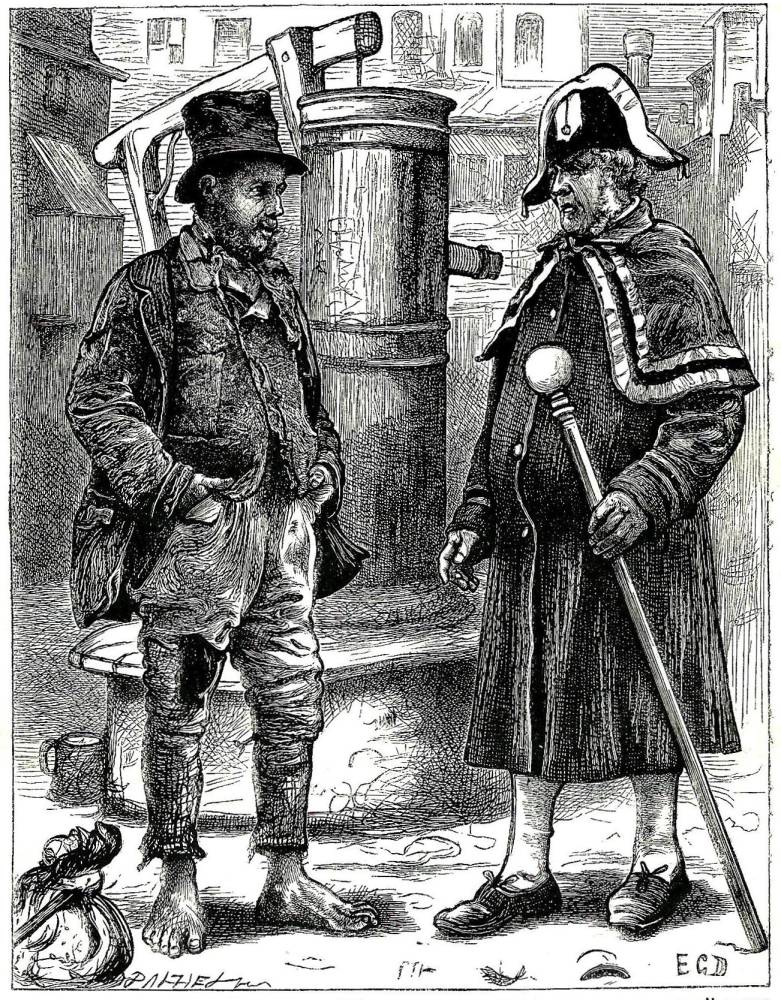 [The Tramp and the Beadle]
Edward G. Dalziel
Wood engraving
Dickens's "'Then you're a tramp,' he ses. 'I'd rather be that than a beadle,' I ses." (p. 56) from "Tramps," chapter eleven in The Uncommercial Traveller.
Scanned image and text by Philip V. Allingham
[You may use this image without prior permission for any scholarly or educational purpose as long as you (1) credit the person who scanned the image and (2) link your document to this URL in a web document or cite the Victorian Web in a print one.]
Passage Realized
The young fellows who trudge along barefoot, five or six together, their boots slung over their shoulders, their shabby bundles under their arms, their sticks newly cut from some roadside wood, are not eminently prepossessing, but are much less objectionable. There is a tramp-fellowship among them. They pick one another up at resting stations, and go on in companies. They always go at a fast swing — though they generally limp too — and there is invariably one of the company who has much ado to keep up with the rest. They generally talk about horses, and any other means of locomotion than walking: or, one of the company relates some recent experiences of the road — which are always disputes and difficulties. As for example. "So as I'm a standing at the pump in the market, blest if there don't come up a Beadle, and he ses, 'Mustn't stand here,' he ses. 'Why not?' I ses. 'No beggars allowed in this town,' he ses. 'Who's a beggar?' I ses. 'You are,' he ses. 'Who ever see me beg? Did you?' I ses. 'Then you're a tramp,' he ses. 'I'd rather be that than a Beadle,' I ses." (The company expressed great approval.) "'Would you?' he ses to me. 'Yes, I would,' I ses to him. 'Well,' he ses, 'anyhow, get out of this town.' 'Why, blow your little town!' I ses, 'who wants to be in it? Wot does your dirty little town mean by comin' and stickin' itself in the road to anywhere? Why don't you get a shovel and a barrer, and clear your town out o' people's way?'" (The company expressing the highest approval and laughing aloud, they all go down the hill.) [53]
Commentary
The experience of Dickens's alterego, David Copperfield, on the Dover road is reflected in Dickens's essay "Tramps," published originally in All the Year Round on 16 June 1860. Dalziel has chosen as the representative moment for realisation the confrontation of a beadle (a parish officer in previous centuries charged with enforcing morality and the law: the self-important parochial functionary Mr. Bumble in Oliver Twist, 1838, comes to mind) and a tramp, his bundle at his bare feet. The "pump at the market" mentioned by the tramp to his fellows (centre rear in Dalziel's illustration) resembles a pump which Dickens had installed on his Gad's Hill estate in the autumn of 1857, and which is now situated behind the Nun's House in Rochester. This particular beadle, though not as corpulent as Mr. Bumble, has all the necessary accoutrements: a cocked hat, a gold-laced tippet and great-coat with ornamented cuffs, and a staff of office. Compare this leaner beadle with the pompous Bumble in Harold Copping's "Mr. Bumble and Oliver Twist" (1924). What is significant about Dalziel's beadle is that his bearded face like his height and general form corresponds precisely to that of the tramp. Each man eyes the other suspiciously, as if each recognizes in the other a sort of kindred sycophantal spirit.
Other urban scenes
Bibliography
Dickens, Charles. The Uncommercial Traveller. Illustrated by Edward Dalziel. The Household Edition. London: Chapman and Hall, 1877.
Scenes and Characters from the Works of Charles Dickens; being eight hundred and sixty-six drawings, by Fred Barnard, Hablot Knight Browne (Phiz); J. Mahoney; Charles Green; A. B. Frost; Gordon Thomson; J. McL. Ralston; H. French; E. G. Dalziel; F. A. Fraser, and Sir Luke Fildes; printed from the original woodblocks engraved for "The Household Edition." New York: Chapman and Hall, 1908. Copy in the Robarts Library, University of Toronto.
Slater, Michael, and John Drew, eds. Dickens' Journalism: 'The Uncommercial Traveller' and Other Papers 1859-70. The Dent Uniform Edition of Dickens' Journalism, vol. 4. London: J. M. Dent, 2000.
---

Victorian
Web

Charles
Dickens

Visual
Arts

Illustration

The Dalziel
Brothers

Next
Last modified 21 February 2013