Sairey Gamp and Betsey Prig
Sol Eytinge, Jr.
1867
[Click on image to enlarge it.]
The third figure in Eytinge's woodcut, seated in the easy chair, is Mrs. Gamp's latest patient, Mr. Lewsome, whom she is attempting with Betsey's aid to prepare for a convalescence in the country, having been hired by John Westlock, a former apprentice of Mr. Pecksniff. [Continued below.]
Image scan and text by Philip V. Allingham; formatting by George P. Landow.
You may use this image without prior permission for any scholarly or educational purpose as long as you (1) credit the person who scanned the image and (2) link your document to this URL in a web document or cite the Victorian Web in a print one.
Dickens introduces Mrs. Gamp comparatively late in the serial, in chapter 19 in a passage that Eytinge obviously had to assimilate in rendering the scene at the Bull Tavern later on:
She was a fat old woman, this Mrs. Gamp, with a husky voice and a moist eye, which she had a remarkable power of turning up, and only showing the white of it. Having very little neck, it cost her some trouble to look over herself, if one may say so, at those to whom she talked. She wore a very rusty black gown, rather the worse for snuff, and a shawl and bonnet to correspond. In these dilapidated articles of dress she had, on principle, arrayed herself, time out of mind, on such occasions as the present; for this at once expressed a decent amount of veneration for the deceased, and invited the next of kin to present her with a fresher suit of weeds: an appeal so frequently successful, that the very fetch and ghost of Mrs. Gamp, bonnet and all, might be seen hanging up, any hour in the day, in at least a dozen of the second-hand clothes shops about Holborn. The face of Mrs. Gamp — the nose in particular — was somewhat red and swollen, and it was difficult to enjoy her society without becoming conscious of a smell of spirits. Like most persons who have attained to great eminence in their profession, she took to hers very kindly; insomuch that, setting aside her natural predilections as a woman, she went to a lying-in or a laying-out with equal zest and relish. [Diamond Edition, p. 181- 82]
Although we do not actually see much of her as she leans out of the window above Poll Sweedlepipe's shop (upper right) in the chapter 19 illustration "Mr. Pecksniff on his Mission" (August 1843), Phiz provides three scenes depicting the boozey face and voluminous figure of the alcoholic midwife Mrs. Gamp, Dickens's satire on private nurses, and her faithful confederate, Betsey Prig. On the other hand, Fred Barnard's six 1872 Household Edition woodcuts involving this comic figure depict Sairey with greater frequency and detail, so iconic a figure of English comedy had she become over thirty years separating the two editions.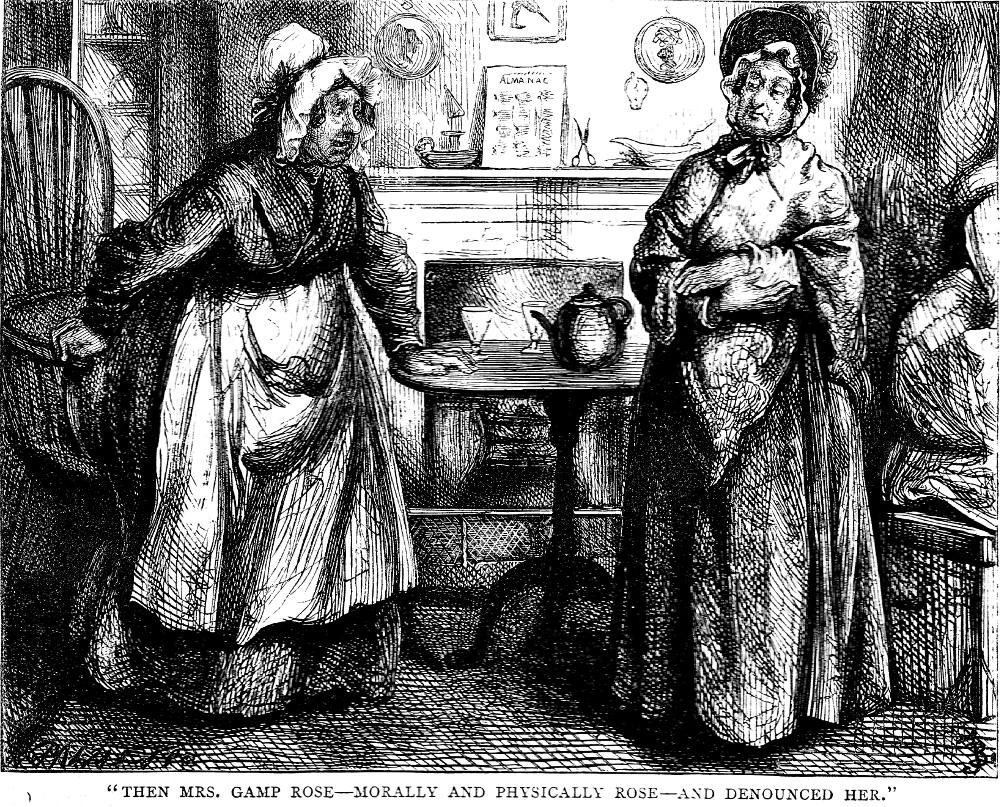 Two illustrations of Sairey and Betsey. Left: Phiz's "Mrs. Gamp Propoges a Toast" (June 1844). Right: "Then Mrs. Gamp rose — morally and physically rose — and denounced her." (Fred Barnard, Chapter 49, the Household Edition).
The scene in Lewsome's room, upstairs at the Bull Inn, London, is witnessed by Bailey Junior and Poll Sweedlepipe, who by coincidence is Sairey's landlady:
The little barber having in his eager curiosity a great desire to see Mrs. Gamp's patient, proposed to Mr. Bailey that they should accompany her to the Bull, and witness the departure of the coach. That young gentleman assenting, they all went out together.
Arriving at the tavern, Mrs. Gamp (who was full-dressed for the journey, in her latest suit of mourning) left her friends to entertain themselves in the yard, while she ascended to the sick room, where her fellow-labourer Mrs. Prig was dressing the invalid.
He was so wasted, that it seemed as if his bones would rattle when they moved him. His cheeks were sunken, and his eyes unnaturally large. He lay back in the easy-chair like one more dead than living; and rolled his languid eyes towards the door when Mrs. Gamp appeared, as painfully as if their weight alone were burdensome to move.
"And how are we by this time?" Mrs. Gamp observed. "We looks charming."
"We looks a deal charminger than we are, then," returned Mrs. Prig, a little chafed in her temper. "We got out of bed back'ards, I think, for we're as cross as two sticks. I never see sich a man. He wouldn't have been washed, if he'd had his own way."
"She put the soap in my mouth," said the unfortunate patient feebly.
"Couldn't you keep it shut then?" retorted Mrs. Prig. "Who do you think's to wash one feater, and miss another, and wear one's eyes out with all manner of fine work of that description, for half-a-crown a day! If you wants to be tittivated, you must pay accordin'."
"Oh dear me!" cried the patient, "oh dear, dear!"
"There!" said Mrs. Prig, "that's the way he's been a-conductin of himself, Sarah, ever since I got him out of bed, if you'll believe it."
"Instead of being grateful," Mrs. Gamp observed, "for all our little ways. Oh, fie for shame, sir, fie for shame!"
Here Mrs Prig seized the patient by the chin, and began to rasp his unhappy head with a hair-brush.
"I suppose you don't like that, neither!" she observed, stopping to look at him.
It was just possible that he didn't for the brush was a specimen of the hardest kind of instrument producible by modern art; and his very eyelids were red with the friction. Mrs. Prig was gratified to observe the correctness of her supposition, and said triumphantly "she know'd as much."
When his hair was smoothed down comfortably into his eyes, Mrs. Prig and Mrs. Gamp put on his neckerchief; adjusting his shirt collar with great nicety, so that the starched points should also invade those organs, and afflict them with an artificial ophthalmia. His waistcoat and coat were next arranged; and as every button was wrenched into a wrong button-hole, and the order of his boots was reversed, he presented on the whole rather a melancholy appearance.
"I don't think it's right," said the poor weak invalid. "I feel as if I was in somebody else's clothes. I'm all on one side; and you've made one of my legs shorter than the other. There's a bottle in my pocket too. What do you make me sit upon a bottle for?"
"Deuce take the man!" cried Mrs. Gamp, drawing it forth. "If he ain't been and got my night-bottle here. I made a little cupboard of his coat when it hung behind the door, and quite forgot it, Betsey. You'll find a ingun or two, and a little tea and sugar in his t'other pocket, my dear, if you'll just be good enough to take 'em out."
While Barnard felt compelled to make his figures of Sairey Gamp and Betsey Prig conform to those of the original 1843-44 serial, Eytinge has departed somewhat from that androgynous image, although he has retained her enormous hat, full face, and alcoholic nose, all of which serve to distinguish Mrs. Gamp (left) from Betsey, wielding the hairbrush ruthlessly as she holds fast to the patient's head (right). In Eytinge's woodcut, Sairey has just discovered the "night-bottle" of gin that she had placed in the delirious Lewsome's coat-pocket. One receives a clear image of the two women, but not much insight into their relationship — and Eytinge seems not much interested in the patient, who ultimately reveals a key plot secret. The classic image of Mrs. Gamp, taking a little something against the cold, remains Barnard's 1872 frontispiece "Mrs. Gamp, on the Art of Nursing", in which she contemplates her gigantic bonnet; Barnard has included her umbrella (from which she takes the surname "Gamp") and the proverbial bottle on the chimbley-piece, ready to hand.
Bibliography
Bentley, Nicolas, Michael Slater, and Nina Burgis. The Dickens Index. Oxford and New York: Oxford U. P., 1988.
Davis, Paul. Charles Dickens A to Z: The Essential Reference to His Life and Work. New York: Checkmark and Facts On File, 1998.
Dickens, Charles. The Life and Adventures of Martin Chuzzlewit (1842-43). Il. Hablot Knight Browne ("Phiz"). London: Chapman and Hall, 1843.
Dickens, Charles. The Life and Adventures of Martin Chuzzlewit. Il. Sol Eytinge, Jr. Engraved by A. V. S. Anthony. The Diamond Edition. Boston: Ticknor and Fields, 1867.
Dickens, Charles. The Life and Adventures of Martin Chuzzlewit (1842-43). Il. Fred Barnard. London: Chapman and Hall, 1872.
Hammerton, J. A. The Dickens Picture-Book. London: Educational Book Co., 1910.
Kitton, Frederic G. Dickens and His Illustrators. 1899. Rpt. Honolulu: U. Press of the Pacific, 2004.
Lester, Valerie Browne. Phiz: The Man Who Drew Dickens. London: Chatto and Windus, 2004.
Steig, Michael. Dickens and Phiz. Bloomington & London: Indiana U. P., 1978.
---

Victorian
Web

Illus-
tration

Martin
Chuzzlewit

Sol
Eytinge

Next
Last modified 10 May 2012