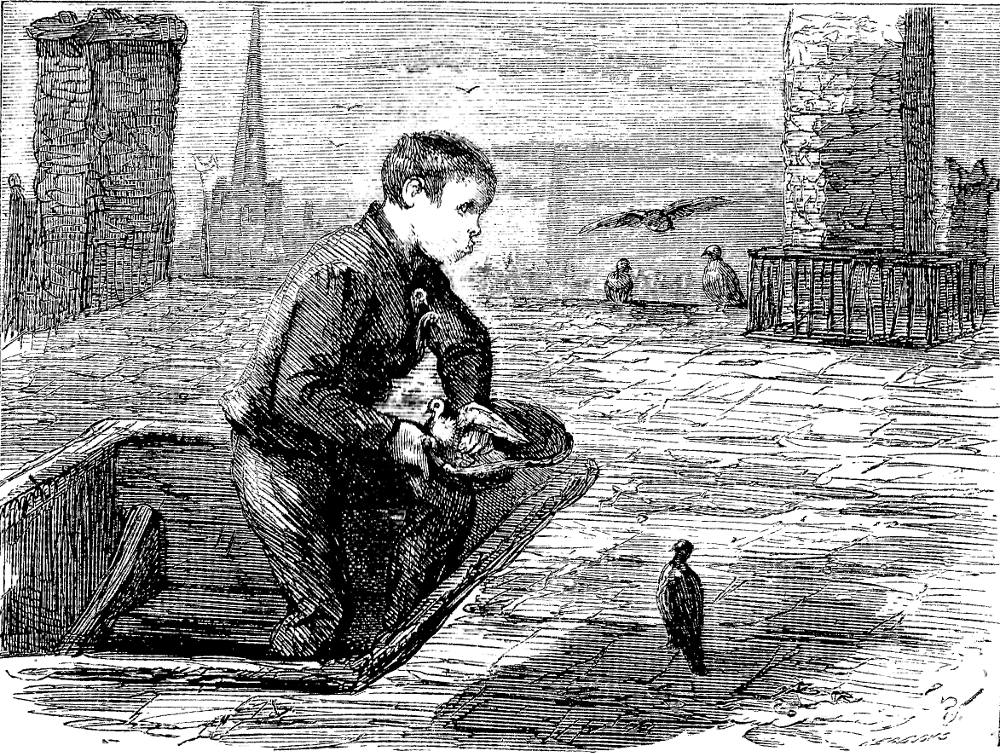 The eleventh full-page illustration for Dombey and Son: Rob the Grinder. Sol Eytinge, Jr. 8.5 cm high by 10 cm wide (3 ¼ by 4 inches), framed. The Diamond Edition of Dickens's Works, Volume III (Boston: Ticknor and Fields, 1867), facing page 117. [Click on the image to enlarge it.]
Passage Illustrated: Rob the Grinder, with his Pigeons
Rob the Grinder, whose reverence for the inspired writings, under the admirable system of the Grinders' School, had been developed by a perpetual bruising of his intellectual shins against all the proper names of all the tribes of Judah, and by the monotonous repetition of hard verses, especially by way of punishment, and by the parading of him at six years old in leather breeches, three times a Sunday, very high up, in a very hot church, with a great organ buzzing against his drowsy head, like an exceedingly busy bee —Rob the Grinder made a mighty show of being edified when the Captain ceased to read, and generally yawned and nodded while the reading was in progress. The latter fact being never so much as suspected by the good Captain. [Ch. 39,  "Further Adventures of Captain Edward Cuttle, Mariner," p. 310]
Comment: Who is Rob the Grinder?
Whereas Eytinge's practice is to depict characters in pairs (for example, "The Chicken and Mr. Toots") to establish the novel's various relationships, here he depicts Rob with his pigeons. What about this character makes him either singular or a social isolate? Rob Toodle has two nicknames: "The Grinder" and "The Biler." He is a wayward character who goes wrong when he alligns himself with James Carker. The story's villain installs the Grinder as a spy in Sol Gill's business. The solo portrait, therefore, implies that Rob cares for nobody but himself.
Robin Toodle (but known throughout the story as "Rob the Grinder") is the son of Mr. Toodle, the railway stoker, and his kindly wife, Polly. Rob, who has acquired his nickname from being a charity student, through Mr. Dombey's largesse has been able to attend the Charitable Grinders' School. Here, he is beaten, abused, and crammed with facts. No wonder, then, that Rob cannot resist the lure of tending pigeons, and often skips school to spend time with them on the rooftop of the London building where the Toodles live. Adults often manipulate the pathetic boy, who cannot seem to find a way to better his lot in life. He fails as a casual labourer, and decides to exploit his mother's connection with the Dombey family. When he goes to ask for employment at the firm's offices, he encounters Carker, the devious manager. At Carker's behest, Rob spies on Captain Cuttle, and reports to Carker on the comings and goings at The Wooden Midshipman. After Carker absconds late in the book, Good Mrs. Brown forces Rob to bring her information about where in France Carker and Mrs. Dombey have fled. Throughout all these twists and turns of the plot, The Grinder spies and reports on others without scruple or hesitation; he will say and do whatever is necessary to survive.
Other Studies of The Grinder from The Initial Serial, Diamond, and Household Editions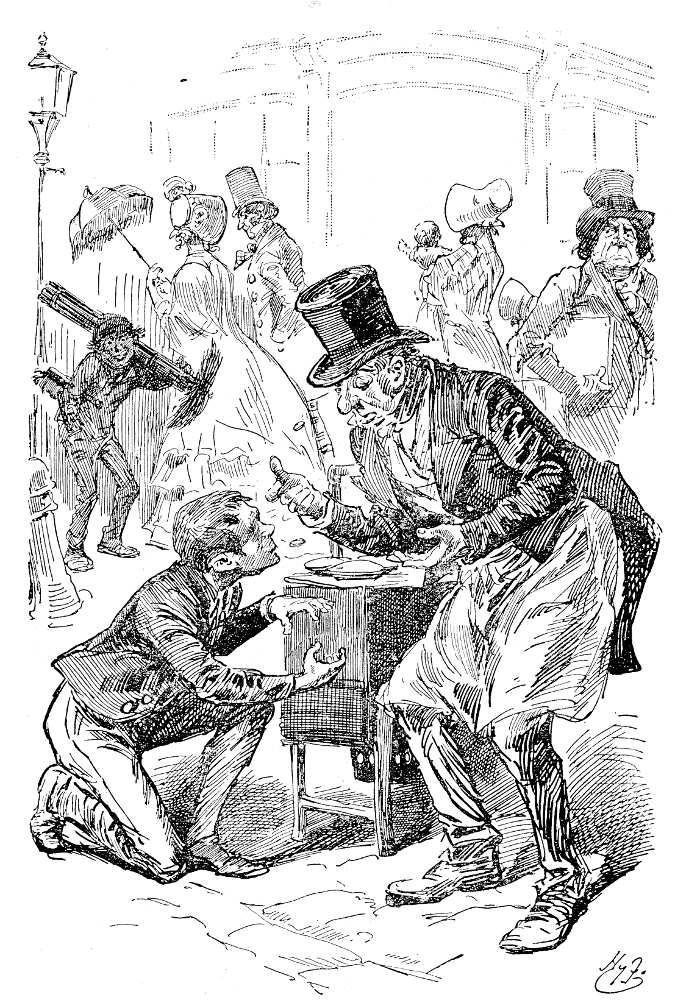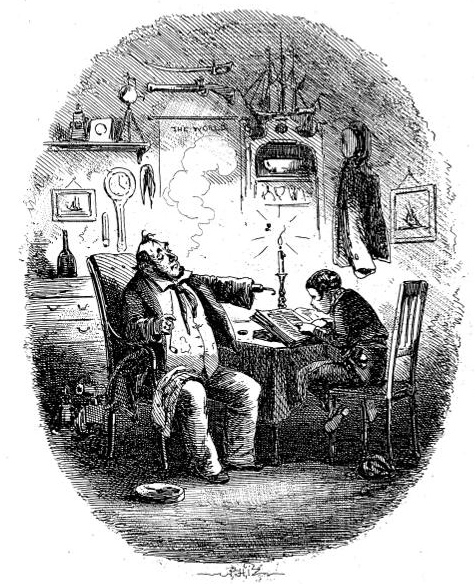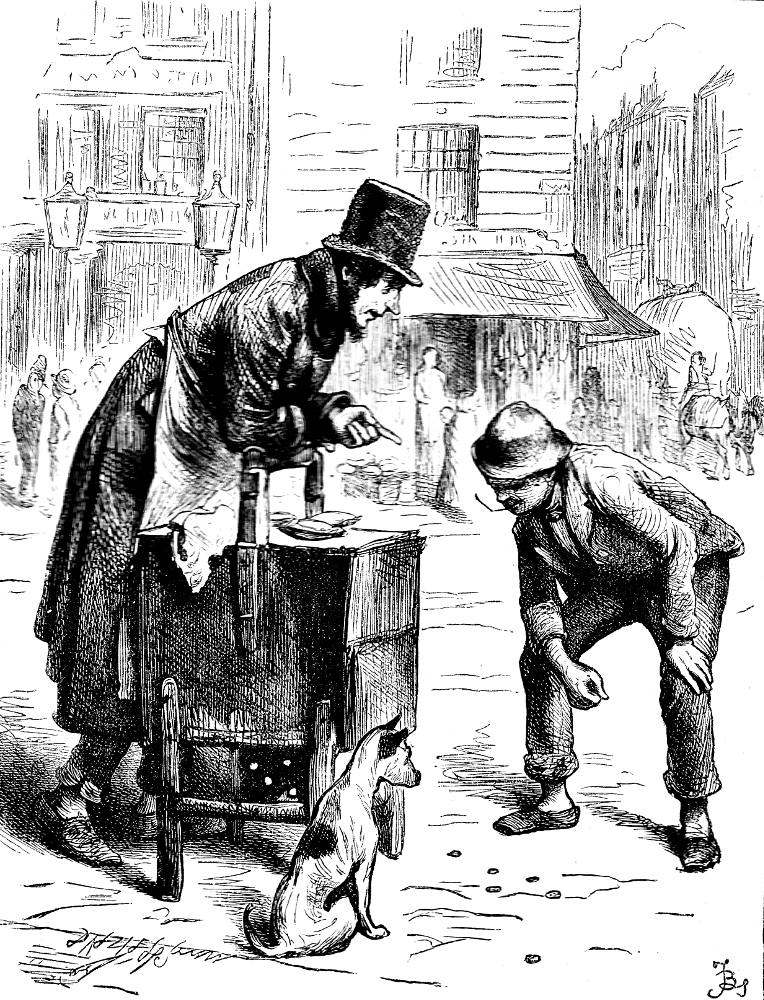 Left: Harry Furniss's dramatisation of the character of the street-wise charity boy: The Grinder and the Pieman (1910). Centre: Phiz's dramatisation of a different side of Rob's character: Rob the Grinder Reading with Captain Cuttle (title-page vignette, April 1848). Right: Fred Barnard's version of the same scene in the Household Edition: Ran sniggering off to get change, and tossed it away with a pieman (1877).
Scanned image and text by Philip V. Allingham. [You may use this image without prior permission for any scholarly or educational purpose as long as you (1) credit the person who scanned the image and (2) link your document to this URL in a web document or cite the Victorian Web in a print one.]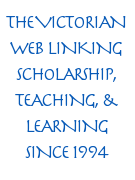 Related Material, including Other Illustrated Editions of
Dombey and Son
Bibliography
Dickens, Charles. Dombey and Son. Illustrated by Hablot Knight Browne (Phiz). 8 coloured plates. London and Edinburgh: Caxton and Ballantyne, Hanson, 1910.
_______. Dombey and Son.16 Illustrations by Sol Eytinge, Jr., and A. V. S. Anthony (engraver). The Diamond Edition. Boston: Ticknor & Fields, 1867. III.
Hammerton, J. A.. "Ch. XVI. Dombey and Son."  The Dickens Picture-Book. London: Educational Book Co., [1910], 294-338.
---
Created 10 December 2020