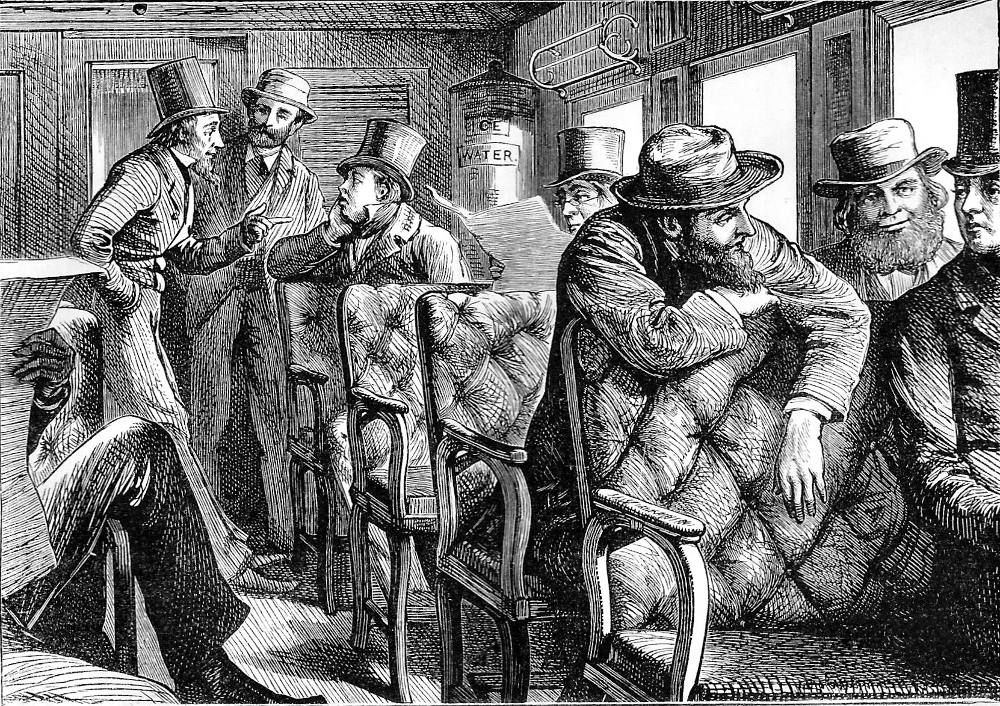 Railway Dialogue by A. B. Frost (engraved by Edward G. Dalziel), in Charles Dickens's Pictures from Italy and American Notes (1880), Chapter IV, "An American Railroad. Lowell and Its Factory System," facing page 251. Wood-engraving, 3 ⅞ by 5 ½ inches (9.9 cm high by 13.4 cm wide), framed. Although the Dickenses are travelling together on the stifflingly hot railroad car, the dialogue and its illustration include only the nationalistic American traveller and Dickens himself, exemplifying a British attitude. The American illustrator, however, includes a cross-section of the travelling public in the same frame. Although all the passengers are middle-aged males, Frost distinguishes them by their beards and particularly by their hats: the men who are professionals (or aspire to be thought of as professionals) wear fashionable top hats. Dickens must be the traveller in the rear dialogue who is about thirty years of age and clean-shaven.
Scanned image, colour correction, sizing, caption, and commentary by Philip V. Allingham. [You may use this image without prior permission for any scholarly or educational purpose, as long as you (1) credit the person who scanned the image, and (2) link your document to this URL in a web document or cite the Victorian Web in a print one.]
Dialogue on the 'Railroad' Realised
In the ladies' car, there are a great many gentlemen who have ladies with them. There are also a great many ladies who have nobody with them: for any lady may travel alone, from one end of the United States to the other, and be certain of the most courteous and considerate treatment everywhere. The conductor or check-taker, or guard, or whatever he may be, wears no uniform. He walks up and down the car, and in and out of it, as his fancy dictates; leans against the door with his hands in his pockets and stares at you, if you chance to be a stranger; or enters into conversation with the passengers about him. A great many newspapers are pulled out, and a few of them are read. Everybody talks to you, or to anybody else who hits his fancy. If you are an Englishman, he expects that that railroad is pretty much like an English railroad. If you say "No," he says "Yes?" (interrogatively), and asks in what respect they differ. You enumerate the heads of difference, one by one, and he says "Yes?" (still interrogatively) to each. Then he guesses that you don't travel faster in England; and on your replying that you do, says "Yes?" again (still interrogatively), and it is quite evident, don't believe it. After a long pause he remarks, partly to you, and partly to the knob on the top of his stick, that "Yankees are reckoned to be considerable of a go-ahead people too;" upon which you say "Yes," and then he says "Yes" again (affirmatively this time); and upon your looking out of window, tells you that behind that hill, and some three miles from the next station, there is a clever town in a smart lo-ca-tion, where he expects you have concluded to stop. Your answer in the negative naturally leads to more questions in reference to your intended route (always pronounced rout); and wherever you are going, you invariably learn that you can't get there without immense difficulty and danger, and that all the great sights are somewhere else. [Chapter IV, "An American Railroad. Lowell and Its Factory System," pp. 245-246]
Comment: In the Ladies' Car?
Of the eight figures within the frame, none looks particularly like Dickens in 1842, so that Frost may simply have sketched "from the life" a scene from an American railroad carriage (complete with hot-water urn in the background) in the post-Civil War era. Although Dickens situates the discussion in the Ladies' Car, in which "there are a great many gentlemen who have ladies with them," Frost includes no women whatsoever, and shows all eight men travelling unaccompanied, so that the picture, although undoubtedly a faithful reproduction of a scene in an American railroad carriage, does not effectively realise the Dickens letterpress.
Related Material
Bibliography
Dickens, Charles. Chapter IV, "An American Railroad. Lowell and Its Factory System." American Notes. Illustrated by A. B. Frost; engraved by Edward G. Dalziel. London: Chapman and Hall, 1880. Pp. 245-253.
---
Last modified 10 March 2019