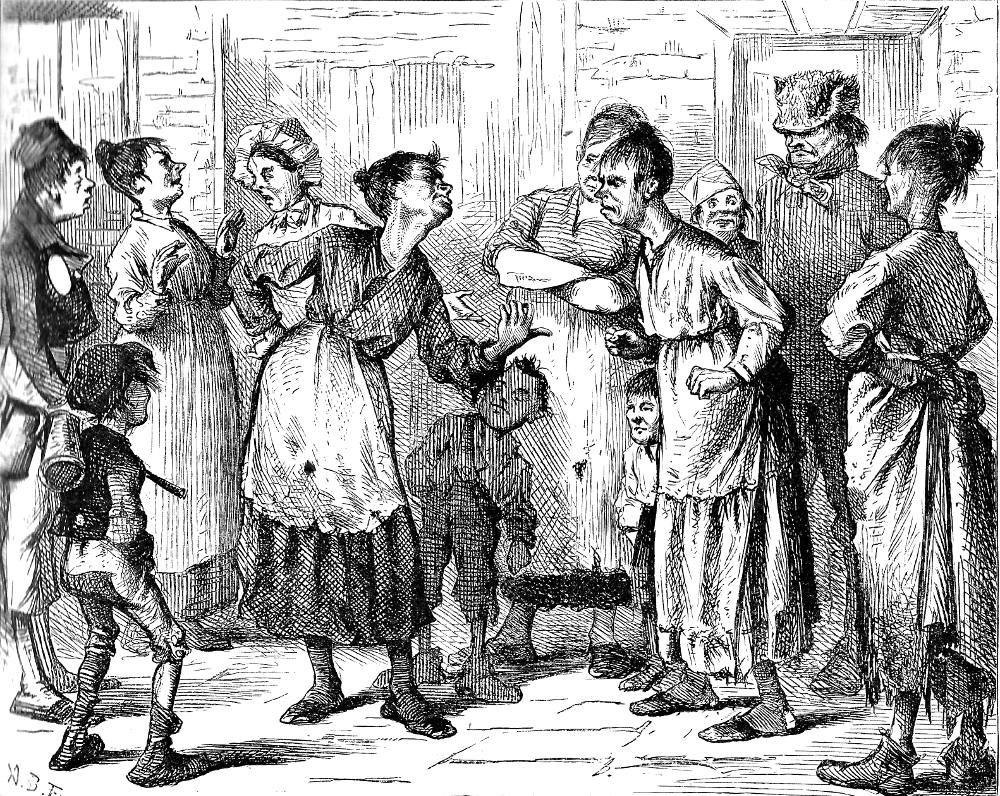 "Niver mind," replies the Opposition, expressively, "Niver mind; you go home, and, ven you're quite sober, mend your stockings" in Chapter V of "Scenes" — "The Seven Dials," in Dickens's Sketches by Boz Illustrative of Every-day Life and Every-Day People (1877). Middle of page 115. Wood-engraving; 4 ¼ by 5 ¼ inches (10.2 cm high by 13.4 cm wide), framed. Since Frost has not delineated the backdrop with any degree of specificity, the action between the two Irish women and their adherents might be occurring anywhere in the London slums, rather than, as in the equivalent Cruikshank illustration, the formerly posh area of the Seven Dials.
Scanned image, colour correction, sizing, caption, and commentary by Philip V. Allingham. [You may use this image without prior permission for any scholarly or educational purpose, as long as you (1) credit the person who scanned the image, and (2) link your document to this URL in a web document or cite the Victorian Web in a print one.]
The Incident Realised: Cockney Confrontation
On one side, a little crowd has collected round a couple of ladies, who having imbibed the contents of various "three-outs" of gin and bitters in the course of the morning, have at length differed on some point of domestic arrangement, and are on the eve of settling the quarrel satisfactorily, by an appeal to blows, greatly to the interest of other ladies who live in the same house, and tenements adjoining, and who are all partisans on one side or other.
"Vy don't you pitch into her, Sarah?" exclaims one half-dressed matron, by way of encouragement. "Vy don't you? if my 'usband had treated her with a drain last night, unbeknown to me, I'd tear her precious eyes out — a wixen!"
"What's the matter, ma'am?" inquires another old woman, who has just bustled up to the spot.
"Matter!" replies the first speaker, talking at the obnoxious combatant, "matter! Here's poor dear Mrs. Sulliwin, as has five blessed children of her own, can't go out a charing for one arternoon, but what hussies must be a comin', and 'ticing avay her oun' 'usband, as she's been married to twelve year come next Easter Monday, for I see the certificate ven I vas a drinkin' a cup o' tea vith her, only the werry last blessed Ven'sday as ever was sent. I 'appen'd to say promiscuously, "'Mrs. Sulliwin,' says I —"
"What do you mean by hussies?" interrupts a champion of the other party, who has evinced a strong inclination throughout to get up a branch fight on her own account ("Hooroar," ejaculates a pot-boy in parenthesis, "put the kye-bosk on her, Mary!"), "What do you mean by hussies?" reiterates the champion.
"Niver mind," replies the opposition expressively, '"niver mind; you go home, and, ven you're quite sober, mend your stockings."
This somewhat personal allusion, not only to the lady's habits of intemperance, but also to the state of her wardrobe, rouses her utmost ire, and she accordingly complies with the urgent request of the bystanders to "pitch in," with considerable alacrity. The scuffle became general, and terminates, in minor play-bill phraseology, with "arrival of the policemen, interior of the station-house, and impressive deénouement." ["Scenes" — Chapter V, "The Seven Dials" pp. 115-116]
Commentary
Although Frost may well have seen the original Cruikshank illustration of the confrontation between the two harridans in the Second Series of Sketches by Boz (1837), he had as yet not actually seen the Seven Dials when he composed the wood-engraving in 1876. Frost's American readers may well have missed Dickens's describing the surly antagonist as "the opposition," a term which to British readers might have suggested that Dickens intended this scene as a satire of parliamentary debate. Of the original plate and its accompanying text Michael Slater notes that this "comic reportage" (53) of is one Dickens's earliest Tibbs-narrated accounts of life on the London streets, from Bell's Life in London for 27 September 1835 as "Scenes and Characters No. 1."
In the Cruikshank illustration that accompanies the text of the previously uncollected piece in the 1837 volume, the "all-female brawl" has not yet fully broken out, but the verbal sparring (centre) is a humorous prologue to a scene that might result in something more disturbing — and, indeed, Cruikshank shows that the adherents on either side have already begun to pull each other's hair (left) as four men look casually upon the scene, regarding the altercation as essentially funny, while the two children (lower left) are genuinely concerned that their mother is not faring well. Frost has translated far less of this peripheral action, perhaps because he has focussed the action almost entirely in the postures and facial expressions of the two principals as the speaker gestures to show contempt for her adversary, who struggles to maintain her composure, as suggested by her clenched hands. Frost achieves much of his portrait of grimy, working-class poverty through his delineation of the worn shoes and soiled clothing of the characters in a scene dominated by tough-minded, raw-boned females who are reminiscent of Barnard's working-class French women figures in A Tale of Two Cities, as, for example, Saint Antoine (1874), which Frost may well have had the opportunity to study.
Related Material: The History of Seven Dials
Relevant Illustrations from the Original (1837) and Other 19th C. Editions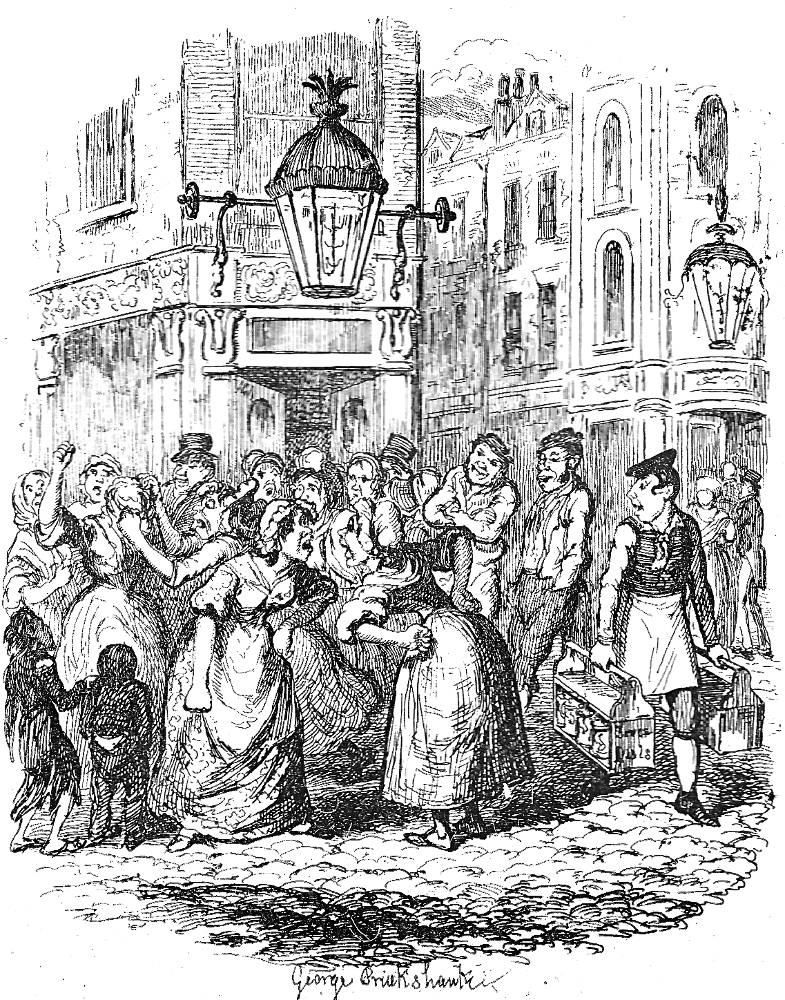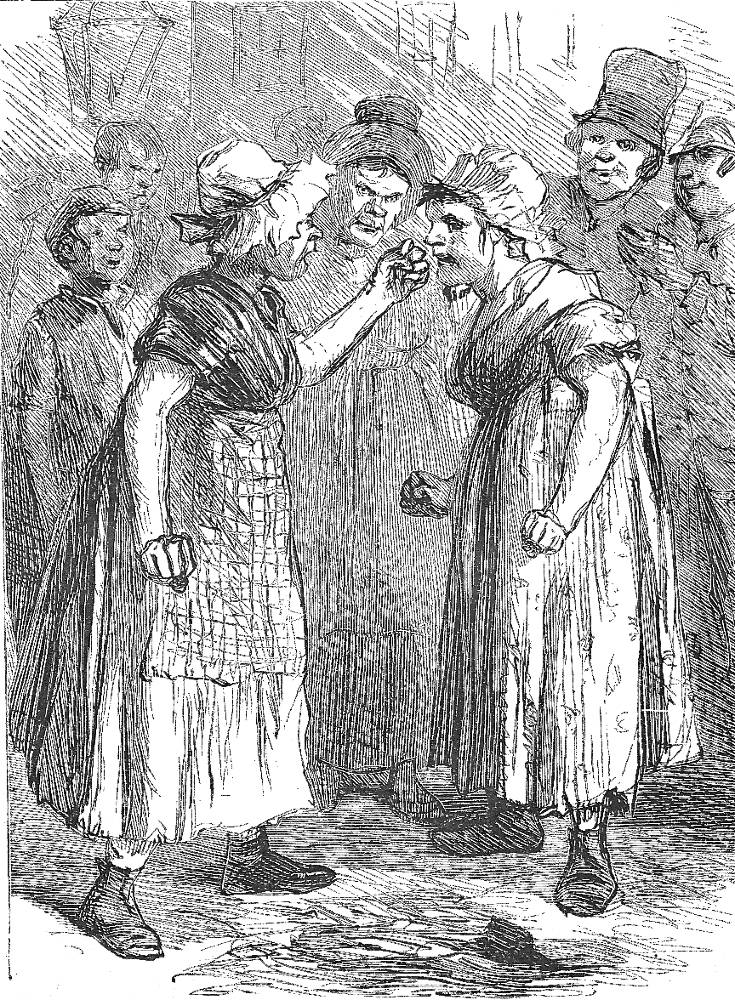 Left: The original Cruikshank engraving from the First Series: The Seven Dials (1837). Centre: Sol Eytinge, Junior's somewhat derivative wood-engraving, The Seven Dials (1867). Right: Above: Fred Barnard's realistic wood-engraving of a less confrontational scene in the notorious slum, home to so many early nineteenth-century Irish immigrants: Now, anybody who passed through the Dials on a hot summer's evening, and saw the different women . . . gossiping on the steps, would be apt to think that all was harmony. . . . (1876)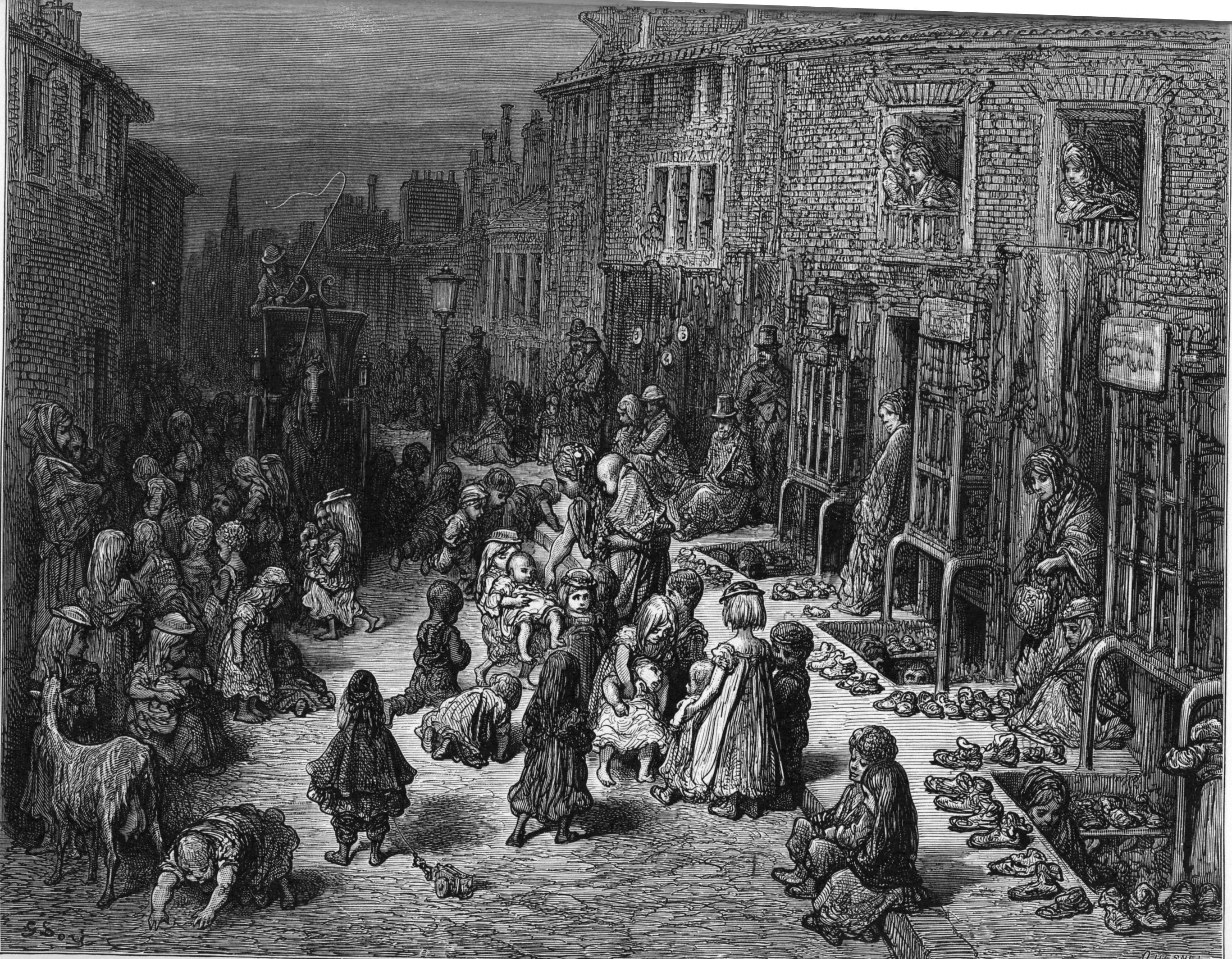 Above: Dudley Street, Seven Dials by French social realist Gustave Doré — a busy street scene with sets of shops which can be seen on the right. The shops are selling shoes which are lining up on the floor around the opening from under the ground. Children and their mothers are in front of them. This image of the slum teeming with ragged children was first published in Douglas Jerrold's London, a Pilgrimage (1872), on p. 158.
Bibliography
Barnard, J. "Fred" (il.). Charles Dickens's Sketches by Boz, with thirty-four illustrations. The Works of Charles Dickens: The Household Edition. 22 vols. London: Chapman and Hall, 1876. Volume 13.
Bentley, Nicholas, Michael Slater, and Nina Burgis. The Dickens: Index. Oxford: Oxford U. P., 1990.
Cunningham, Peter. "Seven Dials." Hand-Book of London. London: J. Murray, 1850. P. 445.
Dickens, Charles. "Scenes," Chapter 5, "Seven Dials." Christmas Books and Sketches by Boz, Illustrative of Every-day Life and Every-day People. Illustrated by Sol Eytinge, Jr. The Diamond Edition. Boston: James R. Osgood, 1875 [rpt. of 1867 Ticknor & Fields edition]. Pp. 267-269.
Dickens, Charles. Pictures from Italy, Sketches by Boz and American Notes. Illustrated by Thomas Nast and Arthur B. Frost. New York: Harper & Brothers, 1877 (copyrighted in 1876).
Dickens, Charles. "The Seven Dials." Chapter 5 in "Scenes."Sketches by Boz. Illustrated by George Cruikshank. London: Chapman and Hall, 1839, rpt. 1890.
Jackson, Lee. "On the Geography of Seven Dials." "Victorian London - Districts - Seven Dials and St. Giles." Punch, Jan.-June, 1842, quoted by Lee Jackson in Chapter 15, Dirty Old London. New Haven: Yale U. P., 2014. Pp. 229-230. Accessed 11 September 2017.
Slater, Michael. Charles Dickens: A Life Defined by Writing. New Haven and London: Yale U. P., 2009.
---
Last modified 29 May 2019