Clennam is introduced to "Mr. F.'s Aunt." (See page 162.) — Book 1, Chapter 13, "Patriarchal." 9.5 cm high x 14.5 cm wide, partially framed (vignetted on the right), in the twenty-third chapter of the first book in Charles Dickens's Little Dorrit, Charles Dickens Library Edition
(1910), facing XII, 160.
Commentary
Fin-de-siécle illustrator Harry Furniss's interpretation of the awkward dinner at the Patriarchal mansion The lithograph occurs facing page 160, but the passage illustrated occurs two pages later, setting up expectations in the reader about the nature of Arthur's visit to the Casby mansion. The accompanying caption identifies the precise lines realised (with some condensing of the original text): A fourth figure in the Patriarchal tent, whom Flora introduced as "Mr. F's Aunt," was an amazing little old woman, with a face like a staring wooden doll, too cheap for expression, and a stiff yellow wig perched unevenly on the top of her head — Dorrit, 162. The Furniss illustration captures the character comedy of the situation, and Arthur Clennam's discomfiture, which, in fact, occurs after the peculiar Aunt speaks. Furniss reinterprets the original serial illustration of March 1856, Mr. F.'s Aunt is conducted into Retirement (see below).
In the original serial instalment, Phiz demonstrates the hero's realisation that renewing his former relationship with Flora Finching (nee Casby) is hardly possible. In Furniss's redrafting, the dinner-guest, Arthur Clennam, is the focal point for this scene full of caricature, from the presiding, Quaker-like "Patriarch" to the calculating businessman, Casby (right). Clennam rises abruptly from his chair, not quite sure what to make of Mr. F's Aunt, or of the sweetheart who seems to disregard her aunt's rude and erratic behaviour, which Furniss again emphasizes in Chapter 8, Mr. F.'s Aunt?.
Related Materials: Background, Setting, Theme, and Characterization
Other Illustrations, 1855-1923
Mr. F.'s Aunt, Casby and Pancks in the original, Diamond, and Household Editions, 1856-1873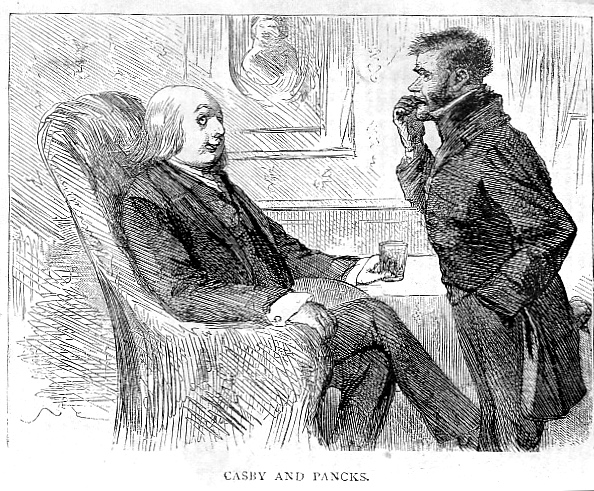 Left: The third frontispiece in the New York "Household Edition" volumes, Sir John Gilbert's engraving of Mr. F.'s Aunt demanding that a startled Arthur eat her crust, "He's too proud a chap to eat it . . ." (1863). Right: Sol Eytinge, Junior's dual study of the two Victorian men of business, the rent-collector Pancks and the capitalist and slum landlord Casby, Casby and Pancks (1867).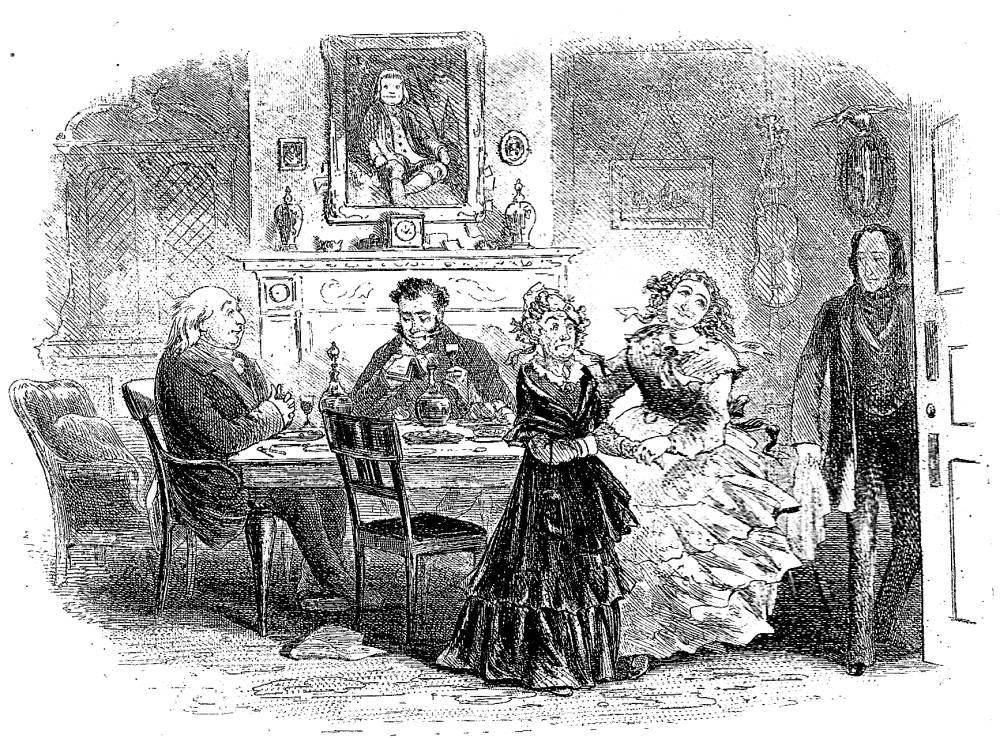 Above: Phiz's original illustration of the awkward dinner in the Casby mansion, Mr. F.'s Aunt is conducted into Retirement (March 1856).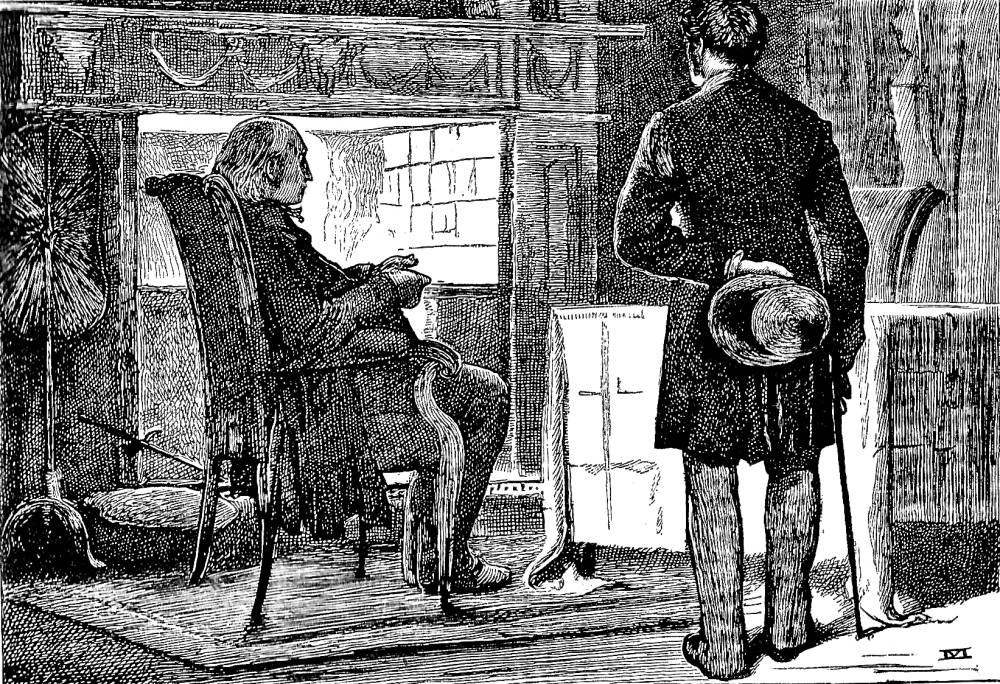 Above: James Mahoney's Household Edition illustration for the same chapter, depicting Clennam's arrival at the patriarchal mansion, The servant-maid had ticked the two words "Mr. Clennam" so softly​that she had not been heard; and he consequently stood, within the​door she had closed, unnoticed. (1873).
Scanned image and text by Philip V. Allingham. [You may use this image without prior permission for any scholarly or educational purpose as long as you (1) credit the person who scanned the image and (2) link your document to this URL.]
Bibliography
Bentley, Nicolas, Michael Slater, and Nina Burgis. The Dickens Index. New York and Oxford: Oxford U. , 1990.
Davis, Paul. Charles Dickens A to Z: The Essential Reference to His Life and Work. New York: Facts On File, 1998.
Dickens, Charles. Little Dorrit. Illustrated by Hablot Knight Browne ("Phiz"). The Authentic Edition. London: Chapman and Hall, 1901 [rpt. 30 May 1857 volume].
_____. Little Dorrit. Frontispieces by Felix Octavius Carr Darley and Sir John Gilbert. The Household Edition. 55 vols. New York: Sheldon & Co., 1863. 4 vols.
_____. Little Dorrit. Illustrated by Sol Eytinge, Jr. The Diamond Edition. Boston: Ticknor & Fields, 1867. 14 vols.
_____. Little Dorrit. Illustrated by James Mahoney. The Household Edition. 22 vols. London: Chapman and Hall, 1873. Vol. 5.
_____. Little Dorrit. Illustrated by Harry Furniss. The Charles Dickens Library Edition. 18 vols. London: Educational Book, 1910. Vol. 12.
Hammerton, J. A. "Chapter 19: Little Dorrit." The Dickens Picture-Book. The Charles Dickens Library Edition. Illustrated by Harry Furniss. 18 vols. London: Educational Book Co., 1910. Vol. 17, 398-427.
Kitton, Frederic George. Dickens and His Illustrators: Cruikshank, Seymour, Buss, "Phiz," Cattermole, Leech, Doyle, Stanfield, Maclise, Tenniel, Frank Stone, Landseer, Palmer, Topham, Marcus Stone, and Luke Fildes. Amsterdam: S. Emmering, 1972. [Rpt. of the London 1899 edition]
Lester, Valerie Browne. Phiz: The Man Who Drew Dickens. London: Chatto and Windus, 2004.
"Little Dorrit — Fifty-eight Illustrations by James Mahoney." Scenes and Characters from the Works of Charles Dickens, Being Eight Hundred and Sixty-six Drawings by Fred Barnard, Gordon Thomson, Hablot Knight Browne (Phiz), J. McL. Ralston, J. Mahoney, H. French, Charles Green, E. G. Dalziel, A. B. Frost, F. A. Fraser, and Sir Luke Fildes. London: Chapman and Hall, 1907.
Schlicke, Paul, ed. The Oxford Reader's Companion to Dickens. Oxford and New York: Oxford U. , 1999.
Steig, Michael. "VI. Bleak House and Little Dorrit." Dickens and Phiz. Bloomington & London: Indiana U. , 1978, 131-298.
Vann, J. Don. Victorian Novels in Serial. New York: The Modern Language Association, 1985.
---
Created 21 April 2016

Last modified 23 January 2020