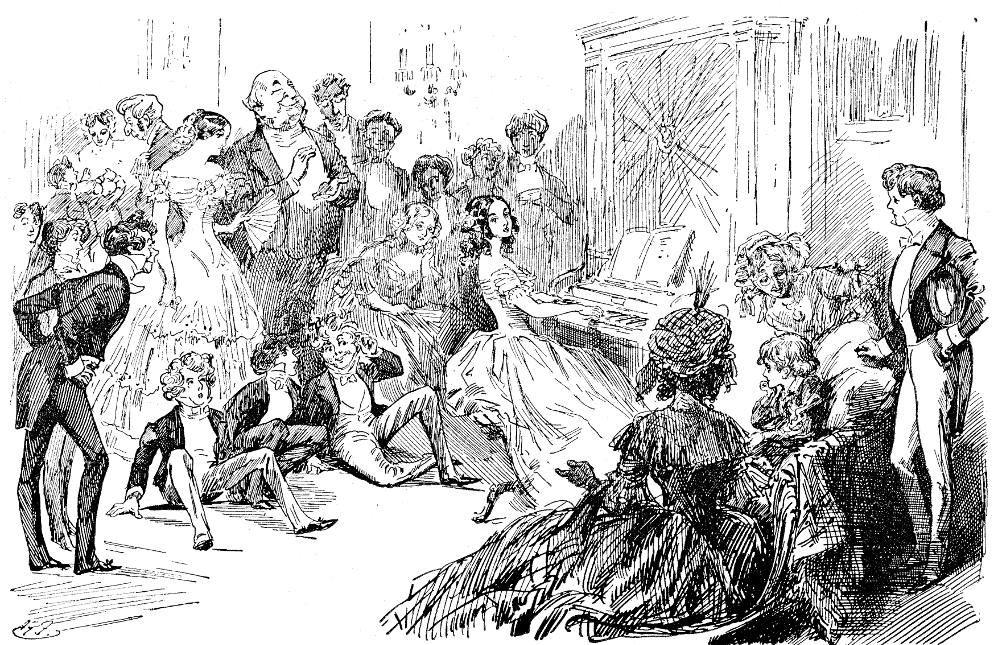 Florence singing at Doctor Blimber's by Harry Furniss in The Charles Dickens Library Edition (1910) — from Chapter 14, "Paul grows more and more Old-fashioned, and goes Home for the Holidays," (9.8 x 14.9 cm; 3 ¾ x 5 ¾ inches, framed) occupies its own page, facing IX, 192. Caption: They all drew a little away, that Paul might see her; and when he saw her sitting there all alone, so young, and good, and beautiful, and kind to him; and heard her thrilling voice, so natural and sweet, and such a golden link between him and all his life's love and happiness. [Click on the images to enlarge them.]
Passage Illustrated: Florence entertains at the End of Term Party
Once, when there was a pause in the dancing, Lady Skettles told Paul that he seemed very fond of music. Paul replied, that he was; and if she was too, she ought to hear his sister, Florence, sing. Lady Skettles presently discovered that she was dying with anxiety to have that gratification; and though Florence was at first very much frightened at being asked to sing before so many people, and begged earnestly to be excused, yet, on Paul calling her to him, and saying, "Do, Floy! Please! For me, my dear!" she went straight to the piano, and began. When they all drew a little away, that Paul might see her; and when he saw her sitting there all alone, so young, and good, and beautiful, and kind to him; and heard her thrilling voice, so natural and sweet, and such a golden link between him and all his life's love and happiness, rising out of the silence; he turned his face away, and hid his tears. Not, as he told them when they spoke to him, not that the music was too plaintive or too sorrowful, but it was so dear to him.
They all loved Florence. How could they help it! [Chapter 14, "Paul grows more and more Old-fashioned, and goes Home for the Holidays," 209]
Dr. Blimber's Establishment in the Original and Diamond Editions (1847 and 1867)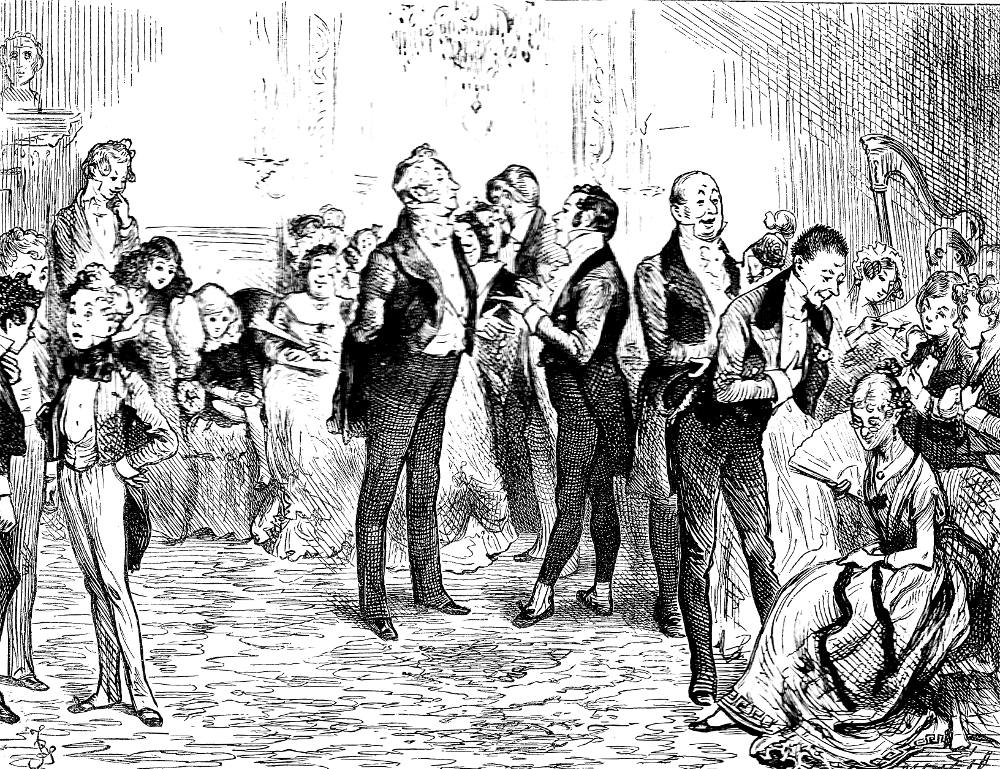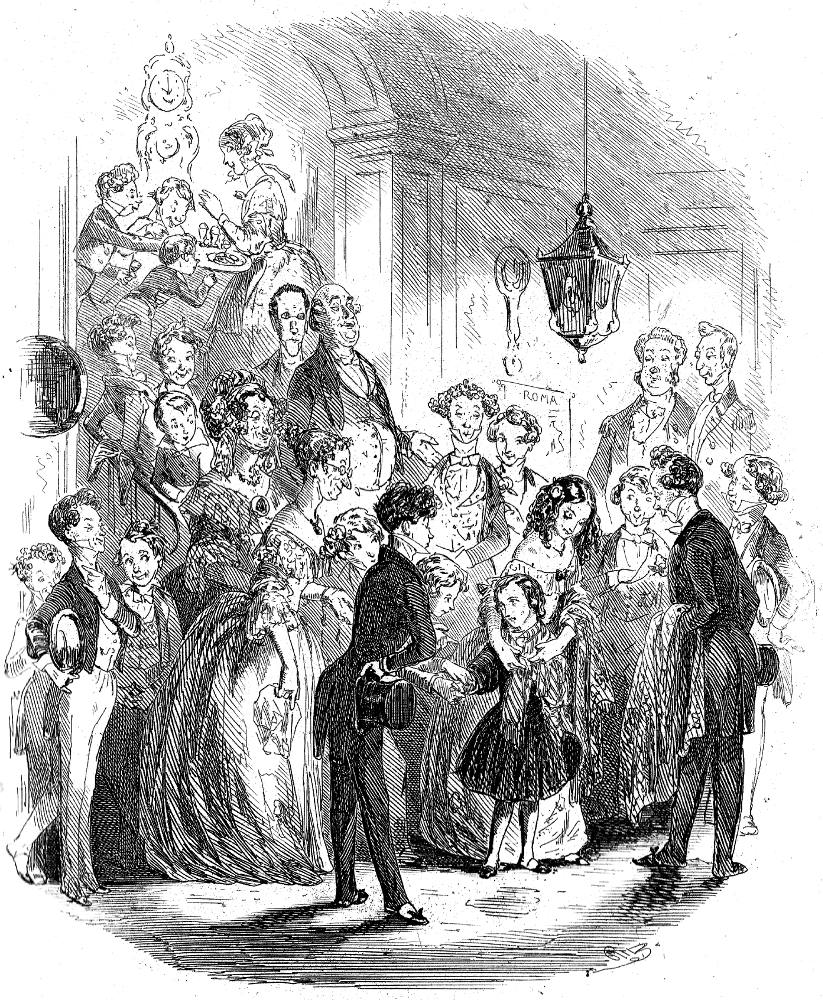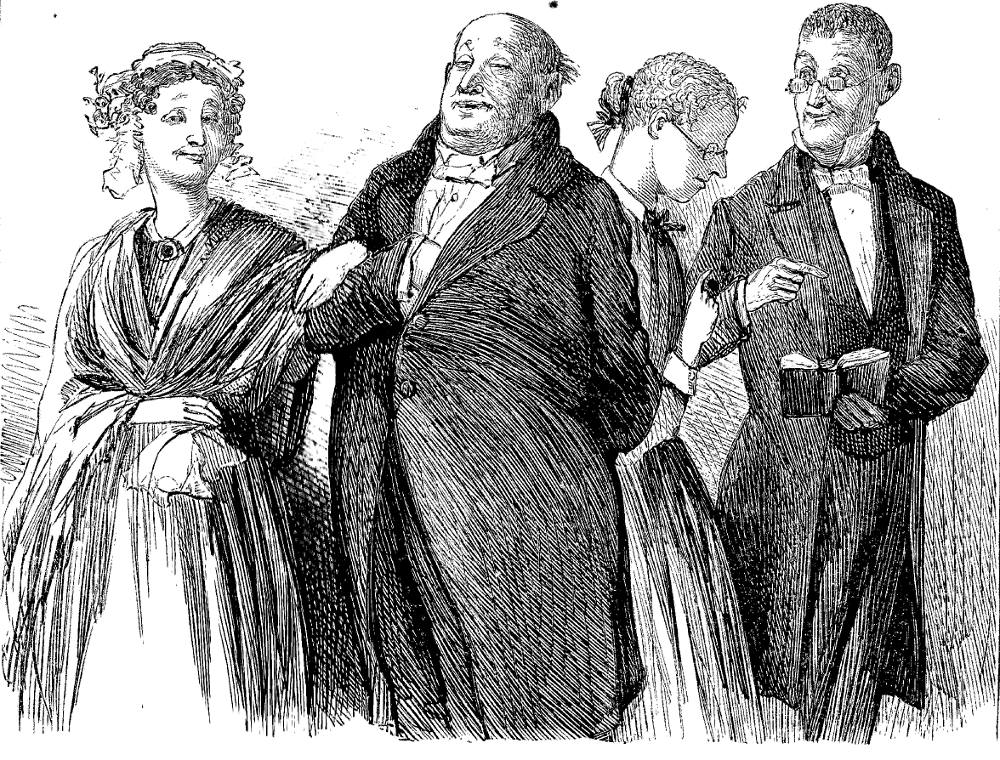 Left: Fred Barnard's Household Edition illustration of the sane scene: The Breaking-up Party at Dr. Blimber's (1877). Centre: Phiz's study of Dr. Blimber's reception marking the end-of-term at the Academy, Paul goes Home for the Holidays (February 1847). Right: Sol Eytinge, Junior's family grouping of the Blimbers, The Blimbers and Mr. Feeder (1867).
Related Material, including Other Illustrated Editions of
Dombey and Son
Scanned image and text by Philip V. Allingham. [You may use this image without prior permission for any scholarly or educational purpose as long as you (1) credit the person who scanned the image and (2) link your document to this URL in a web document or cite the Victorian Web in a print one.]
Bibliography
Dickens, Charles. Dombey and Son. Illustrated by Phiz. (Hablot K. Browne). London: Chapman and Hall, 1848.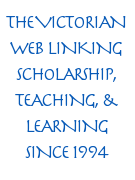 _______. Dombey and Son. Illustrated by Hablot Knight Browne (Phiz). 8 coloured plates. London and Edinburgh: Caxton and Ballantyne, Hanson, 1910.
Dickens, Charles. Dombey and Son. Illustrated by Sol Eytinge, Jr, and engraved by A. V. S. Anthony. 14 vols. Boston: Ticknor & Fields, 1867. III.
Dickens, Charles. Dealings with the Firm of Dombey and Son: Wholesale, Retail, and for Exportation. Illustrated by Harry Furniss. The Charles Dickens Library Edition. London: Educational Book Company, 1910. IX.
---
Last modified 30 December 2019