Mrs. Brown and and D. I. J. O. N. by Harry Furniss in The Charles Dickens Library Edition (1910) — from Chapter 52, "Secret Intelligence" (9.2 x 14.8 cm; 3 ¾ x 5 ¾ inches, vignetted) occupies its own page, facing IX, 737. Caption: "Then write large, Rob," she returned, repeating her secret signal; "for my eyes are not good." Muttering to himself, Rob went on with the word. As he bent his head down, the person for whose information he so unconsciously laboured, moved from the door behind him and looked eagerly towards the creeping track of his hand upon the table. [Click on the image to enlarge it.]
Passage Illustrated: Carker's Travel Instructions to Edith Decoded
Rob, having nothing more to say, began to chalk, slowly and laboriously, on the table.
"D," the old woman read aloud, when he had formed the letter.
"Will you hold your tongue, Misses Brown?" he exclaimed, covering it with his hand, and turning impatiently upon her. "I won't have it read out. Be quiet, will you!"
"Then write large, Rob," she returned, repeating her secret signal; "for my eyes are not good, even at print."
Muttering to himself, and returning to his work with an ill will, Rob went on with the word. As he bent his head down, the person for whose information he so unconsciously laboured, moved from the door behind him to within a short stride of his shoulder, and looked eagerly towards the creeping track of his hand upon the table. At the same time, Alice, from her opposite chair, watched it narrowly as it shaped the letters, and repeated each one on her lips as he made it, without articulating it aloud. At the end of every letter her eyes and Mr. Dombey's met, as if each of them sought to be confirmed by the other; and thus they both spelt D. I. J. O. N. [Chapter 52, "Secret Intelligence," 753]
Other Studies of The Grinder communicating his secret from the Original and Household Editions
Left: Phiz's serial illustration of the same scene: Secret Intelligence (Ch. 52, February 1848). Right: Fred Barnard's dramatisation of the spy's furnishing Dombey's agents with the clue to Carker's destination: Mrs. Brown and D. I. J. O. N. (1910).
Related Material, including Other Illustrated Editions of
Dombey and Son
Scanned image and text by Philip V. Allingham. [You may use this image without prior permission for any scholarly or educational purpose as long as you (1) credit the person who scanned the image and (2) link your document to this URL in a web document or cite the Victorian Web in a print one.]
Bibliography
Dickens, Charles. Dealings with the Firm of Dombey and Son: Wholesale, Retail, and for Exportation. Illustrated by Harry Furniss. The Charles Dickens Library Edition. London: Educational Book Company, 1910. IX.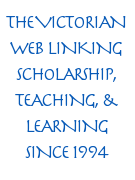 _______. Dombey and Son. Illustrated by Hablot Knight Browne (Phiz). 8 coloured plates. London and Edinburgh: Caxton and Ballantyne, Hanson, 1910.
_______. Dombey and Son. Illustrated by Fred Barnard [62 composite wood-block engravings]. The Works of Charles Dickens. The Household Edition. 22 vols. London: Chapman and Hall, 1877. XV.
---
Created 9 January 2021