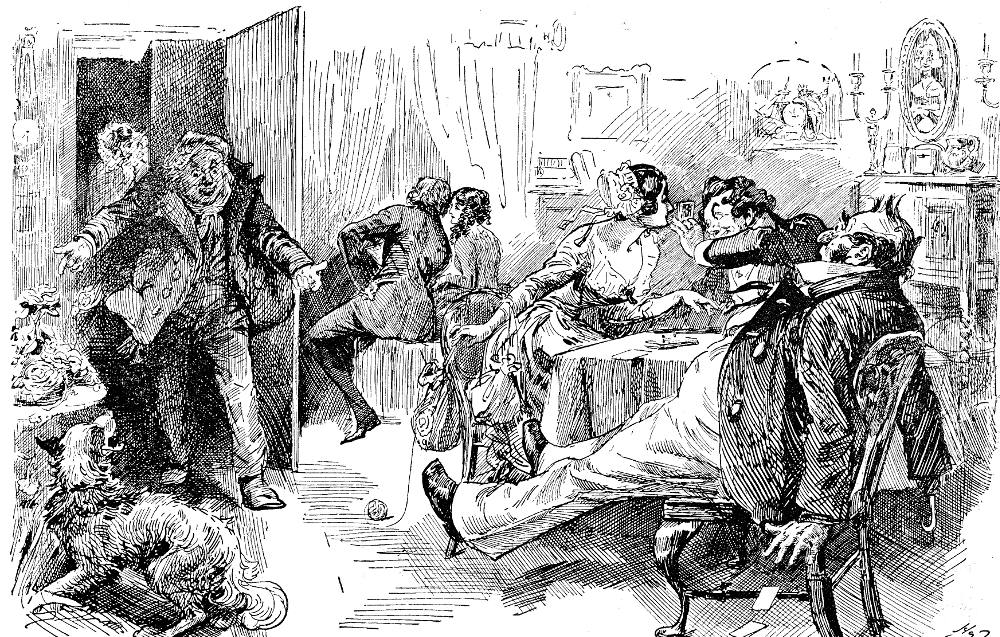 "Sol Gills, Ahoy!" by Harry Furniss in The Charles Dickens Library Edition (1910) — from Chapter 56, "Several People delighted, and the Game Chicken disgusted" (9.5 x 14.5 cm; 3 ½ x 5 ¾ inches, vignetted) occupies its own page, facing IX, 801. Caption: The Captain's cards dropped out of his hands, his mouth and eyes opened wide, his legs drew themselves up and stuck out in front of his chair, and he sat staring at the door with blank amazement. He recovered himself with a great gasp, struck the table a tremendous blow, cried in a stentorian roar,"Sol Gills, ahoy!" [Click on the image to enlarge it.]
Passage Illustrated: A Satisfying Dénouement for Walter and Florence
"It's my opinion, Di," said the Captain, looking thoughtfully at his cards, and stroking his chin with his hook, "as you have your doubts of Mrs. Richards; but if you're the animal I take you to be, you'll think better o' that; for her looks is her commission. Now, Brother:" to Mr. Toots: "if so be as you're ready, heave ahead."
The Captain spoke with all composure and attention to the game, but suddenly his cards dropped out of his hand, his mouth and eyes opened wide, his legs drew themselves up and stuck out in front of his chair, and he sat staring at the door with blank amazement. Looking round upon the company, and seeing that none of them observed him or the cause of his astonishment, the Captain recovered himself with a great gasp, struck the table a tremendous blow, cried in a stentorian roar, "Sol Gills ahoy!" and tumbled into the arms of a weather-beaten pea-coat that had come with Polly into the room. [Chapter 56, "Several People delighted, and the Game Chicken disgusted," 812]
Other Studies of The Homecoming from the Original and Household Editions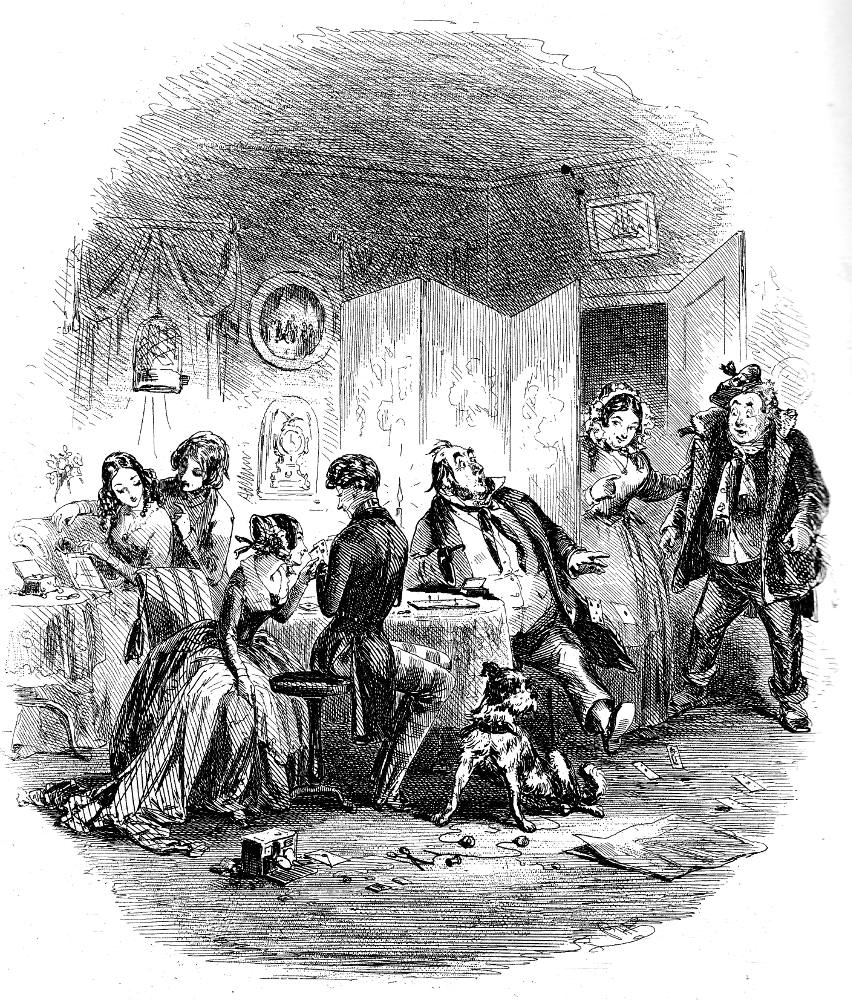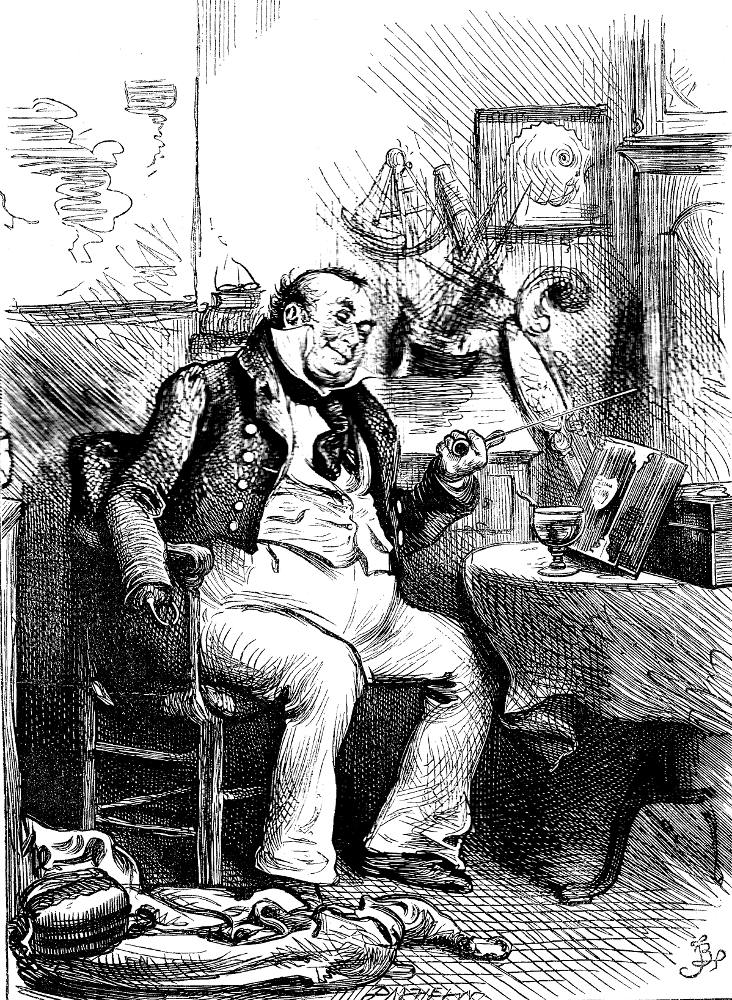 Left: Phiz's serial illustration of the same scene: An Arrival (Ch. 56, March 1848). Right: Fred Barnard's portrait of the genial old salt after the dramatic incident: After this, he smoked four pipes successively in the little parlour by himself, and was discovered chuckling, at the expiration of as many hours (1877).
Related Material, including Other Illustrated Editions of
Dombey and Son
Scanned image and text by Philip V. Allingham. [You may use this image without prior permission for any scholarly or educational purpose as long as you (1) credit the person who scanned the image and (2) link your document to this URL in a web document or cite the Victorian Web in a print one.]
Bibliography
Dickens, Charles. Dealings with the Firm of Dombey and Son: Wholesale, Retail, and for Exportation. Illustrated by Harry Furniss. The Charles Dickens Library Edition. London: Educational Book Company, 1910. IX.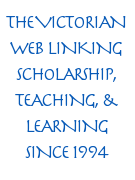 _______. Dombey and Son. Illustrated by Hablot Knight Browne (Phiz). 8 coloured plates. London and Edinburgh: Caxton and Ballantyne, Hanson, 1910.
_______. Dombey and Son. Illustrated by Fred Barnard [62 composite wood-block engravings]. The Works of Charles Dickens. The Household Edition. 22 vols. London: Chapman and Hall, 1877. XV.
---
Created 10 January 2021