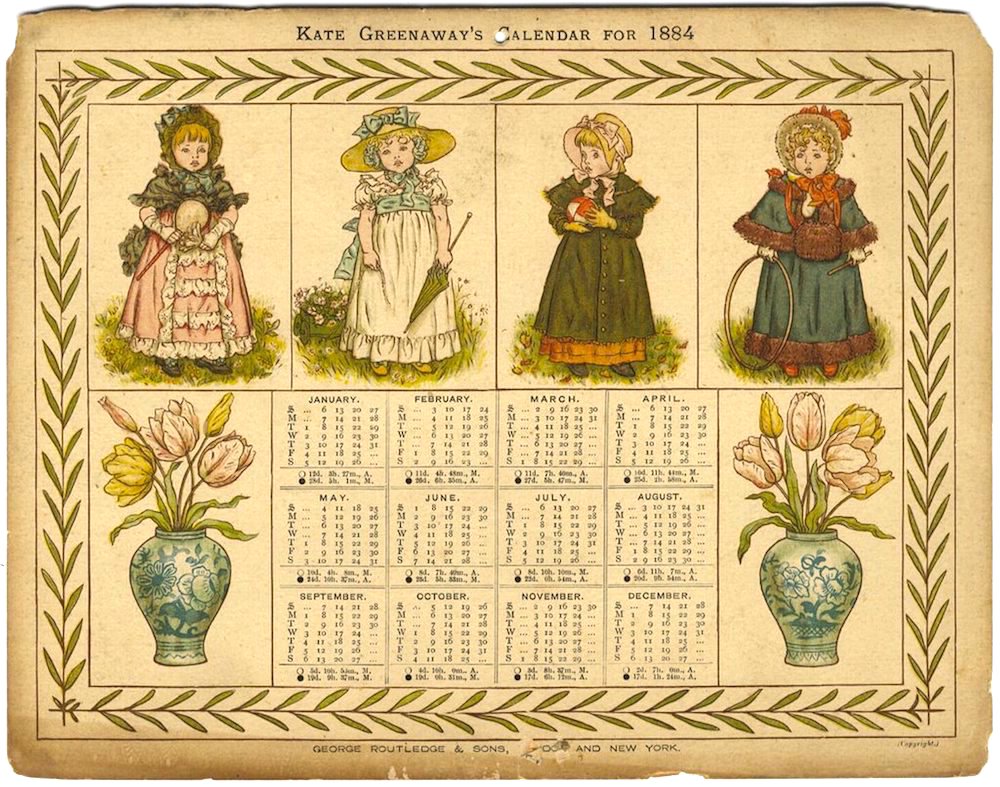 Kate Greenaway Calendar for 1884 (print), published as a set of two cards between leather-bound and gold-tooled boards, by George Routledge & Sons. Size: each of the two cards measures 18.8cm x 24.1cm, while the boards are 19cm x 25.5cm. All images courtesy Somerset & Wood Fine Art Ltd, as well as details about the size and material. [Click to enlarge the images.]
The cards have small holes at the top so that they can be hung up on the wall. The one above has four child figures, each dressed appropriately for one of the four seasons, with a vase of spring flowers at either end of the year's calendar. The little girls in seasonal attire carry (spring) a shuttlecock and racket; (summer) a parasol; (autumn) a ball; and (winter) a hoop.
This card has young women dressed to represent every month, March being windswept, April with her umbrella up and apparently avoiding puddles, and so on. Instead of vases of flowers at each side, this one shows two tables, one for the dates of festivals, and one for postal rates. Among the festivals are some not observed now, except perhaps in church, like Michaelmas Day in September. The postal chart starts with the penny post, for letters not exceeding 1 oz.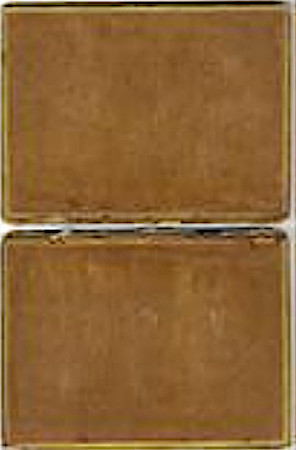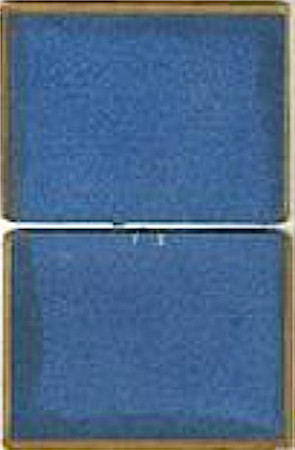 The boards too are rather fine, blue on the inside and leather (as explained above) on the outside.
Greenaway's calendars were extremely popular. Biographers Marion Spielmann and G. S. Layard explain that "The beginning of 1883 had seen the publication of Kate Greenaway's first Almanack. Published at one shilling by George Routledge & Sons, and of course engraved and printed in colours bv Mr. Edmund Evans, it achieved an enormous success, some 90,000 copies being sold in England, America, France, and Germany. It was succeeded by an almanack every year (with but one exception, 1896) until 1897, the last being published by Mr. Dent."
Please see Somerset & Wood Fine Art Ltd for more details of this item. Text and formatting by Jacqueline Banerjee.
Bibliography
Spielmann, M. H., and G. S. Layard. Kate Greenaway. London: Adam and Charles Black, 1905. Internet Archive. Web. 17 June 2018.
---
Created 17 June 2018