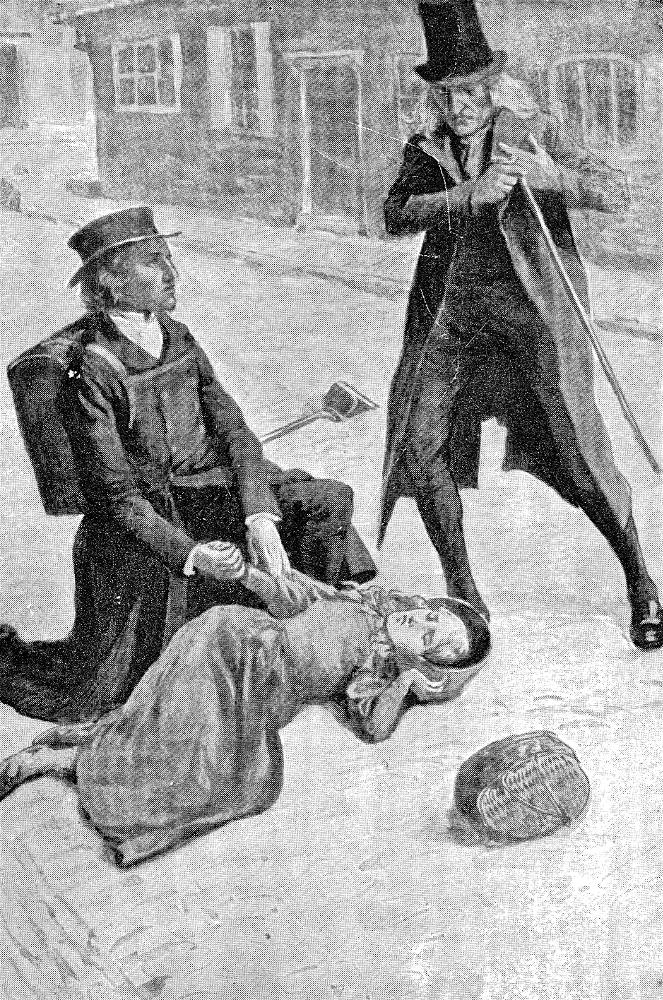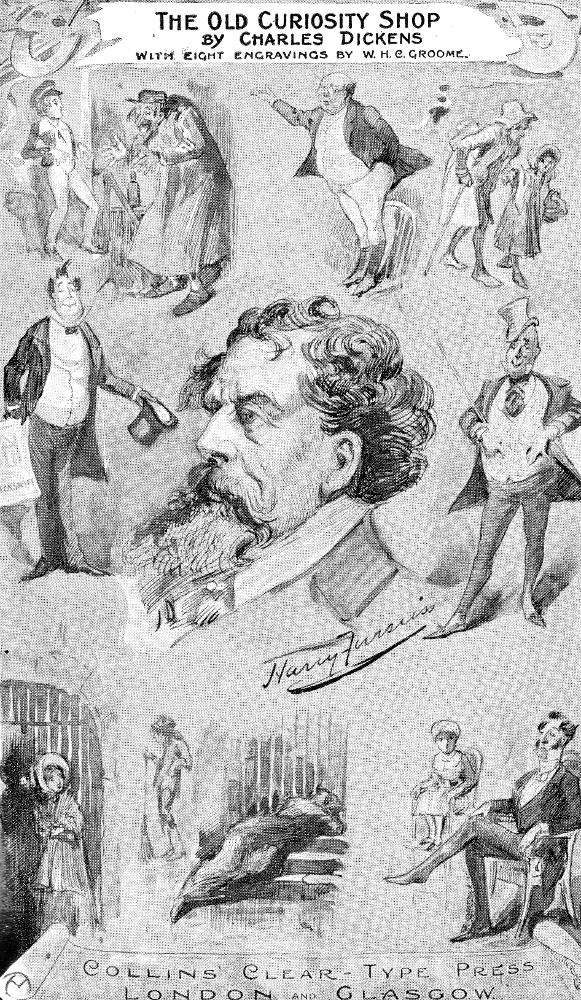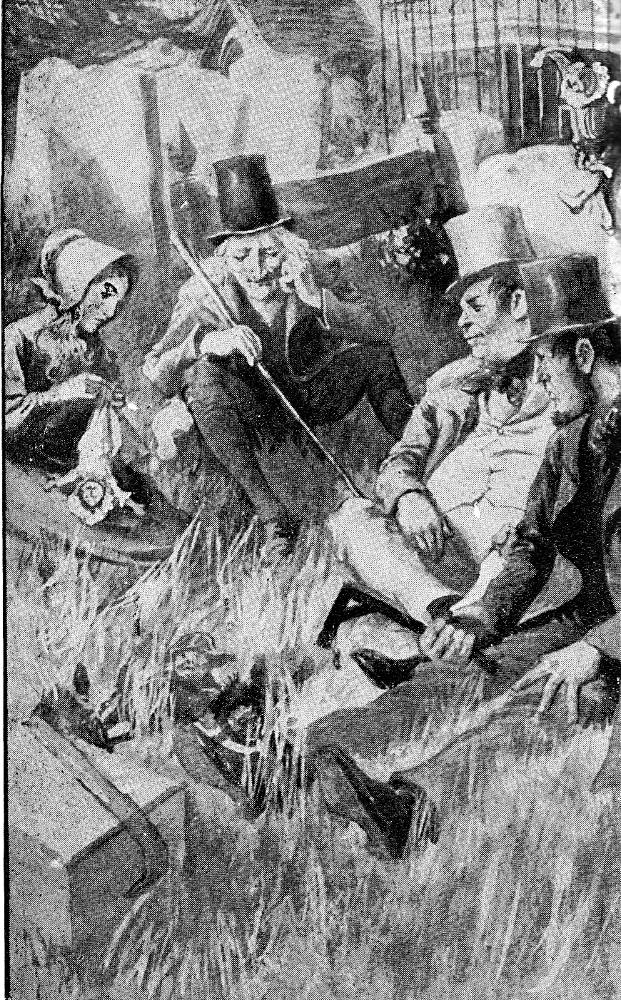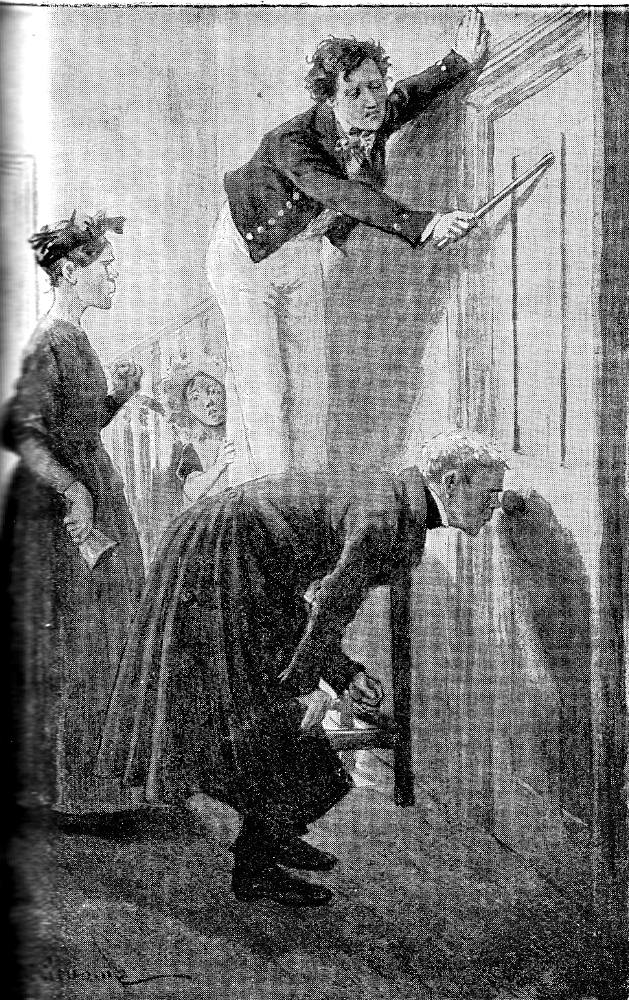 Left: "She is quite exhausted." Left of centre: Vignetted Title-page. Right of centre: "Nelly was soon engaged in her task." Right: Mr. Swiveller rained down a shower of blows.
William H. C. Groome (1854-1913)
The landscape painter and children's book illustrator William Henry Charles Groome was born in Argentina in December 1854, and died in Brighton, Sussex, England, in December 1913. W. H. C. Groome (also known as William H. C. Groome) illustrated the works of Charles Dickens, O. F. Walton, and Amy Le Feuvre during the period 1895 through 1913. Collectors are still interested in his realistic treatment of such children's works as Mrs. George de Horne Vaizey's Pixie O'Shaughnessy (3 vols., 1902) and W. H. G. Kingston's The South Sea Whaler (1900).
The Old Curiosity Shop

(1900)
Of the nine small-scale lithographs, four in some way involve Nell Trent and her grandfather, two involve the evil antagonist, Daniel Quilp, and three the Comic Man of the melodrama, Dick Swiveller. Two concern the secondary protagonist, Kit Nubbles, two Nell's grandfather, and two the Marchioness. The only significant actor missing is the Single Gentleman, but then this pocket-edition permitted Groome to illustrate only eight incidents (or nine, if one counts the vignette of The Wanderers in the illustrated title). Groome's eight lithographs contain a total of fifteen named characters in a novel that originally had nearly ten times that number of illustrations.
Groome's Edwardian illustrations reveal, despite their small dimensions (12.4 cm high by 8.0 cm wide, on pages measuring 15.2 cm by 9.5 cm - standard for the Collins' Clear-type Editions), a sure sense of composition. Groome prefers scenes between a limited number of characters, such as "Nelly was soon engaged in her task" in Ch. XVI (based on versions in both the original Master Humphrey's Clock and Household Edition illustrations), utilizing similar juxtapositions and contrasts, and often merely sketching in the background. Groome always puts his grouped characters in focus, and tends to throw the backdrop out of focus.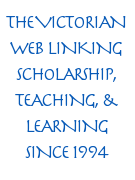 Related Material
Bibliography
Bentley, Nicolas, Michael Slater, and Nina Burgis. The Dickens Index. New York and Oxford: Oxford U. , 1990.
Davis, Paul. Charles Dickens A to Z: The Essential Reference to His Life and Work. New York: Facts On File, 1998.
Bentley, Nicolas, Michael Slater, and Nina Burgis. The Dickens Index. New York and Oxford: Oxford U. , 1990.
_______. The Old Curiosity Shop. Illustrated by William H. C. Groome. The Collins' Clear-Type Edition. Glasgow & London: Collins, 1900.
Kitton, Frederic George. "Phiz" (Hablot Knight Browne), a Memoir, Including a Selection From His Correspondence and Notes on His Principal Works. London, George Redway, 1882.
Lester, Valerie Browne. Phiz: The Man Who Drew Dickens. London: Chatto and Windus, 2004.
Schlicke, Paul, ed. The Oxford Reader's Companion to Dickens. Oxford and New York: Oxford U. P., 1999.
Steig, Michael. "Phiz's Marchioness." Dickens Studies. 2, 3: (September 1966): 141-46.
_______. Chapter 3. "From Caricature to Progress: Master Humphrey's Clock to Martin Chuzzlewit." Dickens and Phiz. Bloomington & London: Indiana U. P., 1978. 53-85.
Stevens, Joan. "'Woodcuts Dropped into the Text': The Illustrations in The Old Curiosity Shop and Barnaby Rudge." Studies in Bibliography. 20 (1967): 113-34.
Tan, Jack. "Charles Dickens's Idealized Portraits: Rewriting the child in Oliver Twist and The Old Curiosity Shop." The Looking Glass: New Perspectives on Children's Literature 18, 1 (September 2015).
Vann, J. Don. "The Old Curiosity Shop in Master Humphrey's Clock, 25 April 1840-6 February 1841." Victorian Novels in Serial. New York: MLA, 1985. 64-65.
---
Created 7 August 2020

Last modified 23 November 2020