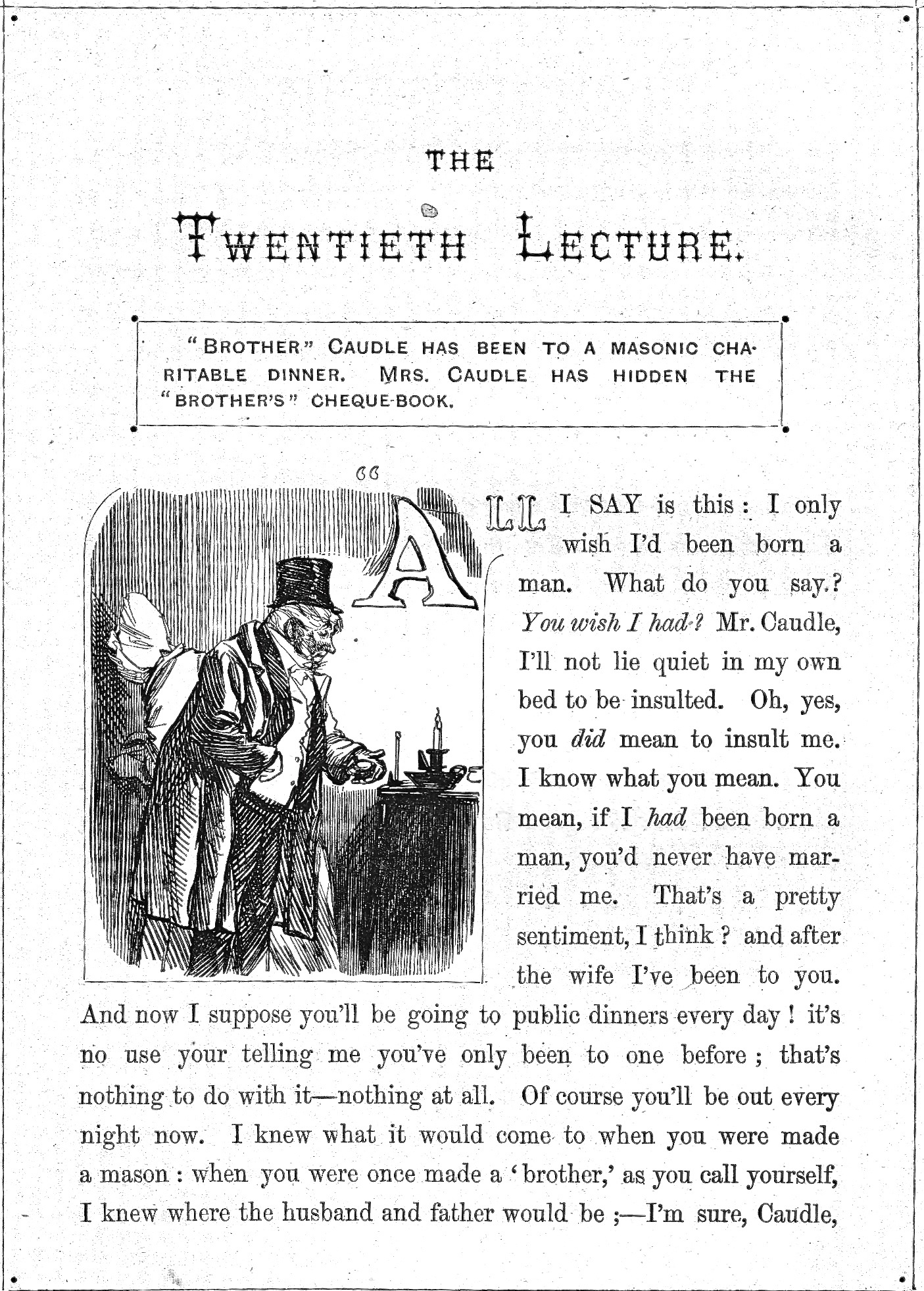 Illuminated Initial "A"
Charles Keene
1866
Wood-engraving
6.3 x 5.1 cm, framed
Thirty-fourth illustration for Douglas Jerrold's Mrs.​ ​ Caudle's Curtain Lectures (first published 21 June 1845): "The Twentieth Lecture," p.​ 99.
[Click on image to enlarge it and mouse over text for links.]
Scanned image and text by Philip V. Allingham.
[You may use these images without prior permission for any scholarly or educational purpose as long as you link your document to this URL in a web document or cite the Victorian Web in a print one.]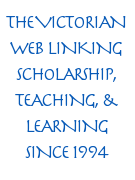 Passage Illustrated: Mr. Caudle brings home the wrong hat
"Where's your watch?​ Haven't I told you fifty times where it is? In the pocket —; over your head —; of course. Can't you hear it tick? No: you can hear nothing to-night.
"And now, Mr. Caudle, I should like to know whose hat you've brought home? You went out with a beaver worth three-and-twenty shillings —; the second time you've worn it — and you bring home a thing that no Jew in his senses would give me fivepence for. I couldn't even get a pot of primroses —; and you know I always turn your old hats into roots —;not a pot of primroses for it. I'm certain of it now —; I've often thought it —; but now I'm sure that some people dine out only to change their hats.
"Where's your watch?​ Caudle, you're bringing me to an early grave!"​ ["Twentieth Lecture. —; "'Brother' Caudle has been to a Masonic charitable dinner. Mrs. Caudle has hidden the 'brother's' chequebook," p. 103]
Commentary: The Beaver Hat
Although once again the couple are conducting their discussion at bed-time, Keene imagines the scene as occurring just after a slightly boozy-looking Job Job Caudle enters the house —; wearing a hat several sizes too small. In the 1840s, any respectable middle-class Victorian gentleman who could afford to do so would be wearing a top-hat made from beaver pelt. That Job Caudle's is worth twenty-three shillings indicates that it was a first-rate and very expensive model, worth about three weeks' wages for a London clerk such as Dickens's Bob Cratchit.
Job Caudle is shown by Keene wearing a high crowned, curled-brim beaver hat, that is, a dark top-hat made from the best quality of felt derived from the pelt of a North American beaver, the preferred source of the raw material from the seventeenth through the nineteenth centuries for the craftsmen of London, Paris, and Berlin in particular. As the demand in Western Europe rose for such hats (broad-brimmed originally) in the late seventeenth century, the supplies of beaver in Sweden and Russia were depleted, and two New World companies stepped in to supply the trade: the Hudson's Bay Company and the North-West Company. For a Londoner such as Mr. Caudle the most fashionable and expensive beavers were those manufactured by James Lock, "Hatter to the Nobility and Gentry," whose shop was in central London at No. 6, St. James's Street. By the period in which Keene was illustrating Mrs. Caudle's Curtain Lectures in 1866 the Victorians had begun to replace the heavy beaver with the lighter silk-plush top-hat. See the beavers worn by Dickens's financiers and capitalists on the London Exchange in "This pleasantry was received with a general laugh" by Fred Barnard in the Household Edition (1878) of A Christmas Carol. The hat that Job Caudle has left behind at the Masonic Lodge would be worth £104.00 in present-day British currency.
It is generally agreed that pure beaver fur made the best hats, but many​ ​ "beaver" hats contained only a certain percentage of beaver fur, with muskrat, rabbit, and especially sheep wool making up the rest. One popular (and cheaper) type of hat, called "plated"​or "roram,"​had a wool felt body with beaver fur brushed onto the outer surface, for looks.
In the inventory of goods on hand at Fort Vancouver on June 1, 1832, one of the items listed is​"24 ladies fine beaver hats"​for which the [Hudson's Bay] Company paid 11 shillings each. The total cost for 24 hats was thus £13.4s.0d. We know that HBC's price markup for retail sales was 100% for the general public and its own officers. At that rate, if an outsider showed up to buy a hat (as Narcissa Whitman might have in 1836), she would have paid 22 shillings. The online inflation calculator I find most useful (measuringworth.com) says that 22 shillings in 1832 would be roughly equal to £79.70 today, or about $123.00 in today's​[2012 American]​dollars. ["How much did a beaver hat cost?"]
Bibliography
"How much did a beaver hat cost?" Fun Fur Facts: Focused on Fort Vancouver, Columbia District, in the Hudson's Bay Company era​.​ ​29 December 2012.​http://furfortfunfacts.blogspot.ca/2012/12/how-much-did-beaver-hat-cost.html.
Jerrold, Douglas. Mrs. Caudle's Curtain Lectures, as Suffered by the late Job Caudle.​Edited from the Original MSS. by Douglas Jerrold. With a frontispiece by Leech, and as motto on the title-page, "Then, Pistol, lay thy head in Fury's lap. —; Shakespeare."​London: Punch​Office; Bradbury​ and Evans,​ 1846.
Jerrold, Douglas. Mrs. Caudle's Curtain Lectures . Illustrated by John Leach and Richard Doyle. London: Bradbury and Evans, 1856.
Jerrold, Douglas. Mrs. Caudle's Curtain Lectures. Illustrated by Charles Keene. London: Bradbury and Evans, 1866.
---

Victorian
Web

Visual
Arts

Illus-
tration

Charles
Keene

Next
Last modified 4 December 2017