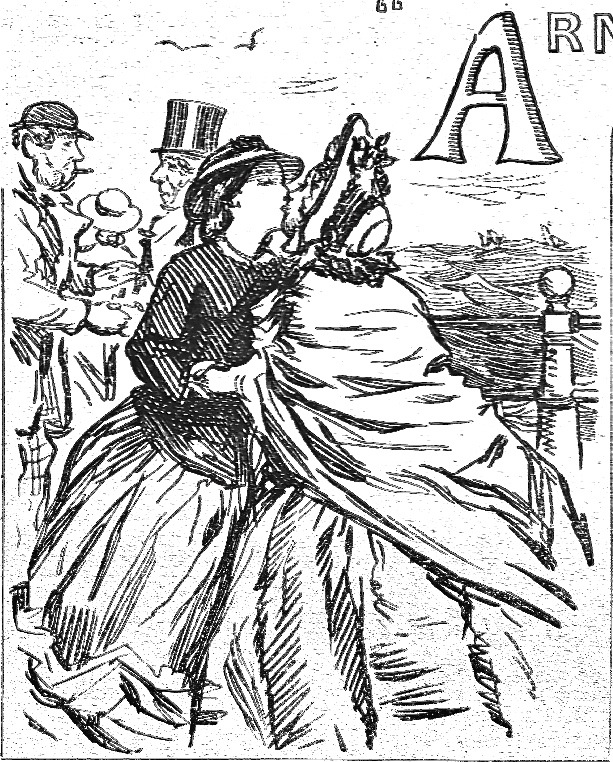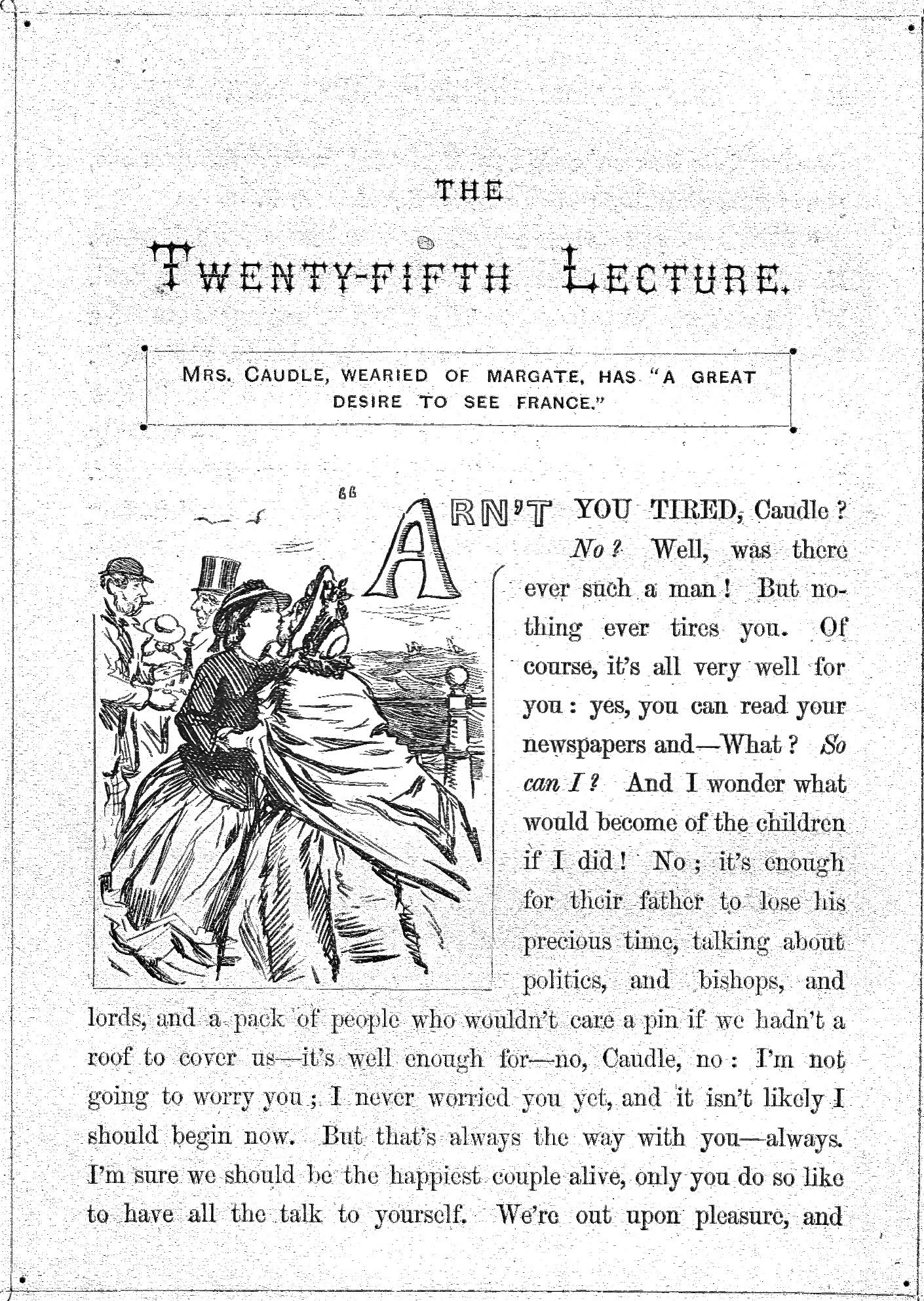 Mrs. Caudle meets Miss Prettyman, Initial "A" — initial-letter vignette for "The Twenty-Fifth Lecture" in Mrs. Caudle's Curtain Lectures, first published in the Punch; or, The London Charivari number for​ 26 July 1845 instalment, "Mrs. Caudle, wearied of Margate, has 'a great desire to see France'," p. 125. Wood-engraving 5.8 by 5.2 cm, framed; fortieth illustration in the third edition.​As Job Caudle shakes Mr. Prettyman's hand in the background, the two ladies embrace; who would guess that Margaret Caudle has been so jealous of Miss Prettyman?
Scanned image and text by Philip V. Allingham. [You may use this image without prior permission for any scholarly or educational purpose as long as you (1) credit the person who scanned the image and (2) link your document to this URL.]
Passage Illustrated
Miss Prettyman's to follow you here, and I'm to say nothing. I know she has followed you; and if you were to go before a magistrate, and take a shilling oath to the contrary, I wouldn't believe you. No, Caudle; I wouldn't.
Very well, then? Ha! what a heart you must have, to say 'very well'; and after the wife I've been to you. I'm to be brought from my own home —; dragged down here to the sea-side —; to be laughed at before the world —; don't tell me. Do you think I didn't see how she looked at you —; how she puckered up her farthing mouth —; and —; what? Why did I kiss her, then? What's that to do with it? Appearances are one thing, Mr. Caudle; and feelings are another. As if women can't kiss one another without meaning anything by it! And you —; I could see you looked as cold and as formal at her as —; well, Caudle! I wouldn't be the hypocrite you are for the world!
"There, now; I've heard all that story. I daresay she did come down to join her brother. How very lucky, though, that you should be here! Ha! ha! how very lucky that — ugh! ugh! ugh! and with the cough I've got upon me—oh, you've a heart like a sea-side flint! Yes, that's right. That's just like your humanity. I can't catch a cold, but it must be my own fault —; it must be my thin shoes. I daresay you'd like to see me in ploughman's boots; 'twould be no matter to you how I disfigured myself. Miss Prettyman's foot, now, would be another thing —; no doubt. [Lecture XXV, "Mrs. Caudle, weary of Margate, has 'a great desire to see France'," pp. 126-127]
Commentary
​Although the excursion down the Thames took its toll on Mrs. Caudle, she has recuperated from her sea-sickness quickly in the Dolphin Inn, Herne Bay. When, however, the Caudles finally arrive at Margate​ for a two-month beach vacation, Margaret Caudle quickly tires of the sleepy seaside resort, and suggests that they visit the French coast. But her motive may be more than the alleviation of boredom, suggests Jerrold, as she is jealous of the beautiful, young Miss Prettyman, who has just arrived in Margate to join her brother on vacation. Mrs. Caudle, however, justifies the trip to what Dickens called "Our French Watering-place," Boulogne on the English Channel, as a way of acquiring mental stimulation:
Other people can take their wives to Paris; but you always keep me moped up at home. And what for? Why, that I may know nothing —; yes; just on purpose to make me look little, and for nothing else. [112]
George Cruikshank's Complementary Steel-engravings for "The Steam Excursion" (1839)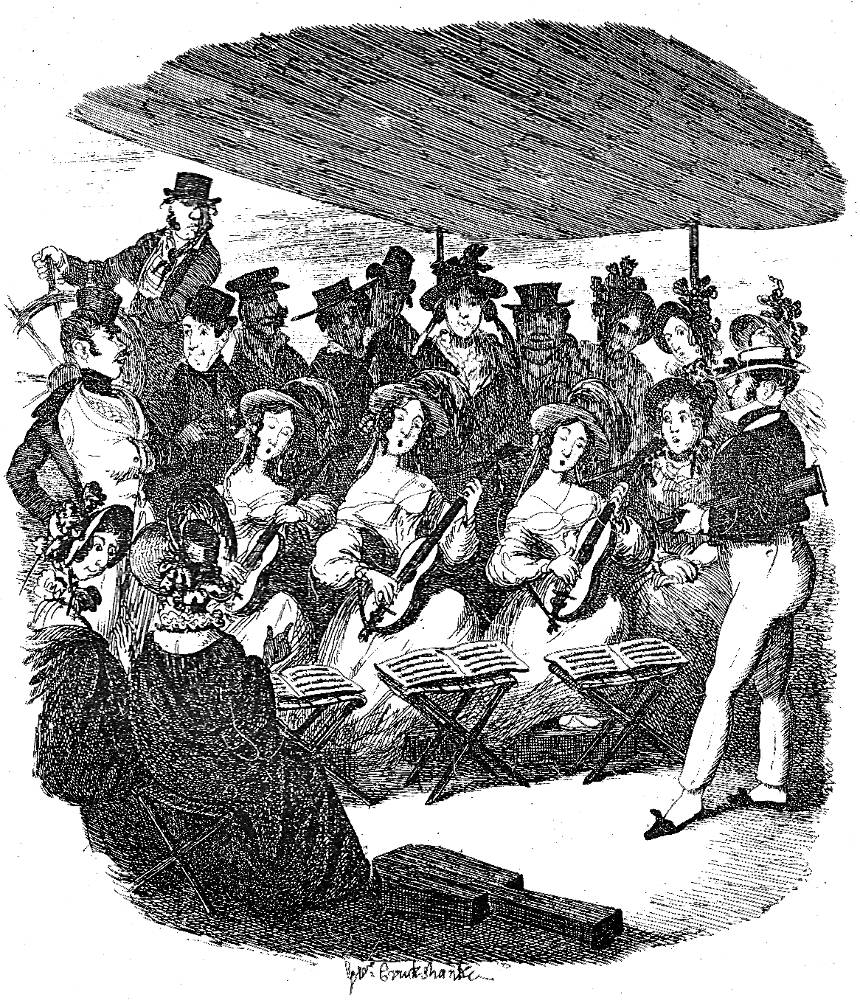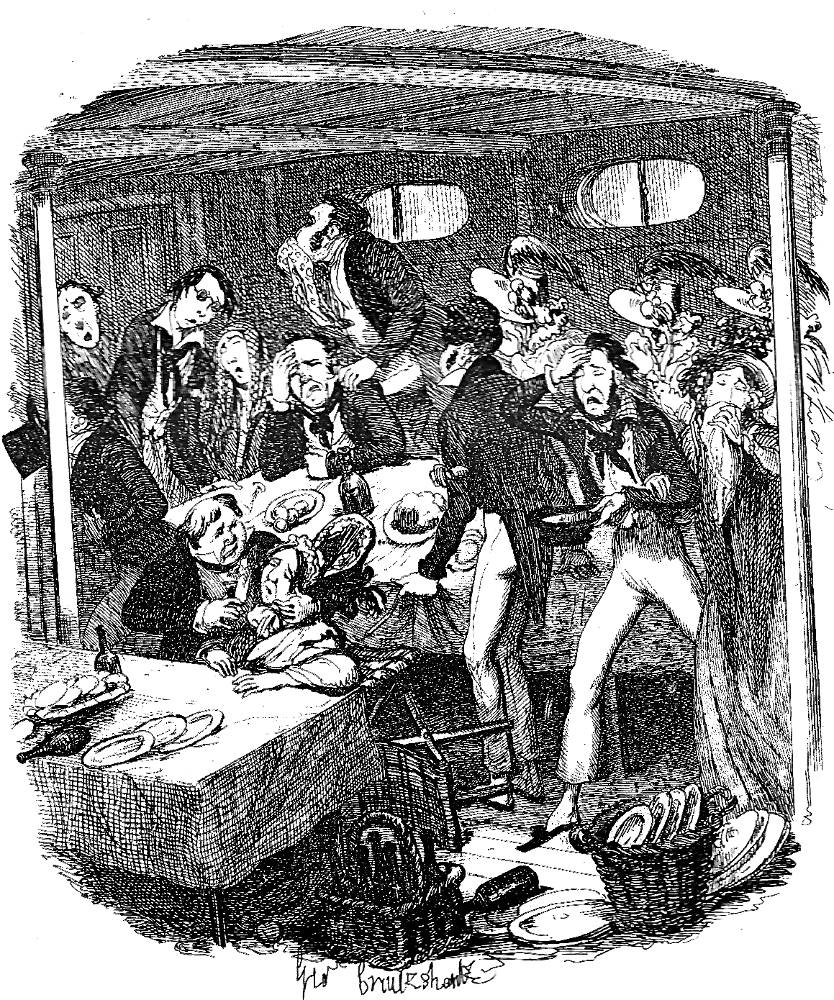 Above: Cruikshank's realisation of the "before" and "after" scenes on board the Gravesend steamer, "The Steam Excursion," Part 1 and "The Steam Excursion," Part 2 (1839), the latter depicting the less-than-hilarious effects of sea-sickness. [Click on image to enlarge it.]
Related Material on Leisure
Victorian Seaside Resorts
Bibliography
Jerrold, Douglas. Mrs. Caudle's Curtain Lectures, as Suffered by the late Job Caudle.​Edited from the Original MSS. by Douglas Jerrold. With a frontispiece by Leech, and as motto on the title-page, "Then, Pistol, lay thy head in Fury's lap. —; Shakespeare."​ London: Punch​Office; Bradbury​ and Evans,​ 1846.
Jerrold, Douglas. Mrs. Caudle's Curtain Lectures. Illustrated by John Leach and Richard Doyle. London: Bradbury and Evans, 1856.
Jerrold, Douglas. Mrs. Caudle's Curtain Lectures. Illustrated by Charles Keene. London: Bradbury and Evans, 1866.
---
Last modified 14 December 2017