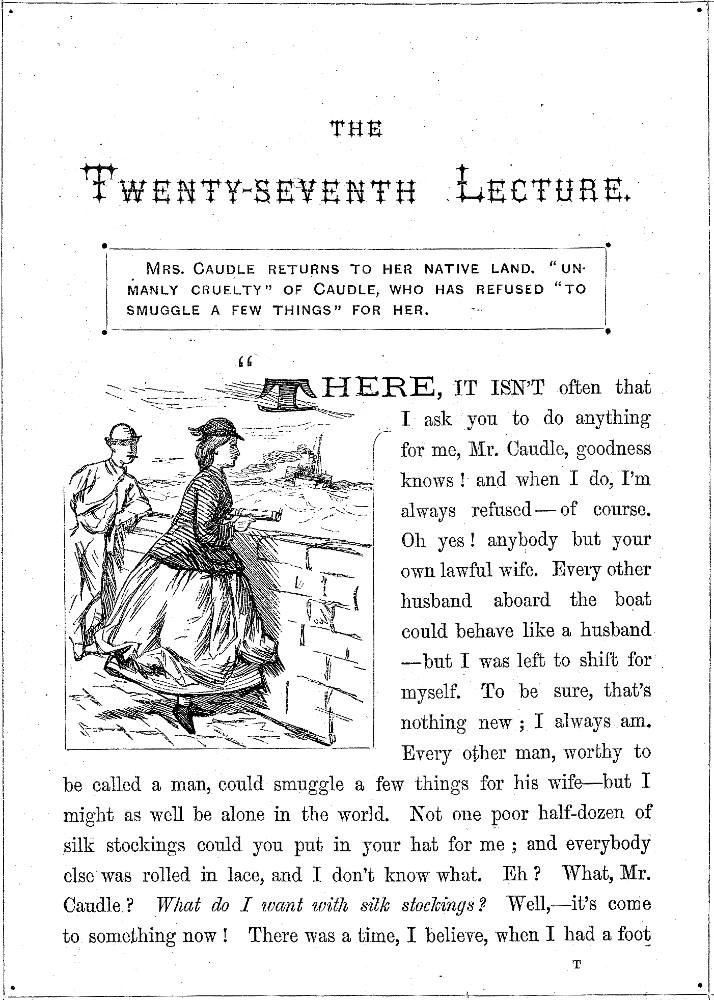 Miss Prettyman on the Jetty, Initial Letter "T"
Charles Keene
1866
Wood-engraving
6.1 cm high by 5.1 cm wide, framed
Forty-fourth illustration for Douglas Jerrold's Mrs.​ Caudle's Curtain Lectures (first published 16 August 1845): "The Twenty-Seventh Lecture," p.​137.
[Click on image to enlarge it and mouse over text for links.]
Scanned image and text by Philip V. Allingham.
[You may use these images without prior permission for any scholarly or educational purpose as long as you link your document to this URL in a web document or cite the Victorian Web in a print one.]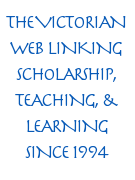 Passage Illustrated: Miss Prettyman waiting for the Caudles on the Jetty
"I shan't go to sleep. It's very well for you, who're no sooner in bed than you're fast as a church; but I can't sleep in that way. It's my mind keeps me awake. And after all, I do feel so happy to-night, it's very hard I can't enjoy my thoughts. No: I can't think in silence! There's much enjoyment in that, to be sure! I've no doubt now you could listen to Miss Prettyman —; oh, I don't care, I will speak. It was a little more than odd, I think, that she should be on the jetty when the boat came in. Ha! she'd been looking for you all the morning with a telescope, I've no doubt —; she's bold enough for anything. And then how she sneered and giggled when she saw me, —; and said 'how fat I'd got': like her impudence, I think. What? Well she might? But I know what she wanted; yes —; she'd have liked to have had me searched. She laughed on purpose. [Lecture XXVII. "Mrs. Caudle returns to her native land. 'Unmanly cruelty' of Caudle, who has refused 'to smuggle a few things' for her," p. 138-139]
Commentary
The Caudles have discovered that Boulogne is quite a different world from London or even Margate. In particular, Margaret Caudle has discovered the lower prices of such luxury French goods as lace, velvet, silk stockings, and glassware (tumblers and decanters). She wishes the girls had joined them on the French excursion so that they could assist her in smuggling silk stockings since Caudle had refused to carry six pairs in his top-hat! In fact, unbeknownst to her husband, she had sewn a bolt of velvet into his topcoat.
The General Steamship Navigation (GSN) Company from the 1820s had offered just a passenger service, its most popular run being London to Margate. It added regular services between London, Hamburg, Rotterdam, Antwerp, Ostend, Calais, Boulogne, Lisbon, and Gibraltar, and from Brighton to Le Havre and Dieppe.​ By August 1825, the GSN possessed a fleet of fifteen steamers​ built at Deptford. By 1833 the company was carrying mails and passengers from London to Hamburg, Ostend, Boulogne, and Rotterdam. Since their return to London will be via The Red Rover, the jetty upon which Prettyman is standing, telescope under her arm as she regards the steamer on the horizon in the vignette, must be that at Margate.
In the twenty-seventh "lecture," Mrs. Caudle complains that Miss Prettyman has offered her the left-handed compliment of remarking "how fat [she'd] got" while in France. In fact, Margaret Caudle has sewn all sorts of contraband goods into her clothing, so that she must indeed look somewhat overweight, although the unknowing Miss Prettyman must have thought that French cooking was responsible for the new, full-figured look. What she was not permitted to bring back into Great Britain from the Continent Copyright Zone was a "beautiful English novel" (141), presumably handsomely bound, and far less expensive than the same title in London. The British officials at Margate were quite severe in their destruction of the contraband volume:
And if they didn't take it out of my hand, and chopped it to bits like so much dog's-meat. Served me right? And when I so seldom buy a book! No: I don't see how it served me right. If you can buy the same book in France for four shillings that people here have the impudence to ask more than a guinea for—well, if they do steal it, that's their affair, not ours. As if there was anything in a book to steal! [141]
The British price of nineteen shillings in 1845 would be about £60 today for such a book, whereas the French price of just four shillings would be about £12, or just twenty per cent of the British purchase price. According to Jerrold, in the 1840s, the fine which British Customs would have levied for smuggling was considerable —; one hundred pounds, roughly £6,000 today.
Related Material on Leisure
Bibliography
Jerrold, Douglas. Mrs. Caudle's Curtain Lectures, as Suffered by the late Job Caudle.​Edited from the Original MSS. by Douglas Jerrold. With a frontispiece by Leech, and as motto on the title-page, "Then, Pistol, lay thy head in Fury's lap. —; Shakespeare."​ London: Punch​Office; Bradbury​ and Evans,​ 1846.
Jerrold, Douglas. Mrs. Caudle's Curtain Lectures. Illustrated by John Leach and Richard Doyle. London: Bradbury and Evans, 1856.
Jerrold, Douglas. Mrs. Caudle's Curtain Lectures. Illustrated by Charles Keene. London: Bradbury and Evans, 1866.
---

Victorian
Web

Illus-
tration

Charles
Keene

Visual
Arts

Next
Last modified 16 December 2017