Illuminated Initial "T"
Charles Keene
1866
Wood-engraving
6.5 x 5.5 cm, framed
Thirteenth illustration for Douglas Jerrold's Mrs. Caudle's Curtain Lectures (first published in 1845): "The Sixth Lecture," p. 24.
Scanned image and text by Philip V. Allingham.
[You may use these images without prior permission for any scholarly or educational purpose as long as you link your document to this URL in a web document or cite the Victorian Web in a print one.]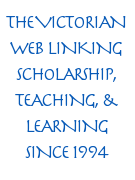 Passage Illustrated: Mrs. Caudle complains about her husband's having lent the family umbrella
"Ugh! I do look forward with dread for to-morrow! How I am to go to mother's I'm sure I can't tell. But if I die I'll do it. No, sir; I won't borrow an umbrella. No; and you sha'n't buy one. Now, Mr. Caudle, only listen to this: if you bring home another umbrella, I'll throw it in the street. I'll have my own umbrella or none at all.
"Ha! and it was only last week I had a new nozzle put to that umbrella. I'm sure, if I'd have known as much as I do now, it might have gone without one for me. Paying for new nozzles, for other people to laugh at you. Oh, it's all very well for you —; you can go to sleep. You've no thought of your poor patient wife, and your own dear children. You think of nothing but lending umbrellas! ["Sixth Lecture. —; "Mr. Caudle has lent an Acquaintance the Family Umbrella," p. 26]
Commentary
This is not a picture of what will be on the morrow as Mrs. Caudle stands underneath a small umbrella in the rain, waiting to cross the street. Rather, this represents what her husband's generosity to a male friend will not permit: she does not have access to the family umbrella, for the third time since Christmas, and regards herself as being a prisoner in her own house. In the background, a hansom cab (right) and an omnibus (left) suggest Mrs. Caudle's alternatives for arriving at her mother's house in a dry state. She finds both objectionable because they will cost money.
No: and I won't have a cab. Where do you think the money's to come from? You've got nice high notions at that club of yours. A cab, indeed! Cost me sixteenpence at least —; sixteenpence! two-and-eightpence, for there's back again. Cabs, indeed! I should like to know who's to pay for 'em; I can't pay for 'em, and I'm sure you can't, if you go on as you do; throwing away your property, and beggaring your children —; buying umbrellas!. [p. 25]
But she does not miss an opportunity to accuse her husband of some base motive for an apparently benign gesture: Mr. Caudle does not like his wife's being able to visit her mother and has effectively prevent her from doing so by lending the umbrella.
Bibliography
Jerrold, Douglas. Mrs. Caudle's Curtain Lectures, as Suffered by the late Job Caudle.​Edited from the Original MSS. by Douglas Jerrold. With a frontispiece by Leech, and as motto on the title-page, "Then, Pistol, lay thy head in Fury's lap. —; Shakespeare."​ London: Punch​ Office; Bradbury​ and Evans,​ 1846.
Jerrold, Douglas. Mrs. Caudle's Curtain Lectures . Illustrated by John Leach and Richard Doyle. London: Bradbury and Evans, 1856.
Jerrold, Douglas. Mrs. Caudle's Curtain Lectures. Illustrated by Charles Keene. London: Bradbury and Evans, 1866.
---

Victorian
Web

Visual
Arts

Illus-
tration

Charles
Keene

Next
Last modified 12 November 2017