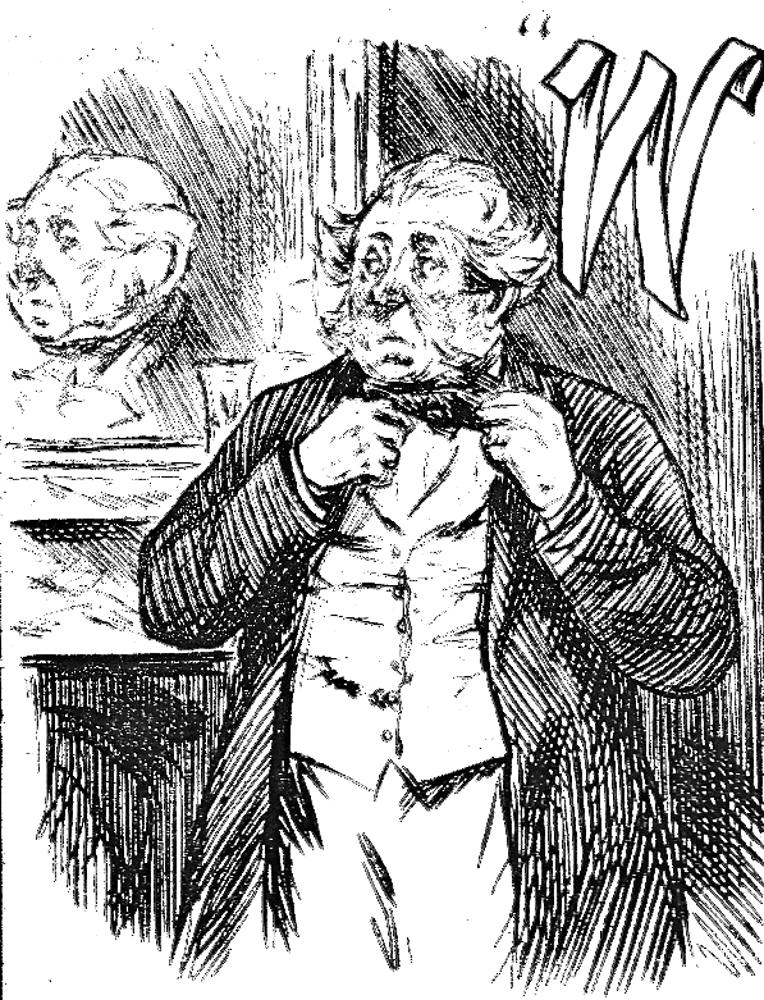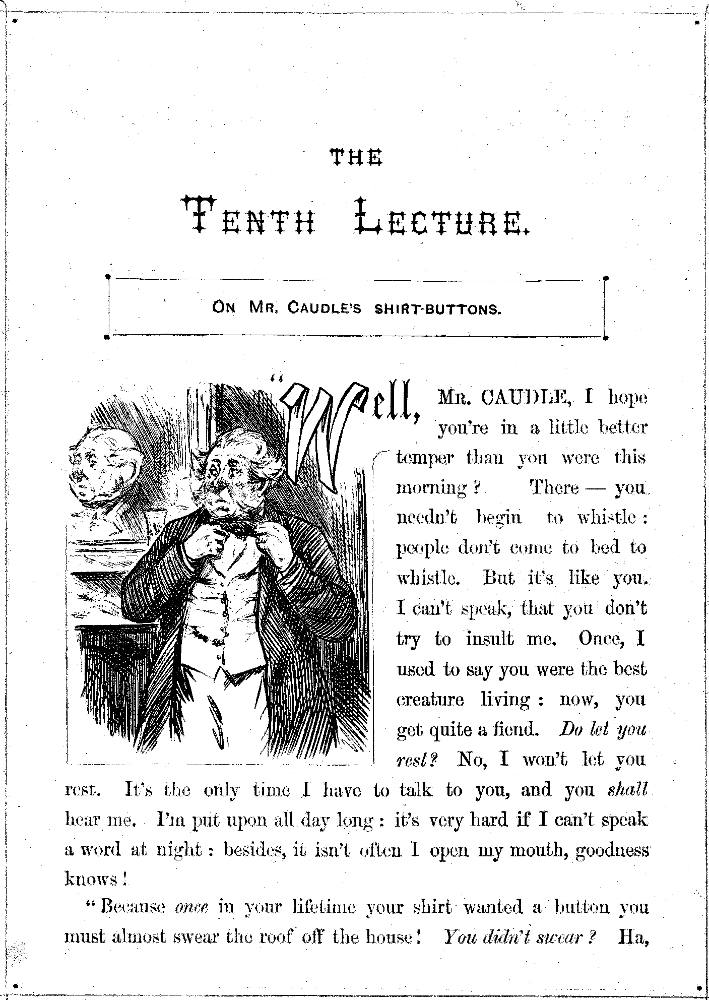 Mr. Caudle finds a Button off his Shirt, Initial letter "W" —; initial-letter vignette for "The Tenth Lecture" in Mrs. Caudle's Curtain Lectures, first published in the Punch; or, The London Charivari number for 29 March 1845; instalment, "Tenth Lecture": "On Mr. Caudle's Shirt Buttons," p. 44. Wood-engraving 6.5 x 5.2 cm, framed; twenty-first illustration in the third edition. Having looked in the mirror above the mantle, Job Caudle had noticed a button missing from his shirt, and presumably had had to go to work without Mrs. Caudle's having replaced the botton. By bed-time his chagrin has subsided, but Mrs. Caudle will not let the matter —; and her husband —; rest. In the thumbnail, Keene captures the moment when, looking into the mirror to straighten his cravat, Caudle directs a critical glance at his shirt front, presenting the reader with two versions of Caudle's visage.
Passage Illustrated
"And a pretty example you set as a father! You'll make your boys as bad as yourself. Talking as you did all breakfast time about your buttons! And of a Sunday morning, too! And you call yourself a Christian! I should like to know what your boys will say of you when they grow up? And all about a paltry button off one of your wristbands! A decent man wouldn't have mentioned it. Why won't I hold my tongue? "Because I won't hold my tongue. I'm to have my peace of mind destroyed —; I'm to be worried into my grave for a miserable shirt button, and I'm to hold my tongue! Oh! but that's just like you men!
"But I know what I'll do for the future. Every button you have may drop off, and I won't so much as put a thread to 'em. And I should like to know what you'll do then? Oh, you must get somebody else to sew 'em, must you? That's a pretty threat for a husband to hold out to a wife! And to such a wife as I've been, too: such a negro-slave to your buttons, as I may say! Somebody else to sew 'em, eh? No, Caudle, no: not while I'm alive! When I'm dead —; and with what I have to bear there's no knowing how soon that may be —; when I'm dead, I say —; oh! what a brute you must be to snore so! ["The Tenth Lecture. —; On Mr. Caudle's Shirt Buttons," pp. 46-47]
Scanned image and text by Philip V. Allingham. [You may use this image without prior permission for any scholarly or educational purpose as long as you (1) credit the person who scanned the image and (2) link your document to this URL.]
Bibliography
Jerrold, Douglas. Mrs. Caudle's Curtain Lectures, as Suffered by the late Job Caudle.​Edited from the Original MSS. by Douglas Jerrold. With a frontispiece by Leech, and as motto on the title-page, "Then, Pistol, lay thy head in Fury's lap. —; Shakespeare."​ London: Punch​ Office; Bradbury​and Evans,​ 1846.
Jerrold, Douglas. Mrs. Caudle's Curtain Lectures . Illustrated by John Leach and Richard Doyle. London: Bradbury and Evans, 1856.
Jerrold, Douglas. Mrs. Caudle's Curtain Lectures. Illustrated by Charles Keene. London: Bradbury and Evans, 1866.
---
Last modified 15 November 2017