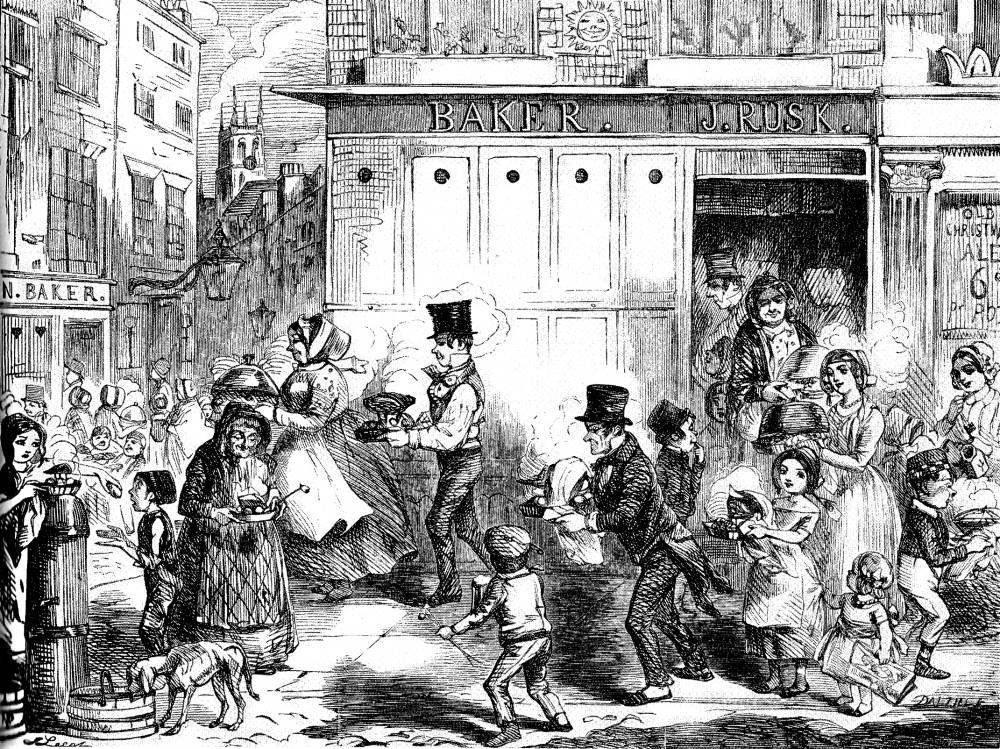 Fetching Home the Christmas Dinner. — Drawn by John Leech. The Illustrated London News (23 December 1848), No. 350, Vol. 13: 408. 17.5 cm high by 23 cm wide, framed.
Excerpt from Original Editorial Commentary "Fetching Home the Christmas Dinners"
"Something poetical is required about this Engraving — representing Londoners fetching home their Christmas Dinner." Such was the request made to us. Poetical? Thought we. It is all very well to ask for poetry — but where is it to come from? — how is to be extracted from such a subject as that? Look at that comfortable young man, for instance, with the self-satisfied expression upon his vulgar countenance — he in the very middle — and declare, oh! Ye powers that preside at the birth of all things beautiful, what can be said of such a snob? Yet, why not? . . . . It is not every day in the week or year that the poor can dine; and however vulgar may be the snob that arrays himself in his best on Christmas Day and brings home his dinner steaming hot from the convenient shop of Rusk, the baker, it would be both churlish and snobbish in us, or any one else, to look with unsympathetic eyes, or turn up our noses contemptuously upon the harmless and well-won enjoyment that is expressed upon his countenance. . . . . Doubtless, he has a wife at home in their one little room on the two-pair front — a wife who has no kitchen, and who is obliged to make use of that good Mr. Rusk's upon all such great occasions as Sundays and Christmasses; but who, being without a kitchen, and without worldly wealth, is not necessarily without a heart. A good appetite to them both, and many happy returns of the jovial season. No poetry in such a subject? Look at that venerable old lady — the occupant, doubtless, of an attic, or two-pair back, in some squalid street hard by. . . . . It is clear that she has guests this day. She does not dine alone at Christmas. That joint, small as it is, has been prepared for more than one — perhaps for a son, or grandson, or an old husband, feebler and more aged than herself, but not so feeble or so aged as to have lost all interest in a day so dear to all Londoners, if not all Englishmen. . . . . As for the little boy with the Glengarry bonnet and the short trousers — proof alike of his poverty and of his growth — the mode in which he carries the pie, and the look of intense hunger as well as of deep admiration which he bestows upon it, is proof positive of a foregone conclusion in his mind that he will do more delightful duty to the pie than that of carrying it in his hands. We fear, however, from the shortness of his trousers, which is symptomatic of a household not so overburdened with means as it is with children, that he will not be allowed carte blanche at the dainty. [Cousin Charles, "Fetching Home the Christmas Dinners," p. 407]
Scanned image and text Philip V. Allingham [You may use this image without prior permission for any scholarly or educational purpose as long as you (1) credit the person who scanned the image and (2) link your document to this URL in a web document or cite the Victorian Web in a print one.]
References
Cousin Charles. "Fetching Home the Christmas Dinners." The Illustrated London News, Christmas Supplement. No. 350, Vol. 13 (23 December 1848): page 407-410.
Dickens, Charles. A Christmas Carol. Illustrated by John Leech. London: Chapman and Hall, 1843.
Leech, John. Fetching Home the Christmas Dinner. The Illustrated London News, Christmas Supplement. No. 350, Vol. 13 (23 December 1848): page 408.
---
Last modified 15 August 2015