Title-page Vignette, Little Dorrit at the door of a cell in The Marshalsea
James Mahoney
1871
The image of Little Dorrit as an adolescent in mourning at the door of a cell in The Marshalsea, London's pre-eminent debtors' prison (closed in 1842), sets the keynote for Dickens's study of middle-class materialism in the Victorian age.
Scanned image and text by Philip V. Allingham.
[You may use this image without prior permission for any scholarly or educational purpose as long as you (1) credit the person who scanned the image and (2) link your document to this URL in a web document or cite the Victorian Web in a print one.].
Passage Illustrated
This was the life, and this the history, of the child of the Marshalsea at twenty-two. With a still surviving attachment to the one miserable yard and block of houses as her birthplace and home, she passed to and fro in it shrinkingly now, with a womanly consciousness that she was pointed out to every one. Since she had begun to work beyond the walls, she had found it necessary to conceal where she lived, and to come and go as secretly as she could, between the free city and the iron gates, outside of which she had never slept in her life. Her original timidity had grown with this concealment, and her light step and her little figure shunned the thronged streets while they passed along them.
Worldly wise in hard and poor necessities, she was innocent in all things else. Innocent, in the mist through which she saw her father, and the prison, and the turbid living river that flowed through it and flowed on.
This was the life, and this the history, of Little Dorrit; now going home upon a dull September evening, observed at a distance by Arthur Clennam. This was the life, and this the history, of Little Dorrit; turning at the end of London Bridge, recrossing it, going back again, passing on to Saint George's Church, turning back suddenly once more, and flitting in at the open outer gate and little court-yard of the Marshalsea. — Book One, "Poverty"; Chapter 7, "The Child Of The Marshalsea."
Commentary
Having himself been "a child of The Marshalsea" when his father was incarcerated for debt, Charles Dickens must have had a special affection for Amy Dorrit, whose father Dickens modelled closely upon his own father, John Dickens. Although the notorious debtors' prison closed in 1842, its lowering wall just off the Borough High Street in Southwark would have been familiar enough to Dickens's London readership, even when the Household Edition volume was published in 1873. The modern tourist, hunting for vestiges of the prison, will stroll by Clennam [sic] Street and Quilp Street (although Fred Quilp appears only in The Old Curiosity Shop), and pass the Church of St. George the Martyr (still known as the Little Dorrit church) before turning down Angel Place to encounter the remains of the high-walled Marshalsea, upon which he or she will Reader the following on a commemorative plaque:
Beyond this old wall is the site of the old Marshalsea Prison, closed in 1842. This sign is attached to a remnant of the prison wall. Charles Dickens, whose father had been imprisonbed here for debt in 1824, used that experience of the Marshalsea setting for his novel Little Dorrit.
How much of young Charles Dickens's intimate knowledge of that wretched pile was known to his original illustrator one can only guess, but he kept the secret of his working at the Blacking Factory at Hungerford Stairs from all but his future biographer and business agent, John Forster. However, such later illustrators as James Mahoney and Harry Furniss had the distinct advantage of having learned of Dickens's connection to the place by reading Forster's Life of Charles Dickens (3 volumes, Chapman and Hall, 1871-74).
This visual keynote, Little Dorrit as a young woman at the door of her father's cell, is consonant with one of the last of the forty steel-engravings that Phiz produced for the serial, the June 1857 Title-page Vignette in the nineteenth, "double" number, published by Bradbury and Evans. The original Phiz illustration is based on Phiz's own wrapper design, for in the centre of the monthly wrapper is Little Dorrit leaving The Marshalsea, as Dickens describes the scene in Book Two, Chapter 29: "Arthur led Little Dorrit downstairs, and the gaste jarred heavily and hopelessly upon her."
Relevant Illustrations from the serial edition (1856-57), New York Household Edition (1863), and Diamond Edition
(1867)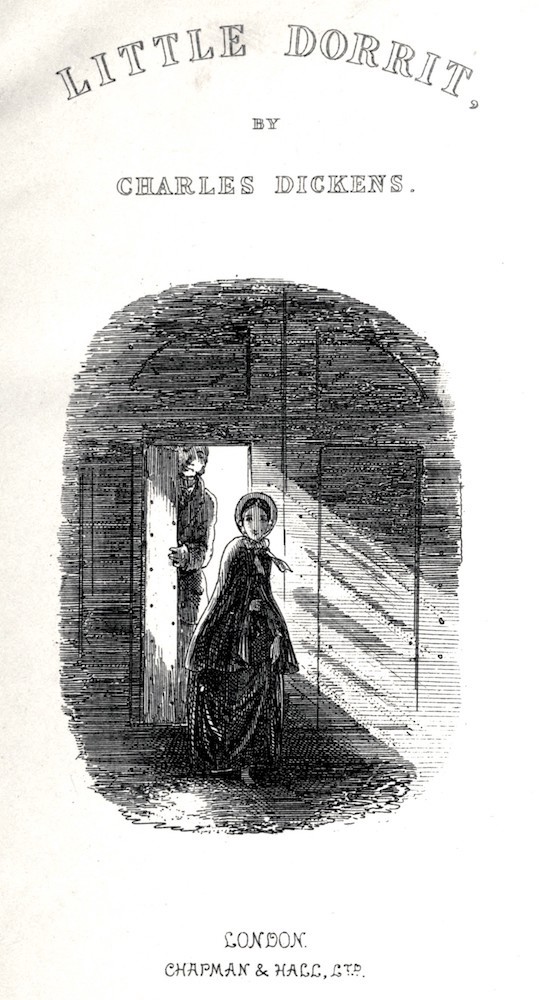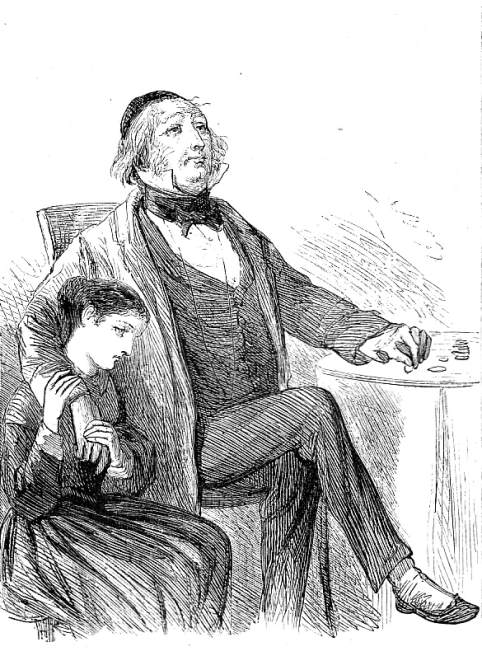 Left: Hablot Knight Browne's Title-page Vignette, Little Dorrit at the door of The Marshalsea (1857). Centre: Sol Eytinge, Jr.'s Little Dorrit and Her Father (1867). Right: F. O. C. Darley's frontispiece for the second volume in the Household Edition, Joyful Tidings (1863). [Click on images to enlarge them.]
Bibliography
Cohen, Jane Rabb. Charles Dickens and His Original Illustrators. Columbus: Ohio State U. P., 1980.
Davis, Paul. Charles Dickens A to Z: The Essential Reference to His Life and Work. New York: Checkmark and Facts On File, 1999.
Dickens, Charles. Little Dorrit. Illustrated by Hablot Knight Browne ("Phiz"). The Authentic Edition. London: Chapman and Hall, 1901 [rpt. 30 May 1857 volume].
Dickens, Charles. Little Dorrit. Frontispieces by Felix Octavius Carr Darley and Sir John Gilbert. The Household Edition. 55 vols. New York: Sheldon & Co., 1863. 4 vols.
Dickens, Charles. Little Dorrit. Illustrated by Sol Eytinge, Jr. The Diamond Edition. Boston: Ticknor & Fields, 1867. 14 vols.
Dickens, Charles. Little Dorrit. Illustrated by James Mahoney. The Household Edition. 22 vols. London: Chapman and Hall, 1873. Vol. 5.
Dickens, Charles. Little Dorrit. Illustrated by Harry Furniss. The Charles Dickens Library Edition. 18 vols. London: Educational Book, 1910. Vol. 12.
Hammerton, J. A. "Chapter 19: Little Dorrit." The Dickens Picture-Book. The Charles Dickens Library Edition. Illustrated by Harry Furniss. 18 vols. London: Educational Book Co., 1910. Vol. 17. Pp. 398-427.
Kitton, Frederic George. Dickens and His Illustrators: Cruikshank, Seymour, Buss, "Phiz," Cattermole, Leech, Doyle, Stanfield, Maclise, Tenniel, Frank Stone, Landseer, Palmer, Topham, Marcus Stone, and Luke Fildes. Amsterdam: S. Emmering, 1972. Re-print of the London 1899 edition.
Lester, Valerie Browne. Phiz: The Man Who Drew Dickens. London: Chatto and Windus, 2004.
Schlicke, Paul, ed. The Oxford Reader's Companion to Dickens. Oxford and New York: Oxford U. P., 1999.
Steig, Michael. Dickens and Phiz. Bloomington: Indiana University Press, 1978.
Vann, J. Don. Victorian Novels in Serial. New York: The Modern Language Association, 1985.
---

Victorian
Web

Little
Dorrit

Illus-
tration

James
Mahoney
Last modified 13 March 2016