There is a curtain, more dirt-coloured than red, which divides it, and the part behind the curtain makes the private sitting-room. When I first saw her there she was alone, and her work had fallen out of her hand, and she was looking up at the sky shining through the tops of the windows — Book 2, chap. xi, is the full title as given in the Harper and Brothers printing. The Chapman and Hall edition has a much shorter, abbreviated title: "When I first saw her there she was alone, and her work had fallen out of her hand.". Sixties' illustrator James Mahoney's thirty-eighth composite woodblock illustration for Charles Dickens's Little Dorrit, Household Edition, 1873. Wood-engraving by the Dalziels, 9.8 cm high by 13.6 cm wide, p. 281, framed, under the running head "Another Glimpse of the Heart." [Click on the image to enlarge it.]
Scanned image and text by Philip V. Allingham. [You may use this image without prior permission for any scholarly or educational purpose as long as you (1) credit the person who scanned the image and (2) link your document to this URL.]
Passage Illustrated
Well, it is a rather bare lodging up a rather dark common staircase, and it is nearly all a large dull room, where Mr. Gowan paints. The windows are blocked up where any one could look out, and the walls have been all drawn over with chalk and charcoal by others who have lived there before — oh, — I should think, for years!
There is a curtain more dust-coloured than red, which divides it, and the part behind the curtain makes the private sitting-room.
When I first saw her there she was alone, and her work had fallen out of her hand, and she was looking up at the sky shining through the tops of the windows. Pray do not be uneasy when I tell you, but it was not quite so airy, nor so bright, nor so cheerful, nor so happy and youthful altogether as I should have liked it to be.
On account of Mr. Gowan's painting Papa's picture (which I am not quite convinced I should have known from the likeness if I had not seen him doing it), I have had more opportunities of being with her since then than I might have had without this fortunate chance. She is very much alone. Very much alone indeed. — Book the Second, "Riches," Chapter 11, "A Letter from Little Dorrit," p. 282.
Commentary
Little Dorrit's letter to Arthur Clennam reveals her character in her own words rather than those of the narrator. Her modesty and her tendency not to take her recent good fortune for granted are obvious as she describes in a letter intended for Arthur Clennam back in London the artist's studio that Henry Gowan has rented in Venice, apparently without any regard for the sensibilities and comfort of his young bride, Pet Meagles. This is the same studio in which Phiz in the original serial had set the conflict between the painter and his mastiff, Lion, whom he punishes brutally for dog's threatening to attack the model, Blandois, in Instinct Stronger than Training in Book 2, Chapter 6, "Something Right Somewhere" (November 1856: Part Twelve). There is no illustration for Book 2, Chapter 11, in the original serial.
In the Mahoney illustration, Little Dorrit looks behind the curtain she mentions in the letter and discovers Mrs. Gowan as a virtual prisoner without even the minimal view of the world that Little Dorrit enjoyed in her Marshalsea garret. In order to break her spirit and exert his control over his young wife, Henry Gowan has taken an artist's studio in an out-of-the-way spot; nevertheless, Pet receives a visit from her new friend, the English heiress Amy Dorrit (left in the illustration). There is no romance, no exotic backdrop for Henry Gowan's painting, but surely that is Mahoney's point: the self-centred artist has failed to provide any mental or emotional stimulation for his wife, who might as well be a prisoner in the Marshalsea as a rich foreign tourist in Venice.
Images of the Amy Dorrit and Mrs. Pet Gowan, 1856 through 1867
​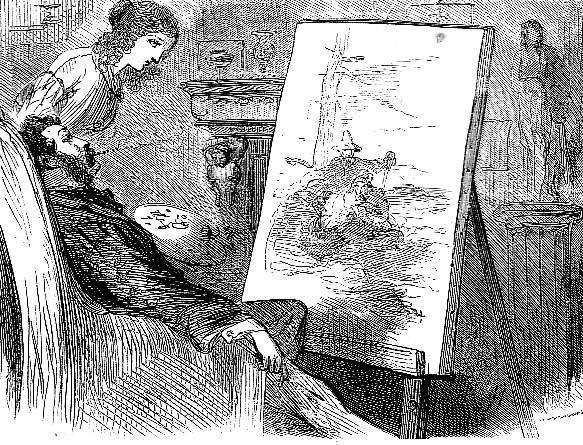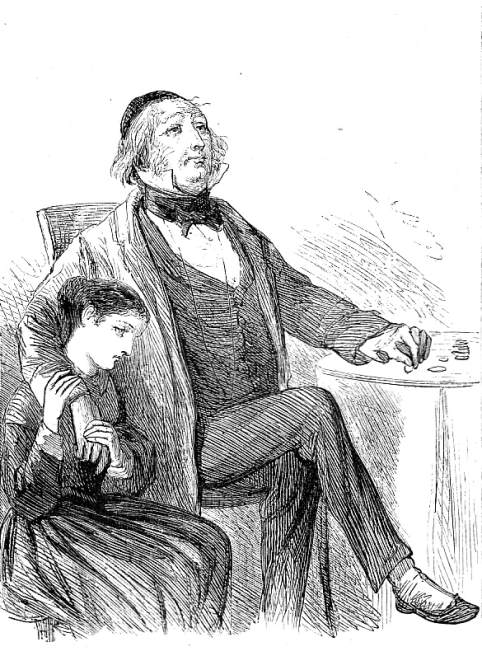 Left: Sol Eytinge, Junior's Diamond Edition illustration depicting the puzzled bride and the self-absorbed artist, Mr. and Mrs. Henry Gowan (1867). Right: Eytinge's dual portrait of the Patriarch of the Marshalsea and his dutiful, submissive daughter, Little Dorrit and Her Father (1867). [Click on images to enlarge them.]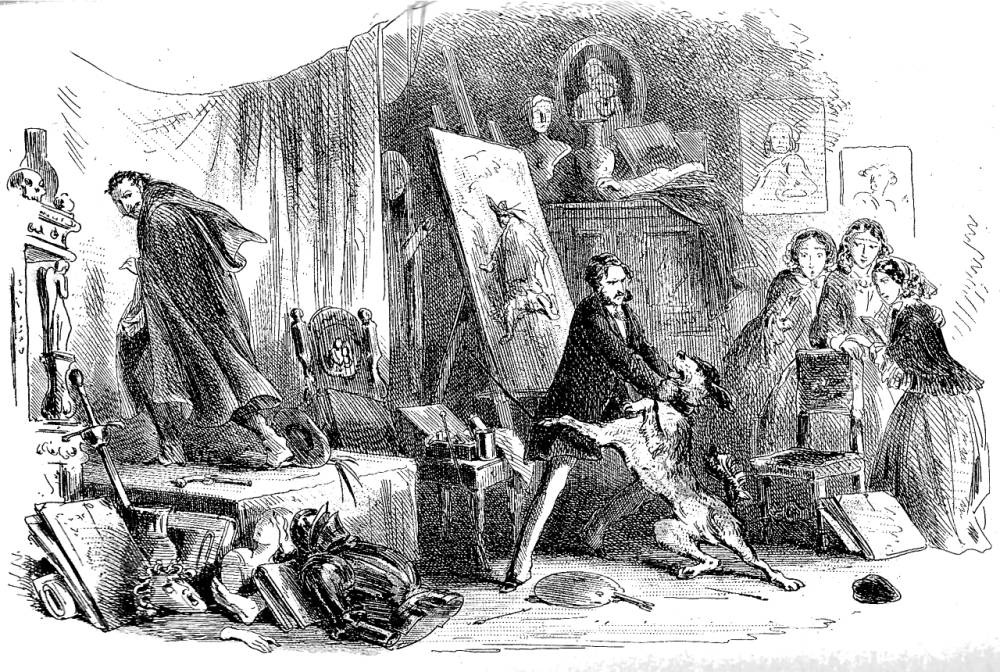 Above: Phiz's study of the violent scene in the studio when Henry Gowan attempts to discipline his dog, Instinct Stronger than Training, Book 2, Chapter 6 (November 1856: Part Twelve). [Click on the image to enlarge it.]
References
Dickens, Charles. Little Dorrit. Illustrated by Hablot Knight Browne ("Phiz"). The Authentic Edition. London: Chapman and Hall, 1901 [rpt. of the 1868 volume, based on the 30 May 1857 volume].
Dickens, Charles. Little Dorrit. Frontispieces by Felix Octavius Carr Darley and Sir John Gilbert. The Household Edition. 55 vols. New York: Sheldon & Co., 1863. 4 vols.
Dickens, Charles. Little Dorrit. Illustrated by Sol Eytinge, Jr. The Diamond Edition. Boston: Ticknor & Fields, 1867. 14 vols.
Dickens, Charles. Little Dorrit. Illustrated by James Mahoney. The Household Edition. 22 vols. London: Chapman and Hall, 1873. Vol. 5.
Dickens, Charles. Little Dorrit. Illustrated by Harry Furniss. The Charles Dickens Library Edition. 18 vols. London: Educational Book, 1910. Vol. 12.
Hammerton, J. A. "Chapter 19: Little Dorrit." The Dickens Picture-Book. The Charles Dickens Library Edition. Illustrated by Harry Furniss. 18 vols. London: Educational Book Co., 1910. Vol. 17. Pp. 398-427.
Kitton, Frederic George. Dickens and His Illustrators: Cruikshank, Seymour, Buss, "Phiz," Cattermole, Leech, Doyle, Stanfield, Maclise, Tenniel, Frank Stone, Landseer, Palmer, Topham, Marcus Stone, and Luke Fildes. Amsterdam: S. Emmering, 1972. Re-print of the London 1899 edition.
Lester, Valerie Browne. Ch. 12, "Work, Work, Work." Phiz: The Man Who Drew Dickens. London: Chatto and Windus, 2004. Pp. 128-160.
"Little Dorrit — Fifty-eight Illustrations by James Mahoney." Scenes and Characters from the Works of Charles Dickens, Being Eight Hundred and Sixty-six Drawings by Fred Barnard, Gordon Thomson, Hablot Knight Browne (Phiz), J. McL. Ralston, J. Mahoney, H. French, Charles Green, E. G. Dalziel, A. B. Frost, F. A. Fraser, and Sir Luke Fildes. London: Chapman and Hall, 1907.
Schlicke, Paul, ed. The Oxford Reader's Companion to Dickens. Oxford and New York: Oxford U. P., 1999.
Steig, Michael. Dickens and Phiz. Bloomington: Indiana University Press, 1978.
Vann, J. Don. Victorian Novels in Serial. New York: The Modern Language Association, 1985.
---
Last modified 13 June 2016