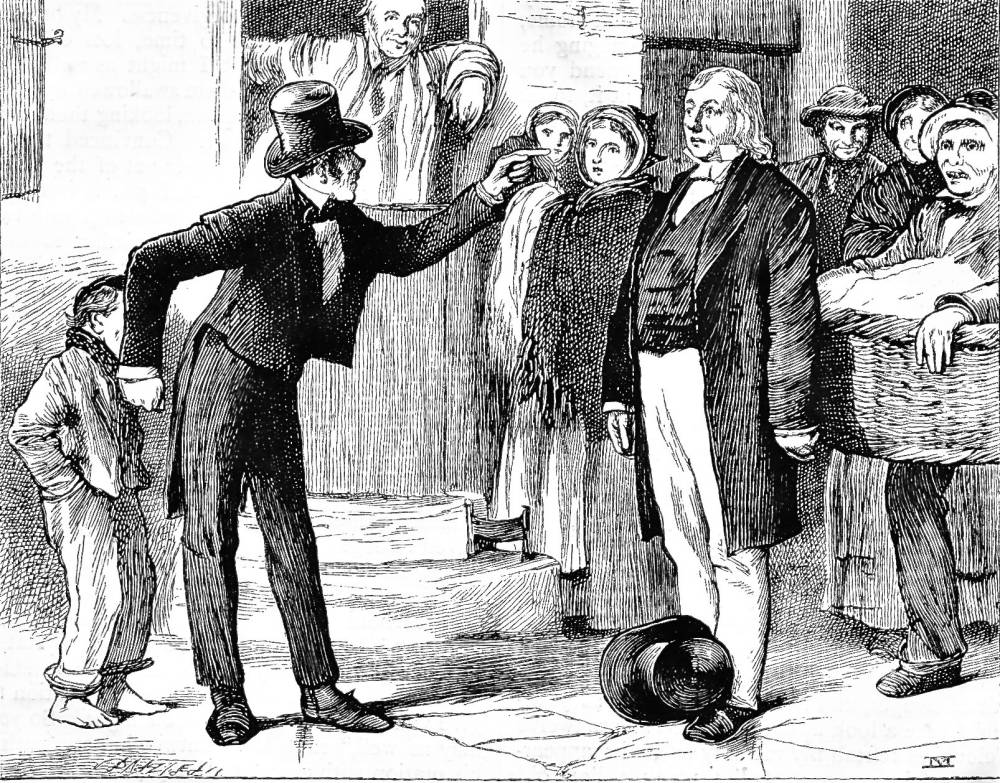 Mr. Pancks and the patriarch were instantly the centre of a press, all eyes and ears; windows were thrown open, and doorsteps were thronged — Book 2, chap. xxxii, is the full title as given in the Harper and Brothers edition. This is Sixties' illustrator James Mahoney's fifty-sixth composite woodblock illustration for Charles Dickens's Little Dorrit, Household Edition, 1873. Wood-engraving by the Dalziels, 10.6 cm high by 13.6 cm wide, p. 401, framed, under the running head "Mr. Flintwinch Explodes." [Click on the image to enlarge it.]
Scanned image and text by Philip V. Allingham. [You may use this image without prior permission for any scholarly or educational purpose as long as you (1) credit the person who scanned the image and (2) link your document to this URL.]
Passage Illustrated
The Patriarch, approaching with his usual benignity, was surprised to see Mr. Pancks, but supposed him to have been stimulated to an immediate squeeze instead of postponing that operation until Monday. The population of the Yard were astonished at the meeting, for the two powers had never been seen there together, within the memory of the oldest Bleeding Heart. But they were overcome by unutterable amazement when Mr. Pancks, going close up to the most venerable of men and halting in front of the bottle-green waistcoat, made a trigger of his right thumb and forefinger, applied the same to the brim of the broad-brimmed hat, and, with singular smartness and precision, shot it off the polished head as if it had been a large marble.
Having taken this little liberty with the Patriarchal person, Mr. Pancks further astounded and attracted the Bleeding Hearts by saying in an audible voice, "Now, you sugary swindler, I mean to have it out with you!"
Mr. Pancks and the Patriarch were instantly the centre of a press, all eyes and ears; windows were thrown open, and door-steps were thronged.
"What do you pretend to be?" said Mr. Pancks. "What's your moral game? What do you go in for? Benevolence, an't it? You benevolent!" — Book the Second, "Riches," Chapter 32, "Going," p. 410.
Commentary
Another Dickensian humbug gets his justly deserved comeuppance. Uncle Pumblechook in Great Expectations (1861) and likewise Fascination Fledgeby in Our Mutual Friend (1867)​are recipients of poetic justice since human justice is flawed and technically they have broken no law, but, like the sanctimonious Casby here, behaved badly and are deserving of reproof and social embarrassment, at the very least. Pancks has been Casby's stalking horse at Bleeding Heart Yard, vigorously insisting that the tenants "pay up."​In his pious air and Puritanical exterior, Casby resembles yet another Dickensian humbug or fraud with a moral air, Seth Pecksniff, the plagiarising architect of Martin Chuzzlewit​(1843). For these self-satisfied hypocrites and charlatons​Dickens reserves a special indignation to which he gives vent by exposing the rascals to public ridicule.
Pancks's turning on his employer is the result of his general dissatisfaction with himself in the spurious advice he gave Arthur Clennam which resulted in Arthur's bankruptcy and being consigned to the Marshalsea. Pancks now finds it galling that Casby expects him to forbid Flora to visit Clennam in prison and to redouble his squeezing the rents out of the inhabitants of Bleeding Heart Yard. When he and Casby meet in Bleeding Heart Yard, he chooses the auspicious moment (for the two are never seen together there) to unmask the hypocrite and cut off his Quaker-like locks in contempt. Never has poetic justice been more entertaining as Pancks denounces Casby, the slum landlord, as "a slow-going benevolent Humming-Top" (411). In Mahoney's illustration, Casby is stunned by Pancks's having knocked his hat off his head, and Pancks points an accusatory finger at his "Proprietor," much to the delight of the working-class denizens of the place.
Relevant Illustrations, 1857 through 1910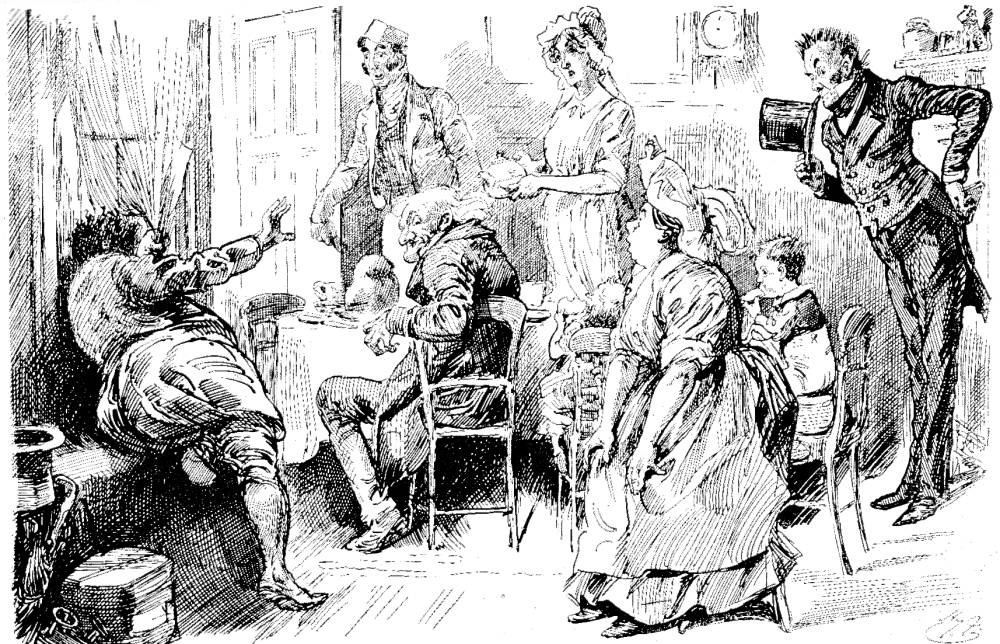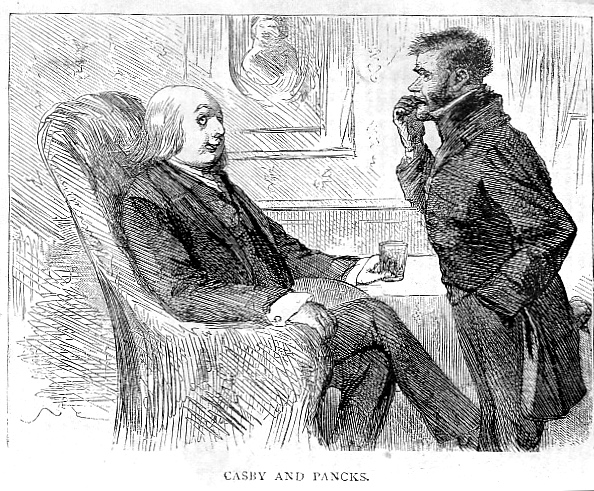 Left: Harry Furniss's group study involving Pancks (extreme right), Mr. Baptist takes refuge in Happy Cottage (1910). Right: Sol Eytinge, Junior's dual character study of Casby, Quaker-like in appearance but capitalist in fact, and his bill-collector, Casby and Pancks (1867). [Click on the images to enlarge them.]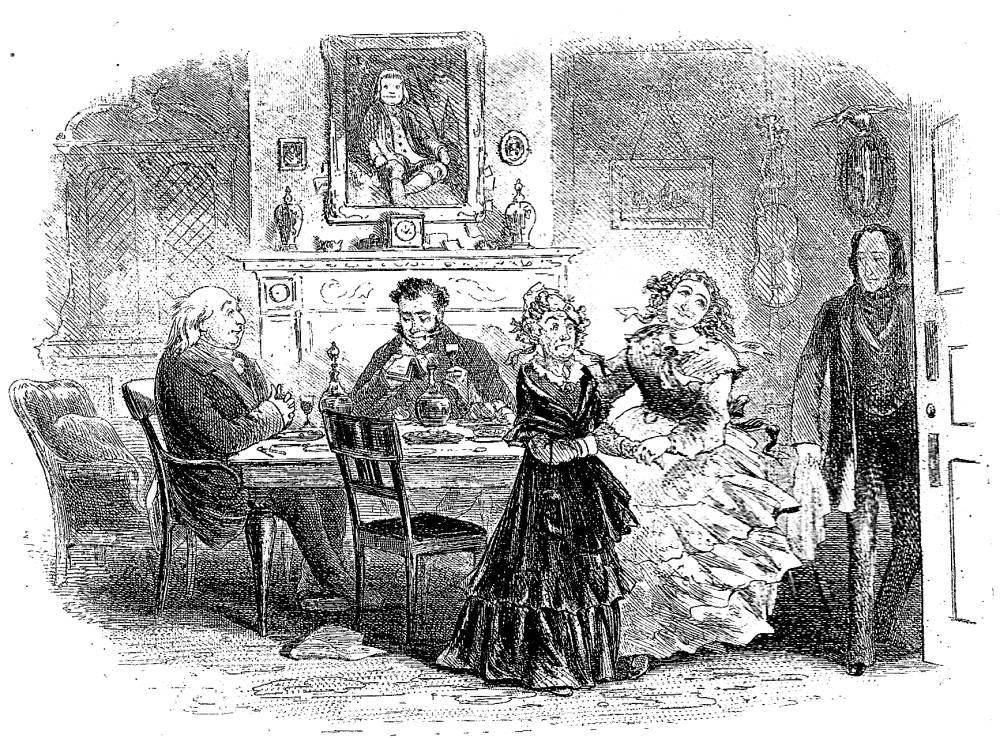 Above: Phiz's original serial illustration of Mr. Casby (left) at a family dinner, joined by Pancks (centre), Mr. F.'s Aunt is conducted into Retirement (Book I, Ch. 13). [Click on the image to enlarge it.]
References
Dickens, Charles. Little Dorrit. Illustrated by Hablot Knight Browne ("Phiz"). The Authentic Edition. London: Chapman and Hall, 1901 [rpt. of the 1868 volume, based on the 30 May 1857 volume].
Dickens, Charles. Little Dorrit. Frontispieces by Felix Octavius Carr Darley and Sir John Gilbert. The Household Edition. 55 vols. New York: Sheldon & Co., 1863. 4 vols.
Dickens, Charles. Little Dorrit. Illustrated by Sol Eytinge, Jr. The Diamond Edition. Boston: Ticknor & Fields, 1867. 14 vols.
Dickens, Charles. Little Dorrit. Illustrated by James Mahoney. The Household Edition. 22 vols. London: Chapman and Hall, 1873. Vol. 5.
Dickens, Charles. Little Dorrit. Illustrated by Harry Furniss. The Charles Dickens Library Edition. 18 vols. London: Educational Book, 1910. Vol. 12.
Hammerton, J. A. "Chapter 19: Little Dorrit." The Dickens Picture-Book. The Charles Dickens Library Edition. Illustrated by Harry Furniss. 18 vols. London: Educational Book Co., 1910. Vol. 17. Pp. 398-427.
Kitton, Frederic George. Dickens and His Illustrators: Cruikshank, Seymour, Buss, "Phiz," Cattermole, Leech, Doyle, Stanfield, Maclise, Tenniel, Frank Stone, Landseer, Palmer, Topham, Marcus Stone, and Luke Fildes. Amsterdam: S. Emmering, 1972. Re-print of the London 1899 edition.
Lester, Valerie Browne. Ch. 12, "Work, Work, Work." Phiz: The Man Who Drew Dickens. London: Chatto and Windus, 2004. Pp. 128-160.
"Little Dorrit — Fifty-eight Illustrations by James Mahoney." Scenes and Characters from the Works of Charles Dickens, Being Eight Hundred and Sixty-six Drawings by Fred Barnard, Gordon Thomson, Hablot Knight Browne (Phiz), J. McL. Ralston, J. Mahoney, H. French, Charles Green, E. G. Dalziel, A. B. Frost, F. A. Fraser, and Sir Luke Fildes. London: Chapman and Hall, 1907.
Schlicke, Paul, ed. The Oxford Reader's Companion to Dickens. Oxford and New York: Oxford U. P., 1999.
Steig, Michael. Dickens and Phiz. Bloomington: Indiana University Press, 1978.
Vann, J. Don. Victorian Novels in Serial. New York: The Modern Language Association, 1985.
---
Last modified 18 June 2016