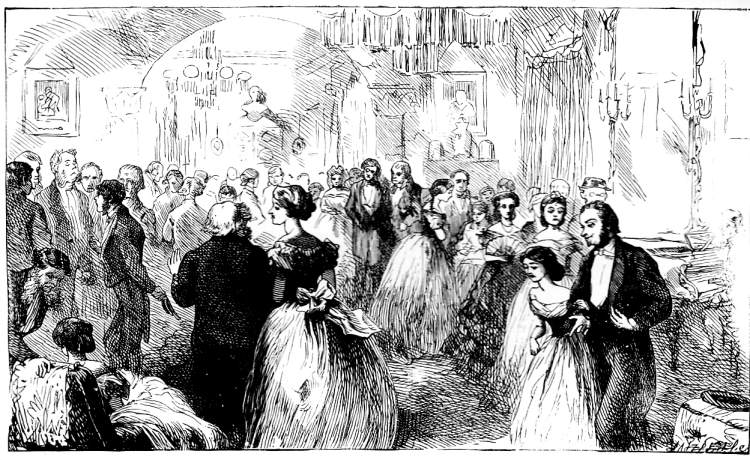 Podsnappery by Marcus Stone. Wood engraving by Dalziel. 9.3 cm high x 15.75 cm wide. Illustration for Our Mutual Friend, Chapter Eleven, "Podsnappery," Authentic edition, facing p. 112. [This part of the novel originally appeared in periodical form in August 1864.] Scanned image and text by Philip V. Allingham[You may use this image without prior permission for any scholarly or educational purpose as long as you (1) credit the photographer and (2) link your document to this URL in a web document or cite the Victorian Web in a print one. ]
Showing the social swirl in which the merchant Podsnap moves, Stone illustrates the following passage:
So it came to pass that Mr. and Mrs. Podsnap requested the honour of the company of seventeen friends of their souls at dinner; and that they substituted other friends of their souls for such of the seventeen original friends of their souls as deeply regretted that a prior engagement prevented their having the honour of dining with Mr. and Mrs. Podsnap, in pursuance of their kind invitation; and that Mrs. Podsnap said of all these inconsolable personages, as she checked them off with a pencil in her list, 'Asked, at any rate, and got rid of;' and that they successfully disposed of a good many friends of their souls in this way, and felt their consciences much lightened.
There were still other friends of their souls who were not entitled to be asked for dinner, but had a claim to be invited to come and take a haunch of mutton vapour-bath at half-past nine. For the clearing off of these worthies, Mrs. Podsnap added a small and early evening to the dinner, and looked in at the music-shop to bespeak a well-conducted automaton to come and play quadrilles for a carpet dance. [112]
Stone has chosen to illustrate the dinner dance rather than the dinner itself, perhaps to complement Dickens's text, which involves an effusive description of the epergne, the table, the silver wine-coolers, the pot-bellied silver salt-sellers, the big silver spoons and forks, the outward and visible signs of Podsnap's prosperous Englishness. Podsnap and the birthday girl, his daughter, are just left of centre, and the figures in the right foreground are presumably the Veneerings. The salon is large and richly decorated, with paintings, sculpture, candelabra, drapery, urns, and a grand piano. Consistently, as is appropriate to the novel's contemporary setting, the gentlemen wear high society evening dress tail-coats and the ladies hooped skirted, bare-shouldered gowns. As befits a social function with business overtones, the majority of the company is male; and, although it is designated a "dinner dance," nobody appears to be dancing. Small-talk is chief occupation of those assembled.
Reference
Dickens, Charles. Our Mutual Friend. Illustrated by Marcus Stone. Volume 14 of the Authentic Edition. London: Chapman and Hall; New York: Charles Scribners' Sons, 1901.
---
Last modified 17 November 2010