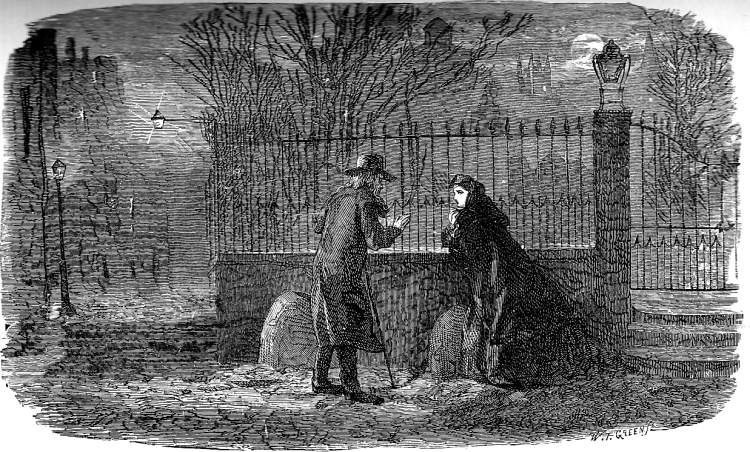 A Friend in Need by Marcus Stone. Wood engraving by Dalziel. 9.2 cm high x 15.6 cm wide. Second illustration for the tenth monthly number of Our Mutual Friend, Chapter Fifteen, "The Whole Case So Far," in the second book, "Birds of a Feather." The Authentic edition, facing p. 352. [This part of the novel originally appeared in periodical form in February 1865.] Scanned image and text by Philip V. Allingham. [You may use this image without prior permission for any scholarly or educational purpose as long as you (1) credit the photographer and (2) link your document to this URL in a web document or cite the Victorian Web in a print one. ]
Riah Proves Himself — Once Again — A Good Samaritan
'I'll not unsay them. I'll say them again. You are an inveterately bad girl, and a false sister, and I have done with you. For ever, I have done with you!'
He threw up his ungrateful and ungracious hand as if it set up a barrier between them, and flung himself upon his heel and left her. She remained impassive on the same spot, silent and motionless, until the striking of the church clock roused her, and she turned away. But then, with the breaking up of her immobility came the breaking up of the waters that the cold heart of the selfish boy had frozen. And 'O that I were lying here with the dead!' and 'O Charley, Charley, that this should be the end of our pictures in the fire!' were all the words she said, as she laid her face in her hands on the stone coping.
A figure passed by, and passed on, but stopped and looked round at her. It was the figure of an old man with a bowed head, wearing a large brimmed low-crowned hat, and a long-skirted coat. After hesitating a little, the figure turned back, and, advancing with an air of gentleness and compassion, said:
'Pardon me, young woman, for speaking to you, but you are under some distress of mind. I cannot pass upon my way and leave you weeping here alone, as if there was nothing in the place. Can I help you? Can I do anything to give you comfort?'
She raised her head at the sound of these kind words, and answered gladly, 'O, Mr Riah, is it you?'
'My daughter,' said the old man, 'I stand amazed! I spoke as to a stranger. Take my arm, take my arm. What grieves you? Who has done this? Poor girl, poor girl!'
'My brother has quarrelled with me,' sobbed Lizzie, 'and renounced me.'
'He is a thankless dog,' said the Jew, angrily. 'Let him go.' Shake the dust from thy feet and let him go. Come, daughter! Come home with me — it is but across the road — and take a little time to recover your peace and to make your eyes seemly, and then I will bear you company through the streets. For it is past your usual time, and will soon be late, and the way is long, and there is much company out of doors to-night.'
She accepted the support he offered her, and they slowly passed out of the churchyard. [351]
A figure through whom Dickens contradicts popular nineteenth-century prejudices against Jews, Riah is instantly recognizable by his staff, long coat, long hair, patriarchal beard, and broad-brimmed hat. Although Riah seems neither amazed or indignant, Stone's Riah gesticulates, as if inviting Lizzie Hexam to accompany him home through not entirely tranquil streets. Lizzie, too, is not quite as the text presents her, for she is not sobbing or distraught. The text indicates that the meeting occurs amidst tombstones, "a paved square court, with a raised bank of earth about breast high, in the middle, enclosed by iron rails" (342). Stone has added a full moon slightly obscured by clouds, dim gas lamps, and spectral outlines of buildings in the background — but the grave-markers are almost entirely on the other side of the wrought-iron fence, and there is no embankment such as Dickens describes.
References
Davis, Paul. Charles Dickens A to Z: The Essential Reference to His Life and Work. New York: Checkmark and Facts On File, 1998.
Dickens, Charles. Our Mutual Friend. Illustrated by Marcus Stone. Volume 14 of the Authentic Edition. London: Chapman and Hall; New York: Charles Scribners' Sons, 1901.
---
Last modified 22 June 2011