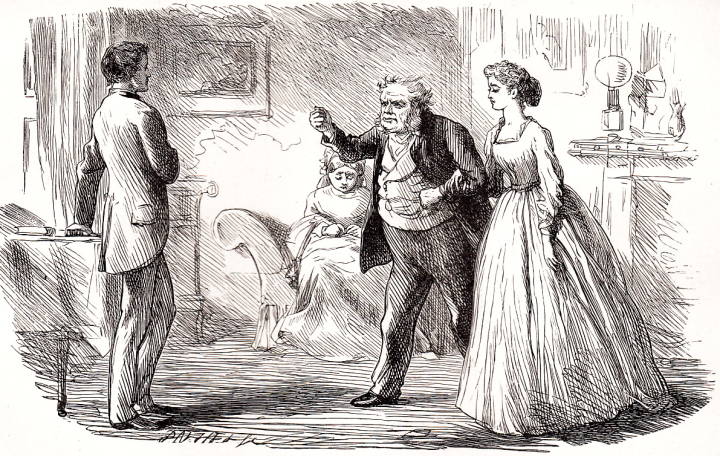 Bella 'Righted' by the Golden Dustman by Marcus Stone. Wood engraving by Dalziel. 9.5 cm high x 15 cm wide. First illustration for the fifteenth monthly number of Our Mutual Friend, Chapter Fifteen, "The Golden Dustman at His Worst," in the third book, "A Long Lane." The Authentic edition, facing p. 512. [This part of the novel originally appeared in periodical form in July 1865.] Scanned image and text by Philip V. Allingham[You may use this image without prior permission for any scholarly or educational purpose as long as you (1) credit the person who scanned the image and (2) link your document to this URL in a web document or cite the Victorian Web in a print one.]
John Rokesmith stared at him in his outburst, as if with some faint idea that he had gone mad.
'What is due to this young lady,' said Mr. Boffin, 'is Money, and this young lady right well knows it.'
'You slander the young lady.'
'YOU slander the young lady; you with your affections and hearts and trumpery,' returned Mr. Boffin. 'It's of a piece with the rest of your behaviour. I heard of these doings of yours only last night, or you should have heard of 'em from me, sooner, take your oath of it. I heard of 'em from a lady with as good a headpiece as the best, and she knows this young lady, and I know this young lady, and we all three know that it's Money she makes a stand for — money, money, money — and that you and your affections and hearts are a Lie, sir!'
'Mrs. Boffin,' said Rokesmith, quietly turning to her, 'for your delicate and unvarying kindness I thank you with the warmest gratitude. Good-bye! Miss Wilfer, good-bye!'
'And now, my dear,' said Mr. Boffin, laying his hand on Bella's head again, 'you may begin to make yourself quite comfortable, and I hope you feel that you've been righted.'[506]
In order to ascertain the expression on Rokesmith's face throughout Boffin's diatribe, the reader must consult the text; clearly Stone's illustration for its effectiveness relies upon the sharp contrast in the postures of the characters and the range of emotions realised. However, despite the strength of the composition with respect to the male figures, Bella's posture and expression are not suitably expressive of her conflicting feelings, and therefore are not a strong complement to the text. nor do the study's furnishings in any way support the scene, giving no clue as to Boffin's character or tastes, although the books on the table beside Rokesmith suggest, perhaps, the occupant's obsession with acquiring tales of misers' lives and therefore support his alluding repeatedly to several celebrated examples of the type: "Dancer, and Elwes, and Hopkins, and Blewbury Jones, and ever so many more of 'em" (513). Stone in this illustration provides a representation of the Golden Dustman at once highly realistic and emblematic, with his whiskers and blown-back hair suggesting intense energy.
The thick-set, balding, middle-aged Boffin, wearing the older style of respectable male fashion (frock coat and double-breasted waist-coat), is contrasted by the thin, elegant line of Rokesmith in his modern business suit. In this contest of wills, Boffin — and therefore Lammles — appears to have won, as shortly Rokesmith will pick his severance cheque up off the floor and to Bella's sorrow quit the mansion of the Golden Dustman.
References
Davis, Paul. Charles Dickens A to Z: The Essential Reference to His Life and Work. New York: Checkmark and Facts On File, 1998.
Dickens, Charles. Our Mutual Friend. Illustrated by Marcus Stone. Volume 14 of the Authentic Edition. London: Chapman and Hall; New York: Charles Scribners' Sons, 1901.
---
Last modified 14 July 2011