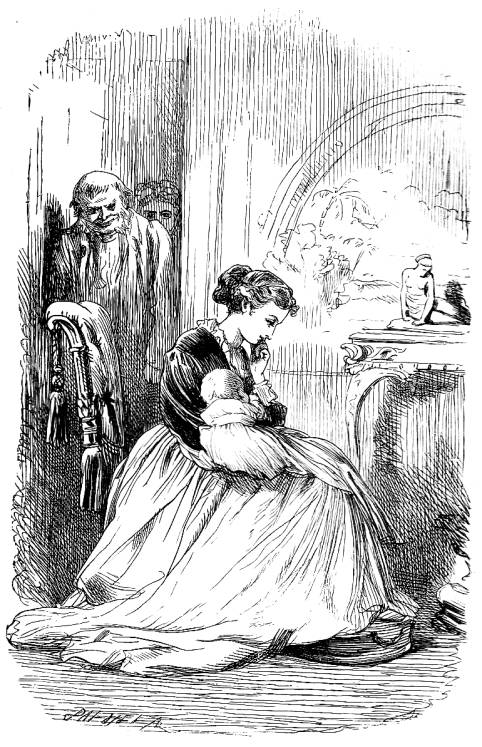 Mr. Boffin does the Honours of the Nursery Door
Marcus Stone
Wood engraving by Dalziel
14.8 cm high x 9.3 cm wide, vignetted (facing p. 674).
Stone's illustration for Book 4, "A Turning," Chapter 13, "Showing How the Golden Dustman Helped to Scatter Dust," appeared in the November, 1865, instalment.
[See below for commentary and passage illustrated.]
Scanned image and text by Philip V. Allingham.
[You may use this image without prior permission for any scholarly or educational purpose as long as you (1) credit the person who scanned the image and (2) link your document to this URL in a web document or cite the Victorian Web in a print one.]
However, as Jane Rabb Cohen notes, there is nothing novel in Bella's profile and pose, her figure being merely a duplicate of that in an illustration eleven months earlier, even to her hair and skirt in "Pa's Lodger and Pa's Daughter" (December 1864). The only significant differences between the two illustrations are Stone's replacing Bella's book with an infant and the secretary with Noddy Boffin. As Cohen notes, owing to the writer's being exhausted by his experiences in the Staplehurst derailment in June 1865, Dickens, having gone abroad to recover, left Stone entirely to his own devices for the final four illustrations: "the author could not even inspect his preliminary sketches" (207). Otherwise, Dickens might have objected to the rather obvious duplication, and might well have asked Stone to tackle some rather more exciting subject in the final double number, such as Rokesmith's and the Inspector's apprehending the murderers in the Six Jolly Fellowship Porters (Chapter 12). Nevertheless, again as Cohen remarks, Stone proved "more reliable than [Hablot Knight] Browne might have been at capturing the myriad moods of the pretty Bella" (206). Thematically, the sharp similarity between the two illustrations may be intended to show that Bella has exchanged the false riches of inherited wealth for the true riches of domestic fulfilment in a happy marriage. The moment realised is this:
The house inspected, emissaries removed the Inexhaustible, who was shortly afterwards heard screaming among the rainbows; whereupon Bella withdrew herself from the presence and knowledge of gemplemorums, and the screaming ceased, and smiling Peace associated herself with that young olive branch.
'Come and look in, Noddy!' said Mrs. Boffin to Mr. Boffin.
Mr. Boffin, submitting to be led on tiptoe to the nursery door, looked in with immense satisfaction, although there was nothing to see but Bella in a musing state of happiness, seated in a little low chair upon the hearth, with her child in her fair young arms, and her soft eyelashes shading her eyes from the fire.
'It looks as if the old man's spirit had found rest at last; don't it?' said Mrs. Boffin.
'Yes, old lady.'[674]
Although he relished his role as the hard-hearted employer as he pretended disrespect to his secretary (in whom he had recognised John Harmon), Noddy Boffin is far happier playing an avuncular role with Bella, John, and their infant daughter. Stone has even gone so far as making Boffin look hirsute, as if he were indeed a cross between a "beaming" middle-aged man and "a regular brown bear" (671), squeezing his wife out of the frame. Whereas formerly Bella was perpetually discontented, her head inclines towards her baby and the fire, a gentle smile of wistful contentment having replaced the stern set of her lips in "Pa's Lodger and Pa's Daughter."
This illustration reunites the Boffins and Bella Wilfer, and effectively ends the narrative-pictorial sequence for the novel's principal plot line, the romance of John "Rokesmith" and the fate of John Harmon. It also marks the last of Bella's ten appearances in Stone's series, so that by her very frequency Stone was implying her centrality to the main plot, as well as her connection to the chief subplot, the romance of Eugene Wrayburn and Lizzie Hexam. Ironically, the novel's protagonist, John "Julius Handford"/"Rokesmith"/Harmon makes a total of only eight appearances.
References
Cohen, Jane Rabb. "The Illustrators of Our Mutual Friend, and The Mystery of Edwin Drood : Marcus Stone, Charles Collins, Luke Fildes." Charles Dickens and His Original Illustrators. Canton: Ohio U. P., 1980. Pp. 203-228.
Dickens, Charles. Our Mutual Friend. Il. Marcus Stone. Volume 14 of the Authentic Edition. London: Chapman and Hall; New York: Charles Scribners' Sons, 1901.
Davis, Paul. Charles Dickens A to Z: The Essential Reference to His Life and Work. New York: Checkmark and Facts On File, 1998.
---

Victorian
Web

Our Mutual
Friend

Illus-
tration

Marcus
Stone

Next

Last modified 1 August 2011