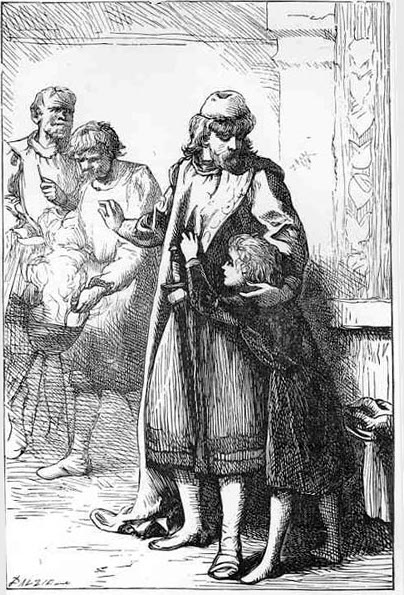 [Arthur and Hubert]
Marcus Stone
Engraver: E. Dalziel
1862, rpt. 1910
Wood engraving
8.5 cm wide by 13 cm high
Scanned image and text by Philip V. Allingham.
[You may use this image without prior permission for any scholar or educational purpose as long as you (1) credit the photographer and (2) link your document to this URL in a web document or cite the Victorian Web in a print one.]
Passage Realised
'Arthur,' said the King [John] , with his wicked eyes more on the stone floor than on his nephew, 'will you not trust to the gentleness, the friendship, and the truthfulness of your loving uncle?'
'I will tell my loving uncle that,' replied the boy, 'when he does me right. Let him restore to me my kingdom of England, and then come to me and ask the question.'
The King looked at him and went out. 'Keep that boy close prisoner,' said he to the warden of the castle.
Then, the King took secret counsel with the worst of his nobles how the Prince was to be got rid of. Some said, 'Put out his eyes and keep him in prison, as Robert of Normandy was kept.' Others said, 'Have him stabbed.' Others, 'Have him hanged.' Others, 'Have him poisoned.'
King John, feeling that in any case, whatever was done afterwards, it would be a satisfaction to his mind to have those handsome eyes burnt out that had looked at him so proudly while his own royal eyes were blinking at the stone floor, sent certain ruffians to Falaise to blind the boy with red-hot irons. But Arthur so pathetically entreated them, and shed such piteous tears, and so appealed to HUBERT DE BOURG (or BURGH), the warden of the castle, who had a love for him, and was an honourable, tender man, that Hubert could not bear it. To his eternal honour he prevented the torture from being performed, and, at his own risk, sent the savages away. [Chapter 14, "England under John, called Lackland"]
Commentary
Despite his troublesome family and termagant queen, Eleanor of Aquitaine, King Henry the Second, first of England's Plantagenet dynasty, receives considerable praise from Dickens as an able and just administrator who healed England after the disastrous civil war between the half-siblings Stephen and Matilda: "Henry Plantagenet lay quiet in the abbey church of Fontevraud, in the fifty-seventh year of his age — never to be completed — after governing England well, for nearly thirty-five years" (Chapter 12, "England under Henry the Second"). Dickens himself would live only to age 58, but at least he was honoured in his death, and his corpse, unlike that of King Henry was not despoiled — an historical detail that Dickens may have deployed in Scrooge's imagined death in A Christmas Carol.
On the other hand, Dickens expresses unmitigated contempt for the heartless Richard the Lion Heart (avid crusader but absentee monarch) and the perfidious John Lackland, Henry's undeserving heirs. In 1199, no sooner had King Richard died besieging a castle in his French domains than John, at the age of thirty-two and the fourth son of the late Henry Plantagenet, seized the throne, despite the fact that his nephew Arthur, son of Prince Geoffrey, had the superior claim. The King of France, pursuing his own interests, determined to support Arthur's case. However, while Arthur and his Bretons at the French King's instigation were laying siege to Mirebeau, where his grandmother, Queen Eleanor, had taken refuge, King John's men took the town by surprise at night. His knights imprisoned, tortured, and starved to death, Prince Arthur was made a prisoner at the castle of Falaise, whose warden, Hubert de Bourg, was nevertheless determined to prevent the boy's being ill-treated or executed. Indeed, on a number of occasions, Hubert is said to have dismissed King John's agents despatched to murder the boy.
Stone, possibly at Dickens's prompting, in the 1862 Illustrated Library Edition depicts a serene and tender Hubert protecting the delicate prince from John's thugs even as they are preparing the hot coals and instruments of torture with which to blind the boy. Not even regarding the vile functionaries, Hubert gestures with his right hand for them to desist while Arthur clings to him for protection. It makes an affecting picture — despite the fact that Arthur, born in 1187, would have been sixteen at the time, and hardly a waif like Oliver Twist. Moreover, although Dickens explicitly blames the death of Prince Arthur on John — Dickens constructs a scene in which the evil uncle stabs the boy and sends his stone-laded corpse to the bottom of the River Seine near Rouen — historians cannot determine Arthur's fate, other than that, after he refused to pay his uncle feudal homage in 1202, he disappeared. Gruesome stories of the boy's blinding and castration circulated at the time, but Dickens (addressing a child audience) offers a closure more affecting and less unpleasant. In King John Shakespeare idealizes the castle warden, Hubert de Burgh, who actually agrees to help his prisoner escape. When they learn that the boy has died leaping from the castle walls, the barons make a compact to rebel against John. In his narration of Prince Arthur's imprisonment and death, Dickens adapts his historical and Shakespearean material, omitting the castration and the accidental death, and demonizing John Lackland as a harbinger of Richard the Third, another nephew-killer, but equally "fierce, and false, and insolent to all around him" (as Dickens remarks of John after Arthur's death). With some consideration of historical fact, Dickens does not simply accept Shakespeare's suggesting that Arthur's death in 1203 led directly to the revolt of the barons in 1214. On the other hand, he finds the dramatist's construction of Arthur as a vulnerable and friendless child, manipulated and then abandoned to his fate by the ruthless King Philip of France, a highly plausible narrative strategy to build sympathy for the boy and disgust for the uncle.
References
Avery, Gillian, ed. Charles Dickens: "A Holiday Romance" and Other Writings for Children with All the Original Illustrations. Everyman edition. London: J. M. Dent, 1995.
Dickens, Charles. A Child's History of England. Il. J. McLean Ralston. The Household Edition. London: Chapman and Hall, 1878.
Dickens, Charles. A Child's History of England in Works. Centenary Edition. 36 vols. London: Chapman and Hall; New York: Charles Scribner's Sons, 1910-12.
Dickens, Charles. A Child's History of England, il. Marcus Stone in the Illustrated Library Edition. London: Chapman and Hall, 1862.
Dickens, Charles. A Child's History of England, il. Harry Furniss in the Charles Dickens Library Edition, vol. 3. London: educational Book, 1910.
Scenes and Characters from the Works of Charles Dickens; being eight hundred and sixty-six drawings, by Fred Barnard, Hablot Knight Browne (Phiz); J. Mahoney; Charles Green; A. B. Frost; Gordon Thomson; J. McL. Ralston; H. French; E. G. Dalziel; F. A. Fraser, and Sir Luke Fildes; printed from the original woodblocks engraved for "The Household Edition." New York: Chapman and Hall, 1908. Copy in the Robarts Library, University of Toronto.
---

Victorian
Web

A Child's
History

Illus-
tration

Marcus
Stone

Next

Last modified 15 March 2013