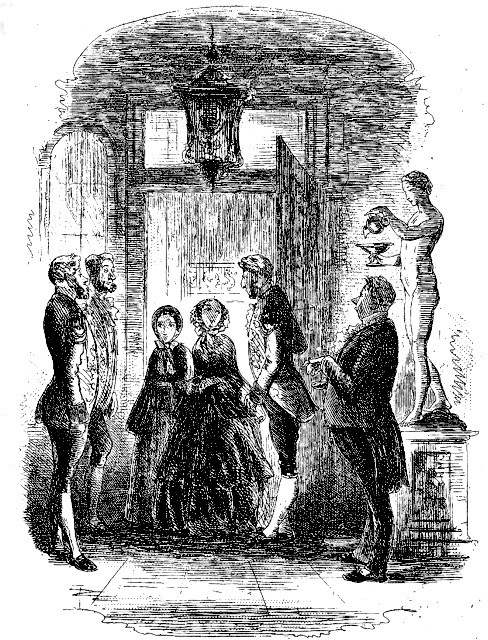 Fanny and Little Dorrit call on Mrs. Merdle
Phiz (Hablot K. Browne)
June 1857
Illustration for Charles Dickens's Little Dorrit, Parts XIX and XX; etched frontispiece.
Source: Authentic Edition (1901), in front of p. 1.
[Click on the image to enlarge it.]
The book was published in the customary twenty monthly parts, December 1855 through June 1857, by Bradbury and Evans with a blue wrapper and forty plates designed by Phiz.
Image scan and text by Philip V. Allingham.
[You may use this image without prior permission for any scholarly or educational purpose as long as you (1) credit the person who scanned the image and (2) link your document to this URL in a web document or cite the Victorian Web in a print one. ]
Passage Illustrated
"Now, Amy," said her sister, "come with me, if you are not too tired to walk to Harley Street, Cavendish Square."
The air with which she threw off this distinguished address and the toss she gave to her new bonnet (which was more gauzy than serviceable), made her sister wonder; however, she expressed her readiness to go to Harley Street, and thither they directed their steps. Arrived at that grand destination, Fanny singled out the handsomest house, and knocking at the door, inquired for Mrs. Merdle. The footman who opened the door, although he had powder on his head and was backed up by two other footmen likewise powdered, not only admitted Mrs. Merdle to be at home, but asked Fanny to walk in. Fanny walked in, taking her sister with her; and they went up-stairs with powder going before and powder stopping behind, and were left in a spacious semicircular drawing-room, one of several drawing-rooms, where there was a parrot on the outside of a golden cage holding on by its beak, with its scaly legs in the air, and putting itself into many strange upside-down postures. This peculiarity has been observed in birds of quite another feather, climbing upon golden wires.
The room was far more splendid than anything Little Dorrit had ever imagined, and would have been splendid and costly in any eyes. She looked in amazement at her sister and would have asked a question, but that Fanny with a warning frown pointed to a curtained doorway of communication with another room. The curtain shook next moment, and a lady, raising it with a heavily ringed hand, dropped it behind her again as she entered. — Book the First, "Poverty," Chapter 20, "Moving in Society," p. 204.
Commentary
Similar evidence of concern with illustrations is to be found in a note to Browne regarding the last two illustrations for a novel, possibly Little Dorrit (it is undated): "I hope the Frontispiece and Vignette will come out thoroughly well from the plate, and make a handsome opening to the book." (N, 2: 814. I can find no direct evidence that this in fact refers to Little Dorrit, but it is printed in the Nonesuch Letters with other correspondence of the Little Dorrit period.) In this novel they do, the title page echoing the central motif of the wrapper. The implication that the world outside the prison is darker than that within is borne out by the frontispiece, in which the figure of Amy is a virtual mirror image of that on the title; but here she is entering the Merdle mansion with Fanny, and from what we have learned of both Mrs. Merdle and her views on "Society," as well as Mr. Merdle, his crimes, and his suicide, this world is indeed more sinister than that of the prison. Yet in line with Dickens' text, Phiz has portrayed Amy in such a way that she conveys the sense of an innocence so strong as to be impervious to the corruptions of either the Marshalsea or Society; this is less true of her figure in the cover design, where her character has not yet been established and she looks as if she is bowed down with resignation.
Phiz continues his role as emblematizer of the novelist's intentions in the chain-and-brick lettering of the title, and in an amusing touch in the frontispiece. The portly man at the right, behind the footman, is the Merdle chief butler, whom Dickens describes as doing nothing (like the government), and yet who is the terror of Merdle's life. He holds his hands so as to appear to be occupied, but he is no more useful than is the neoclassical statue behind him, which parodies his gestures in pouring an imaginary substance out of an imitation pitcher into an imitation bowl, The butler, in other words, functions as a piece of mobile sculpture for the conspicuously consuming Merdles — he is there for show and performs no real work, which is consistent with both the sham financial empire of Merdle the swindler, and the theme of How Not To Do It. — Michael Steig, Chapter 6, "Bleak House and Little Dorrit: Iconography of Darkness," p. 161.
References
Dickens, Charles. Little Dorrit. Illustrated by Phiz (Hablot Knight Browne). Authentic Edition. London: Chapman and Hall; New York: Charles Scribner's, 1901. [rpt. of the 1868 edition]
Lester, Valerie Browne. Phiz: The Man Who Drew Dickens. London: Chatto and Windus, 2004.
Steig, Michael. Dickens and Phiz. Bloomington & London: Indiana U.P., 1978.
Vann, J. Don. Victorian Novels in Serial. New York: Modern Language Association, 1985.
---

Victorian
Web

Little
Dorrit

Illus-
tration

Phiz

Next
Last modified 12 May 2016