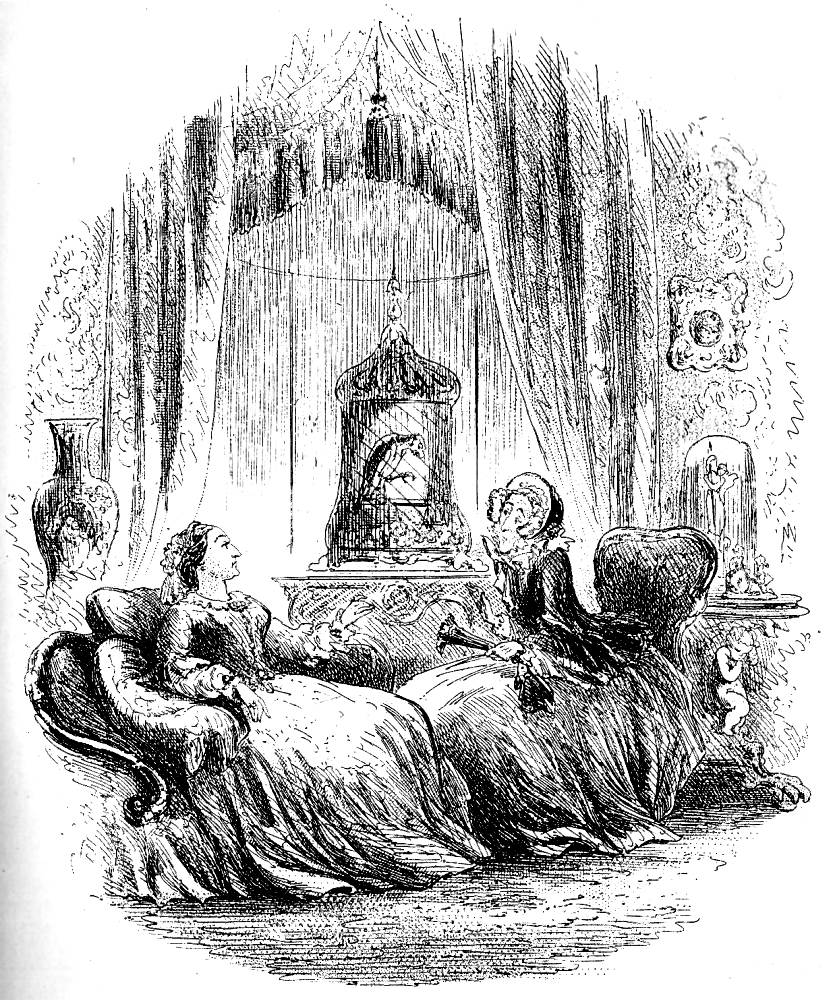 Society Expresses its Views on a Question of Marriage
Phiz (Hablot K. Browne)
September 1856
12.6 x 10.3 cm vignetted
Dickens's Little Dorrit, Vol. 12 of the Authentic Edition, Book the First, "Poverty"; Chapter 33, "Mrs. Merdle's Complaint," facing p. 336.
The book was published in the customary twenty monthly parts, December 1855 through June 1857, by Bradbury and Evans with a blue wrapper and forty plates designed by Phiz. [Click on the image to enlarge it.]
Image scan and text by Philip V. Allingham.
[You may use this image without prior permission for any scholarly or educational purpose as long as you (1) credit the person who scanned the image and (2) link your document to this URL in a web document or cite the Victorian Web in a print one.]
Passage Illustrated
Mrs. Merdle was at home, and was in her nest of crimson and gold, with the parrot on a neighbouring stem watching her with his head on one side, as if he took her for another splendid parrot of a larger species. To whom entered Mrs. Gowan, with her favourite green fan, which softened the light on the spots of bloom.
"My dear soul," said Mrs Gowan, tapping the back of her friend's hand with this fan after a little indifferent conversation, "you are my only comfort. That affair of Henry's that I told you of, is to take place. Now, how does it strike you? I am dying to know, because you represent and express Society so well."
Mrs. Merdle reviewed the bosom which Society was accustomed to review; and having ascertained that show-window of Mr Merdle's and the London jewellers' to be in good order, replied:
"As to marriage on the part of a man, my dear, Society requires that he should retrieve his fortunes by marriage. Society requires that he should gain by marriage. Society requires that he should found a handsome establishment by marriage. Society does not see, otherwise, what he has to do with marriage. Bird, be quiet!"
For the parrot on his cage above them, presiding over the conference as if he were a judge (and indeed he looked rather like one), had wound up the exposition with a shriek.
"Cases there are," said Mrs. Merdle, delicately crooking the little finger of her favourite hand, and making her remarks neater by that neat action; "cases there are where a man is not young or elegant, and is rich, and has a handsome establishment already. Those are of a different kind. In such cases —"
Mrs. Merdle shrugged her snowy shoulders and put her hand upon the jewel-stand, checking a little cough, as though to add, "why, a man looks out for this sort of thing, my dear." Then the parrot shrieked again, and she put up her glass to look at him, and said, "Bird! Do be quiet!"
"But, young men," resumed Mrs. Merdle, "and by young men you know what I mean, my love — I mean people's sons who have the world before them — they must place themselves in a better position towards Society by marriage, or Society really will not have any patience with their making fools of themselves. Dreadfully worldly all this sounds," said Mrs. Merdle, leaning back in her nest and putting up her glass again, "does itnot?"
"But it is true," said Mrs. Gowan, with a highly moral air. — Book the First, "Poverty," Chapter 33, "Mrs. Merdle's Complaint," pages 336-337.
Commentary
The master-touch is the unsettling presence of the parrot, whose shrieking acts as a counterpoint to Mrs. Merdle's magisterial pronouncements about marriage, as if her own experience somehow renders her an expert. Enshrined in a canopy not unlike that which one sees in the bedroom scenes in the homes of Dickens's more affluent characters, the gilded cage implies the imprisoning nature of society marriage, mocking the conception underlying the supporting cupidon (right) as a god of love, for affection has no part in Mrs. Merdle's marriage calculations, which are entirely premised on property and social acceptability. The specific marriage about which Mrs. Gowan is soliciting Mrs. Merdle's advice is her son's marriage to Pet Meagles, which should have the desired result of enabling the aristocratic Henry Gowan to "retrieve his fortunes" — that is, to be "relieved from debt" (338), of which the profligate amateur artist has no shortage and against which both ladies expect Mr. Meagles to make considerable outlay prior to the wedding. Mrs. Gowan seems not entirely reconciled to Henry's "marrying down," but acknowledges the necessity of his acquiring the additional income, "an allowance of three hundred a year" (338) or more from the bride's father, a middle-class businessman, and therefore (rather like Mr. Merdle) not a person "in Society" (339). Discretely both women are thoroughly aware that, at least financially (and Society is nothing if not mercenary), this is a very good match for spendthrift Henry Gowan.
Once the devious Mrs. Gowan has left, her mission of seeming (as far as Society goes) to having objected mightily to her son's marrying Pet, the nature of the chapter title becomes clear. The banker husband, having returned from the office to wander his mansion aimlessly, stumbles upon the ladies as Mrs. Gowan is leaving. Mrs. Merdle then delivers her famous "complaint" that her feckless husband is not fit for Society because he is utterly lacking in manners and sophistication. This indictment she delivers from her "ottoman," rather than the padded throne in which she is regally ensconced in the illustration, but in other respects the illustration is almost entirely consistent with the text. The other significant discrepancy is the depiction of a thin, elderly Mrs. Gowan, a Hampton Court "grace-and-favour" pensioner with (caustically remarks Dickens) one-and-a-half chins, whereas Phiz's aging widow is thin and has a pointed face. Aside from a cameo in Phiz's The Family Dignity is Affronted (October 1856), this the original serial's sole portrait of the epitome of Society and her ample, jewel-bedecked bosom. The curtains in the background imply not so much theatricality as acting or disguising one's true emotions, for Mrs. Gowan (nowhere else depicted in the series) is merely going through the motions of protesting the marriage, and for her part Mrs. Merdle is thoroughly aware that Pet Meagles is a good catch.
Mrs. Merdle in The Diamond Edition, 1867
Above: Sol Eytinge Junior's illustration of Mrs. Merdle, her son, and socially-conscious daughter-in-law in which the regal dowager is based directly on Phiz's conception, Mrs. Merdle, Mr. Sparkler, and Fanny (1867). [Click on the image to enlarge it.]
References
Bentley, Nicolas, Michael Slater, and Nina Burgis. The Dickens Index. New York and Oxford: Oxford U. P., 1990.
Cohen, Jane Rabb. Charles Dickens and His Original Illustrators. Columbus: Ohio State U. P., 1980.
Davis, Paul. Charles Dickens A to Z: The Essential Reference to His Life and Work. New York: Checkmark and Facts On File, 1999.
Dickens, Charles. Little Dorrit. Illustrated by Phiz. The Authentic Edition. London:Chapman and Hall, 1901. (rpt. of the 1868 edition).
Dickens, Charles. Little Dorrit. Illustrated by Sol Eytinge, Jr. The Diamond Edition. Boston: Ticknor & Fields, 1867. 14 vols.
Dickens, Charles. Little Dorrit. Illustrated by James Mahoney. The Household Edition. 22 vols. London: Chapman and Hall, 1873. Vol. 5.
Dickens, Charles. Little Dorrit. Illustrated by Harry Furniss. The Charles Dickens Library Edition. 18 vols. London: Educational Book, 1910. Vol. 12.
Hammerton, J. A. "Chapter 19: Little Dorrit." The Dickens Picture-Book. The Charles Dickens Library Edition. Illustrated by Harry Furniss. 18 vols. London: Educational Book Co., 1910. Vol. 17. Pp. 398-427.
Kitton, Frederic George. Dickens and His Illustrators: Cruikshank, Seymour, Buss, "Phiz," Cattermole, Leech, Doyle, Stanfield, Maclise, Tenniel, Frank Stone, Landseer, Palmer, Topham, Marcus Stone, and Luke Fildes. Amsterdam: S. Emmering, 1972. Re-print of the London 1899 edition.
Lester, Valerie Browne. Phiz: The Man Who Drew Dickens. London: Chatto and Windus, 2004.
Schlicke, Paul, ed. The Oxford Reader's Companion to Dickens. Oxford and New York: Oxford U. P., 1999.
Steig, Michael. Dickens and Phiz. Bloomington: Indiana University Press, 1978.
Vann, J. Don. Victorian Novels in Serial. New York: The Modern Language Association, 1985.
---

Victorian
Web

Little
Dorrit

Illus-
tration

Phiz
Last modified 22 May 2016