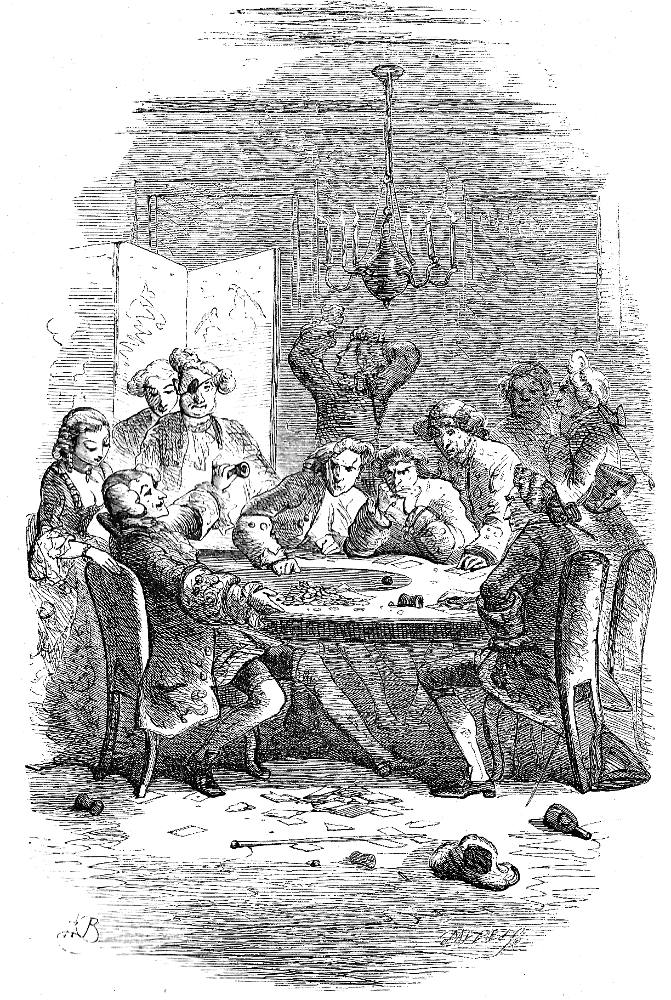 The Night at the Groom-Porter's
Phiz
Dalziel
August 1856
Steel-engraving
15.3 cm high by 9.8 cm wide, vignetted, facing 211 in volume
The Spendthrift, first published in Bentley's Miscellany, Part 14 (Chapters 32-35).
Scanned image and text by Philip V. Allingham.
[You may use these images without prior permission for any scholarly or educational purpose as long as you (1) credit the photographer and (2) link your document to this URL in a web document or cite the Victorian Web in a print one.]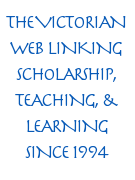 Bibliographical Note: The Hiatus in Illustrations
Apparently Parts Fifteen through Seventeen of The Spendthrift (September through November 1856) carried no illustrations when first published in Bentley's Miscellany (Volume 40), leaving Chapters 36 through 44 with no visual accompaniments in the December 1856 volume. A possible explanation is that the monthly magazine was running other serialisations that also required illustrations — The House of Halliwell (September 1855 through November 1856) by Ellen Price (publishing under the name Mrs. Henry Wood) and Dudley Costello's The Joint-Stock Broker: A Tale of the Day (April 1856 through October 1856).
Passage Illustrated: Gage Benefits from using Mrs. Jenyns' Lucky Dice
"Did I not tell you you would win?" whispered Mrs. Jenyns, who stood behind him. "Go on! Stake all you have won. Good luck will attend you."
And so it proved. In less than an hour he was master of upwards of five thousand pounds. Feeling he was in a run of luck, he went on, constantly doubling his stakes; and neither Sir Randal nor Beau Freke seemed disposed to balk him. At first they had intended he should win a small amount — fee1ing certain they could get back their money whenever they pleased — but they were out in their calculations. The dice fell precisely as Gage would have them fall, and as if a wizard had shaken the box.
Vexed as well as surprised at Gage's uninterrupted run of luck, and determined to check it, Sir Randal put down a thousand pounds, and his example was followed by Beau Freke. Mrs. Jenyns slightly touched Gage's arm. He was trembling with excitement, but the pressure calmed him at once. Again he nicked the main, and swept all from the table. His adversaries stared at each other. They could not understand it, but felt piqued to proceed. [Chapter XXXIV, "A Night at the Groom-Porter's," 211]
Commentary: Gambling in Spring Gardens
The area of the metropolis which Ainsworth describes as the setting of the dice game, "Spring Gardens," his readers would have recognised as "Vauxhall Gardens" since the name of the seventeenth-century amusement venue had changed in 1786. Under its new guise, neither strong drink nor gambling were available. John Evelyn the diarist made the first textual reference to Lambeth's New Spring Gardens (2 July 1660), so called because Old Spring Gardens at the eastern end of St. James's Park were a remnant from the reign of Elizabeth I, where Admiralty Arch now stands.
Related Materials
Working methods
Bibliography
Ainsworth, William Harrison. The Spendthrift: A Tale. (1860). Illustrated by Phiz; engraved by the Dalziels. Ainsworth's Works. London & New York: George Routledge, 1882.
Lester, Valerie Browne. Phiz: The Man Who Drew Dickens. London: Chatto and Windus, 2004.
Vann, J. Don. "The Spendthrift in Bentley's Miscellany, January 1855 — January 1857." Victorian Novels in Serial. New York: Modern Language Association, 1985. 30.
Worth, George. William Harrison Ainsworth. New York: Twayne, 1972.
---

Victorian
Web

Illustra-
tion

The
Spendthrift

Phiz

Next
Created 29 December 2019

Last modified 12 May 2020