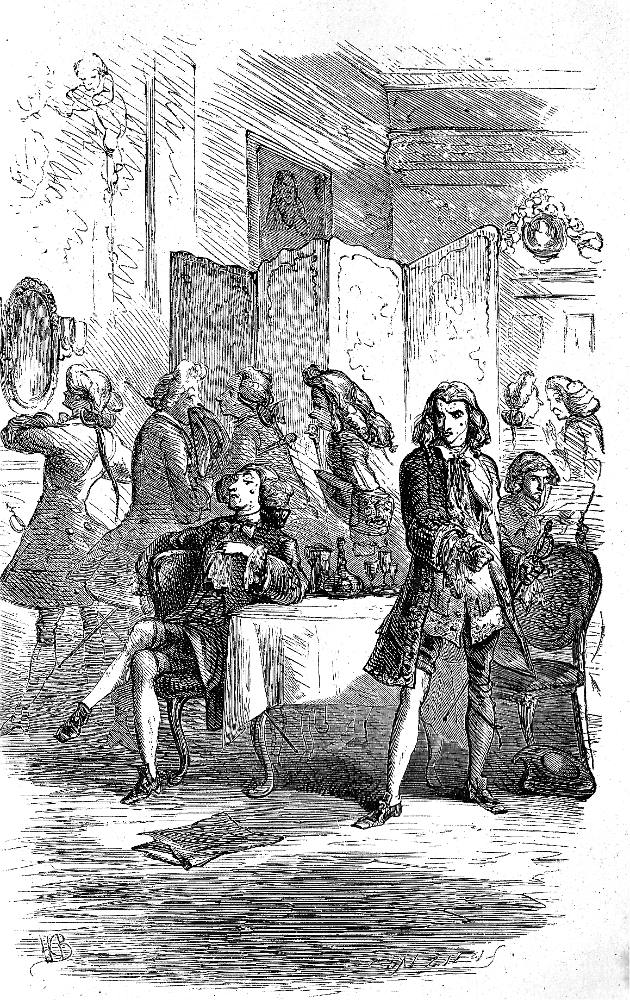 The Debt of Honour
Phiz
Dalziel
April 1856
Steel-engraving
14.9 cm high by 9.8 cm wide, vignetted, facing p. 168 in volume
The Spendthrift, first published in Bentley's Miscellany, Part 11 (Chapter 26).
Scanned image and text by Philip V. Allingham.
[You may use these images without prior permission for any scholarly or educational purpose as long as you (1) credit the photographer and (2) link your document to this URL in a web document or cite the Victorian Web in a print one.]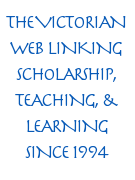 Passage Associated with the Illustration: Confrontation at White's Chocolate House
As the exclamations were uttered, Gage entered the room [at White's Chocolate House, in Saint James's-street], and, after returning the salutations of such of the company as greeted him, he passed on towards Sir Randal. His habiliments, though rich, were slightly disordered, and he looked more rakish than heretofore. His laced cravat was carelessly arranged, his peruke disheveled, and his features haggard and worn by debauchery; while, despite his efforts to conceal it, there was a visible embarrassment in his manner. As he approached the table at which his quondam friends were seated, Brice sprang forward to meet him, and pressed his hand with affected warmth. Beau Freke and Lord Melton were cordial enough in manner — but Sir Randal made no advance, and merely bowed stiffly.
"I knew you would be punctual, Monthermer," he said. "I told our friends so."
"You will pardon me, Mr. Monthermer," Sir Randal replied, "if I remind you of what I intimated in my letter, that this is a debt of honour, and must be repaid on pain of forfeiture of your character as a gentleman."
"Oh! yes, — that is quite understood. I will pay it — I mean to pay it — only give me a few days. I am a good deal harassed at this moment."
"Your perplexities are not likely to decrease, sir, and I cannot therefore grant you further delay."
"But 'sdeath! what am I to do, Sir Randal?" Gage cried. "How am I to raise the money?"
"Ay, that's just it — that's precisely what Lord Melton said," Brice interposed. "What the deuce is he to do to raise the money?"
"You should have thought of this before," Sir Randal said.
"Will you lend me the amount for a few days, Freke?" Gage said to the beau, who, however, shook his head, and expressed his regrets at being compelled to decline. "Will you oblige me, my lord?" Monthermer added, appealing with equal ill-success to the sporting gentleman. "I suppose it is in vain to ask you?" he concluded, addressing Brice Bunbury.
"You shouldn't need to ask twice, if I had the money, Monthermer," Brice replied. "I'd lend it you with all the pleasure in life."
"Then I must positively throw myself upon your good nature to hold me excused for a few days longer, Sir Randal," Gage said to the young baronet. "You must take my word, as a gentleman, for the payment of the money."
"I will not take it," Sir Randal rejoined, insolently.
"How!" Gage exclaimed, starting, and involuntarily laying his hand upon his sword. "This is the first time I have been doubted. I must have satisfaction for this affront." [Chapter XXVI, "The Debt of Honour, and how it was paid," pp. 167-168]
Commentary: The Antagonists Gage and Randal Foregrounded
Since the placement of the figures in the coffee-house scene does not correspond with Ainsworth's description of the confrontation, one must assume either that the editor of Bentley's Miscellany or that Ainsworth himself permitted Phiz to improvise in order to produce a more effective composition. To emphasize the confrontation, Phiz has placed most of the secondary characters in the background in order to focus on the protagonist and his interlocutor.
Working methods
Bibliography
Ainsworth, William Harrison. The Spendthrift: A Tale. (1860). Illustrated by Phiz; engraved by the Dalziels. Ainsworth's Works. London & New York: George Routledge, 1882.
Lester, Valerie Browne. Phiz: The Man Who Drew Dickens. London: Chatto and Windus, 2004.
Vann, J. Don. "The Spendthrift in Bentley's Miscellany, January 1855 — January 1857." Victorian Novels in Serial. New York: Modern Language Association, 1985, 30.
Worth, George. William Harrison Ainsworth. New York: Twayne, 1972.
---

Victorian
Web

Illustra-
tion

The
Spendthrift

Phiz

Next
Created 14 October 2020