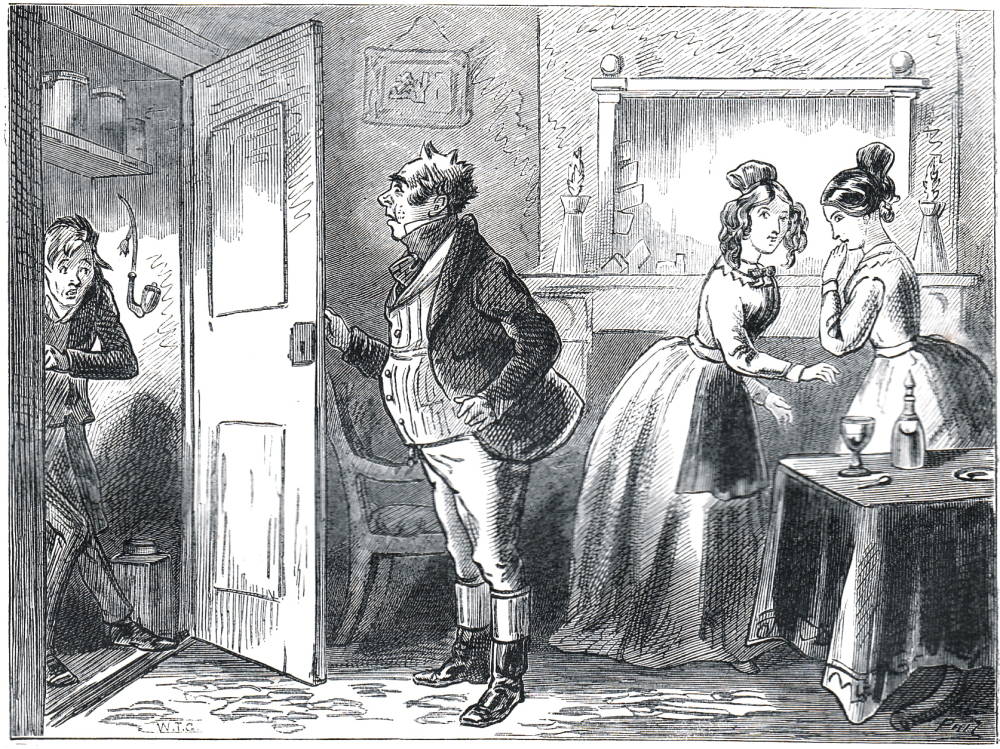 Old Lobbs gave it one tug, and open it flew, disclosing Nathaniel Pipkin standing bolt upright inside, and shaking with apprehension from head to foot. by Phiz (Hablot K. Browne). Household Edition (1874) of Dickens's Pickwick Papers. Facing p. 121 (see p. 117). Engraved by "W.T.G." [Click on image to enlarge it.]
Although the Household Edition compositors at Chapman and Hall positioned this illustration in chapter 18, it clearly refers to a situation in chapter 17's "The Parish Clerk. A Tale of True Love," which begins as all romantic idylls tend to, "Once upon a time" (p. 114 in the Chapman & Hall edition). Rather than illustrate a scene from the inset short story, the eighth that Dickens wrote in 1836 and the fifth in the novel, Thomas Nast realised the scene involving an irate Eatanswill Gazette editor Pott's confrontation with Winkle over the latter's pronounced interest in Mrs. Pott ("'Sir!' exclaimed Mr. Winkle, starting from his chair," p. 107). Certainly, although Maria Lobbs, "the old saddler's daughter," and her cousin Kate are charming adjuncts to Old Lobbs's confronting the young schoolmaster, Nathaniel Pipkin, in Phiz's 1873 illustration, Nast chose a much more dramatic subject, sketching the adversaries in depth, and rendering the background details of the breakfast-room lightly so as to emphasise Pott's indignation (at being characterised by his rival editor as a cuckolded "Brass Pott") and Winkle's shock and surprise at his host's accusation.
In Phiz's realisation of the "discovery scene" in the interpolated tale, subordinate elements of the sitting-room are engaging — we note with interest, for example, the notes and visiting cards thrust into the frame of the mirror above the fireplace — but tend to distract the reader from an analysis of the various characters' reactions. In drafting the character of Nathaniel, Phiz has erred in making him look like a juvenile rather than a small adult; and in his rendering of the irate parent, Phiz has failed to make him sufficiently angry, for he was already out of sorts at being unable to find his "large, brown-stemmed, silver-bowled pipe," which somewhat improbably he had left hanging in the very closet where Nathaniel had taken refuge when the old man unexpectedly arrived home. Phiz realises this moment:
. . . old Lobbs stormed away meanwhile, in the most wonderful manner. At last he thought of the closet, and walked up to it. It was of no use a little man like Nathaniel Pipkin pulling the door inwards, when a great strong fellow like old Lobbs was pulling it outwards. Old Lobbs gave it one tug, and open it flew, disclosing Nathaniel Pipkin standing bolt upright inside, and shaking with apprehension from head to foot. Bless us! what an appalling look old Lobbs gave him, as he dragged him out by the collar, and held him at arm's length.
'"Why, what the devil do you want here?' said old Lobbs, in a fearful voice.
"Nathaniel Pipkin could make no reply, so old Lobbs shook him backwards and forwards, for two or three minutes, by way of arranging his ideas for him.
'"What do you want here?" roared Lobbs; "I suppose you have come after my daughter, now!'
"Old Lobbs merely said this as a sneer: for he did not believe that mortal presumption could have carried Nathaniel Pipkin so far. What was his indignation, when that poor man replied — '"Yes, I did, Mr. Lobbs — I did come after your daughter. I love her, Mr. Lobbs.' [chapter 17, p. 117 in the Chapman & Hall Household Edition]
"Sir!" exclaimed Mr. Winkle, starting from his chair.
In contrast to the beautifully drawn parlour and the inadequately realised emotional states of the principals in Phiz's illustration, Thomas Nast, again focussing on an emotional confrontation, but this time from the main narrative, has effectively contrasted the enraged husband, holding his fists as if struggling with his desire to strike Winkle, and the shocked breakfast guest, who is caught in the process of falling backward as he attempts to rise from the table still laden with teapots and other accoutrements of the meal still in progress. The apoplectic Pott is a type common enough in literature, and particularly in The Pickwick Papers, a jealous husband or lover who is easily provoked to fits of anger. Interestingly, Nast has elected not to show the more composed Mrs. Pott, and her devoted maid, who are just entering the breakfast-room at this point in the text. The moment realised is this:
Such having been the demeanour of this celebrated public character towards Mr. Winkle, it will be readily imagined that considerable surprise was depicted on the countenance of the latter gentleman, when, as he was sitting alone in the breakfast-room, the door was hastily thrown open, and as hastily closed, on the entrance of Mr. Pott, who, stalking majestically towards him, and thrusting aside his proffered hand, ground his teeth, as if to put a sharper edge on what he was about to utter, and exclaimed, in a saw-like voice —
"Serpent!"
"Sir!" exclaimed Mr. Winkle, starting from his chair.
"Serpent, sir," repeated Mr. Pott, raising his voice, and then suddenly depressing it: "I said, Serpent, sir — make the most of it."
When you have parted with a man at two o'clock in the morning, on terms of the utmost good–fellowship, and he meets you again, at half–past nine, and greets you as a serpent, it is not unreasonable to conclude that something of an unpleasant nature has occurred meanwhile. So Mr. Winkle thought. He returned Mr. Pott's gaze of stone, and in compliance with that gentleman's request, proceeded to make the most he could of the "serpent." The most, however, was nothing at all; so, after a profound silence of some minutes' duration, he said, —
"Serpent, sir! Serpent, Mr. Pott! What can you mean, sir? — this is pleasantry."
"Pleasantry, sir!" exclaimed Pott, with a motion of the hand, indicative of a strong desire to hurl the Britannia metal teapot at the head of the visitor. "Pleasantry, sir! — But — no, I will be calm; I will be calm, sir;" in proof of his calmness, Mr. Pott flung himself into a chair, and foamed at the mouth.
"My dear sir," interposed Mr. Winkle.
"Dear Sir!' replied Pott. "How dare you address me, as dear sir, sir? How dare you look me in the face and do it, sir?'
"Well, sir, if you come to that," responded Mr. Winkle, "how dare you look me in the face, and call me a serpent, sir?"
"Because you are one," replied Mr. Pott.
"Prove it, sir," said Mr. Winkle warmly. "Prove it."
A malignant scowl passed over the profound face of the editor, as he drew from his pocket the Independent of that morning; and laying his finger on a particular paragraph, threw the journal across the table to Mr. Winkle. [chapter 18, p. 106 in the Harper & Bros. Household Edition]
Pott's temper, so effectively dramatised in this episode, if not his uxoriousness, suggest the character of the historical personage who sat for Pott's portrait: Henry Peter Brougham, First Baron Brougham and Vaux (1778–1868), founder of The Edinburgh Review in 1802 and virulent opponent of the slave trade from his first appearance in the House of Commons in 1810. Dickens as a young legal aide and parliamentary reporter would have become aware of Lord Brougham when as Lord Chancellor from 1830 to 1834 he initiated reforms to expedite legal procedures and founded London's Central Criminal Court. Like young Charles Dickens, Brougham's supported vigorously the Great Reform Bill of 1832 and the Abolition of Slavery Act of 1833. According to Edward Guiliano and Philip Collins in the first volume of The Annotated Dickens, which includes a photograph of the politician opposite his initial entrance (in chapter 13) that suggests some physical similarity to Nast's lean, tall, balding, white-haired figure:
Dickens' contemporaries would have immediately recognized the description of Mr. Pott as that of the statesman Lord Brougham, the Whig chancellor. Brougham was a tower of physical strength and mental energy. His confidence was without bounds, and he became a standard in the comic literature of his generation as his vanity and restlessness made him appear ridiculous at times and the suitable butt of many jokes. He was an altogether strange character: awkward, eccentric, wild, even uncouth, but also brilliant, admired, and effective. [126]
Whether Nast was aware of the real-life original of editor Pott is uncertain since he visited England for only a few months early in 1860. As an opponent of slavery (one of his most celebrated cartoons being "Worse than Slavery"), Nast would probably have been aware of Brougham's campaign against the institution in Great Britain and the Empire.
Related Material
Scanned image and text by Philip V. Allingham. Formatting by George P. Landow. [You may use this image without prior permission for any scholarly or educational purpose as long as you (1) credit the person who scanned the image and (2) link your document to this URL in a web document or cite the Victorian Web in a print one.]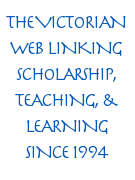 References
Dickens, Charles. Pickwick Papers. The Household Edition. London: Chapman and Hall, 1874; New York: Harpers, 1874.
---
Last modified 9 March 2012