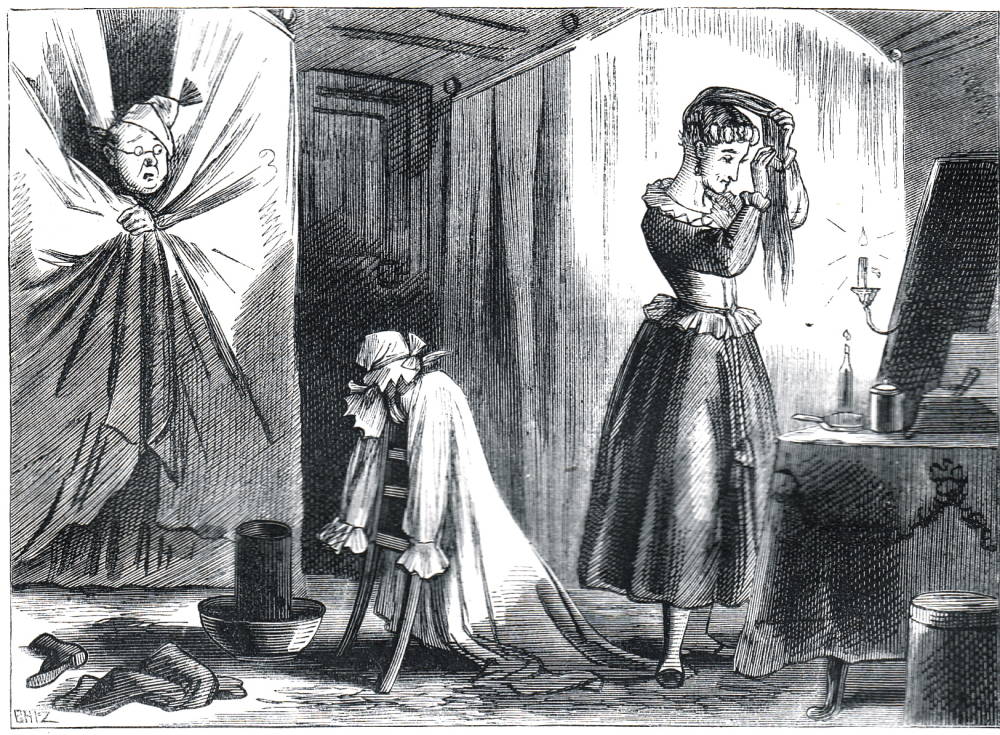 Standing before the dressing-glass was a middle-aged lady in yellow curl-papers, busily engaged in brushing what ladies call their "back hair." by Phiz (Hablot K. Browne). Household Edition (1874) of Dickens's Pickwick Papers, p. 153. Engraved by EG[?]Z. [Click on image to enlarge it.]
In the second decade of the nineteenth century, farce emerged as a dramatic form in its own right rather than as a mere filler within a comedy, although it was still generally a one-act piece designed to fill out an evening's entertainment at a British theatre. Young Charles Dickens himself wrote several such plays, namely, The Strange Gentleman (performed at London's St. James's Theatre on 29 September 1836), whose plot involves mistaken identities at an inn in the north of England, and Is She His Wife? Or, Something Singular, again at the St. James's (he and his wife, accompanied by his sister-in-law, Mary, attended a performance on 6 March 1837) — both farces date from the period in which Dickens was writing the monthly instalments of The Pickwick Papers. Not surprisingly, then, a number of incidents in the novel are farcical, alternating with melodramatic insertions such as "The Stroller's Tale" in Part 2 and "The Tale of the Queer Client" in Part 8.
The stuff of farce, as exemplified by the Dickens's stage farces of 1836-37, is physical comedy and mistaken identity. A writer of farce exploits the possibilities for situation comedy and comic buffoonery; as opposed to the sentimental or romantic comedy, which often accompanied the burletta and the melodrama of the Victorian stage, farce heaps indignities upon its protagonist, making him — as in the case of Samuel Pickwick — repeatedly the butt of practical jokes, awkward moments, and embarrassing circumstances, which are, unlike the circumstances of French and eighteenth-century English farce, rarely sexually suggestive, or accompanied by sexual innuendo. Readers of the 1830s could delight in the farcical situations of the Pickwickians and their bumbling but well-meaning leader without the inconvenience of attending an unlicensed theatre, whose audience was frequently coarse, vulgar, and tumultuous — in other words, working- rather than respectably middle-class. There is some potential for titilllation in the Great White Horse Inn at Ipswich when, losing his way past midnight "through a multitude of torturous windings" (152) after a protracted dinner with Peter Magnus, Pickwick takes up residence in a room which he mistakes for the one assigned to him, but which is in fact that assigned to Miss Witherspoon, Magnus's fiancee. One might well describe the scene as "English bedroom farce," that is, a situational comedy with mistaken identity but without genuine sexual impropriety.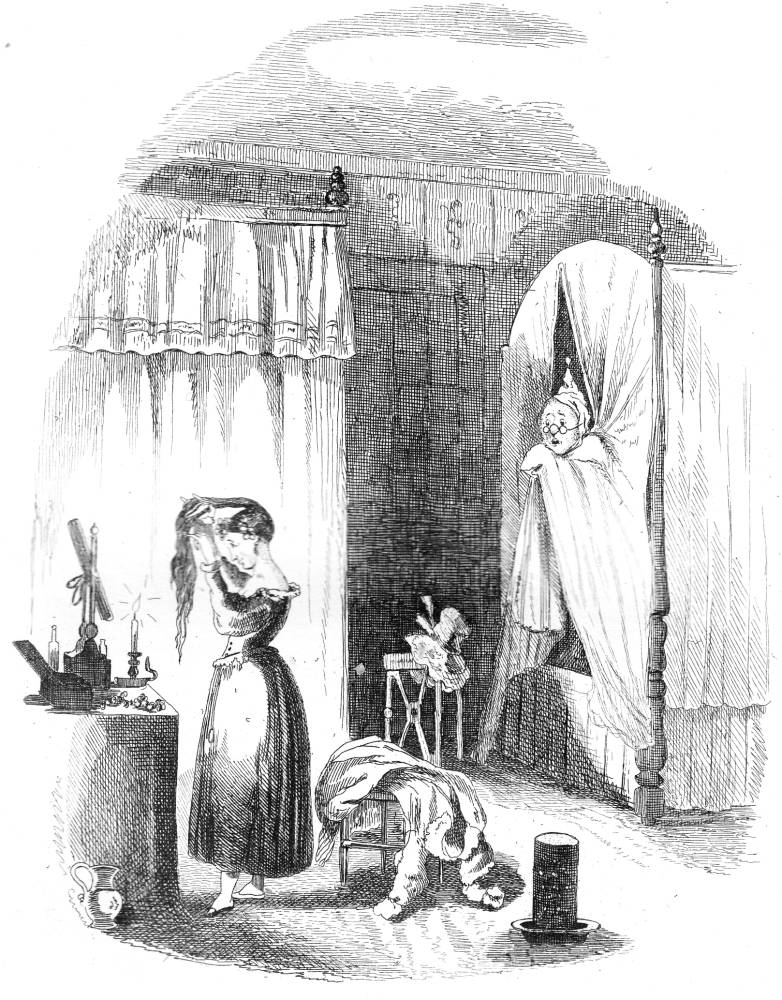 In the original steel engraving for the November 1836 number entitled "The Middle-Aged Lady in the Double-Bedded Room" (see image at right), Pickwick in his nightcap peeps out from his bed-curtains to watch in surprise what Jane Rabb Cohen in Charles Dickens and His Original Illustrators terms a "spare woman with a Cruikshankian long face combing her stringy hair before a mirror" (66). She contends that Browne in revising the engraving for volume publication in 1838 changed Pickwick's expression from "horror and dismay" (154) to consternation, and gave the lady before her makeup mirror a more pleasing face and figure. In the 1873 version for the Household Edition Phiz gives the "middle-aged lady in yellow curl-papers" a more natural figure and visage for one her age, retreating from the more attractive woman that he had drawn in his 1838 revision; Pickwick in the 1873 plate is nervous rather than indignant or surprised, for clearly he does not know what to expect next, or what to do. In contrast, Nast's focus is not the lady's face or figure, for she has hidden behind her fingers, obscuring her features — and her hair, contrary to the text, is entirely covered by rather larger curl-papers than Dickens had specified to his original illustrator. Nast renders the lady incredulous and Pickwick catatonic, rather than "desperate," as the following passage specifies:
"Ma'am," said Mr. Pickwick, thrusting out his head, in the extremity of his desperation, "Ma'am!" [136]
The differences between the November 1836 and 1838 versions of the scene are subtle, although the latter version is better lit, has less chiaroscuro, and has Phiz's nom de plume prominently displayed at the bottom: "As if to underline his more confident graphic power, Browne squarely centred his famous pseudonym at the bottom of these 1838 etchings, in contrast to his habitual practice of locating it more obscurely to the left or right " (Cohen 67).
Perhaps owing to his partial paralysis, in the 1873 version, Phiz has provided his pseudonym in Roman block letters in the lower left. Again, as in a number of the 1873 revisions, he has also shifted the juxtaposition of key elements of the scene, so that Pickwick is to the left and the lady to the right; he has also changed the viewer's perspective, moving in for a close-up that eliminates much of the detail. Perhaps owing to advances in dressing-table mirrors, Phiz has made the 1873 mirror much larger and given it its own candelabrum (right). Miss Witherspoon has apparently laid out her own night-gown and hat without noticing the gentleman's boots on the floor (left), a humorous touch not present in the 1836 and 1838 engravings. Already in Nast's version the lady must be crying out, "A strange man!" and the lady must be contemplating how to get past Pickwick to the door and the staircase beyond:
"Wretch, said the lady, covering her eyes with her hands, "what do you want here?" [136]
Pickwick, of course, wants nothing but to be spared further embarrassment, and attempts to leave with dignity while the lady simply thrusts him into the passage, and bolts the door behind him. But the damage, as the subsequent 1873 illustration in Phiz's series points out, has been done.
Related Material
Scanned image and text by Philip V. Allingham. Formatting by George P. Landow. [You may use this image without prior permission for any scholarly or educational purpose as long as you (1) credit the person who scanned the image and (2) link your document to this URL in a web document or cite the Victorian Web in a print one.]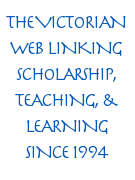 References
Dickens, Charles. Pickwick Papers. The Household Edition. London: Chapman and Hall, 1874; New York: Harpers, 1874.
---
Last modified 9 March 2012