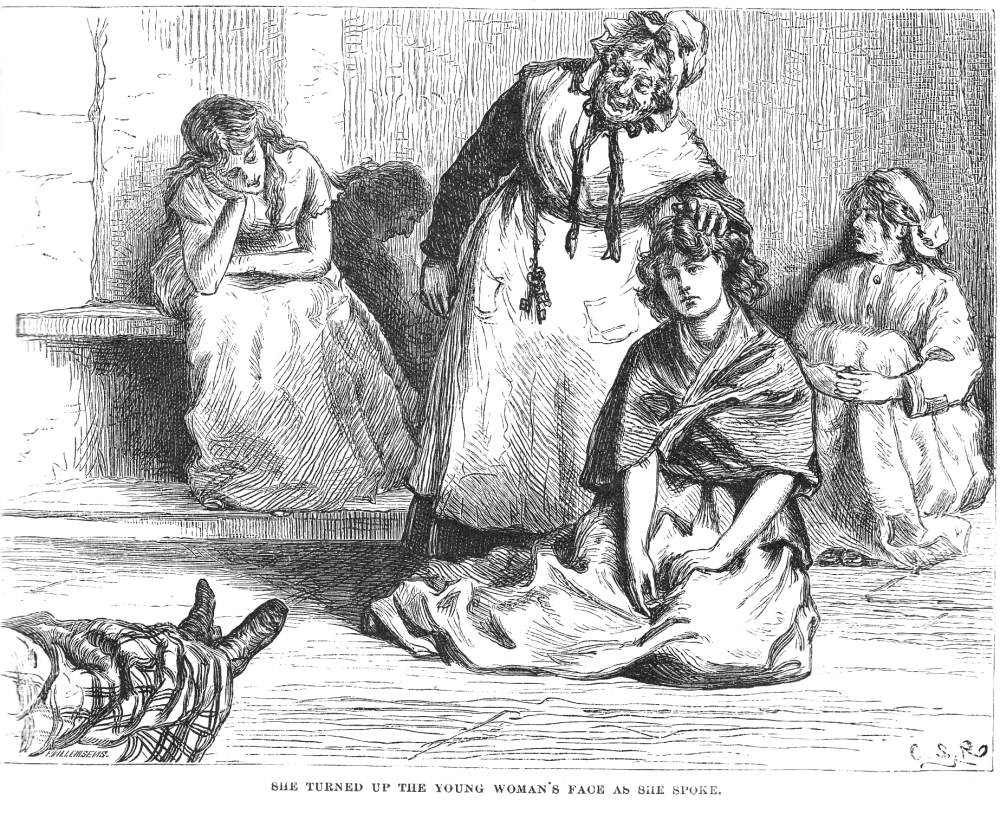 She turned up this young woman's face with her hand as she spoke by Charles S. Reinhart (1844-96). 10.2 cm high by 13.3 cm wide (half-page, horizontally mounted in the middle of 17). [Click on image to enlarge it.]
The wood-engraving illustrates a scene on page 17 in "The Wapping Work-house," the third chapter in Charles Dickens's The Uncommercial Traveller, this essay having first appeared in All the Year Round on 18 February 1860. The American Household Edition, also containing Reinhart's wood-engravings for Hard Times (1854) and Fildes' for The Mystery of Edwin Drood (1870), was published by Harper and Brothers in 1876.
Passage Illustrated
For everybody else in the room had fits, except the wardswoman; an elderly, able-bodied pauperess, with a large upper lip, and an air of repressing and saving her strength, as she stood with her hands folded before her, and her eyes slowly rolling, biding her time for catching or holding somebody. This civil personage (in whom I regretted to identify a reduced member of my honourable friend Mrs. Gamp's family) said, "They has 'em continiwal, sir. They drops without no more notice than if they was coach-horses dropped from the moon, sir. And when one drops, another drops, and sometimes there'll be as many as four or five on 'em at once, dear me, a rolling and a tearin', bless you! — this young woman, now, has 'em dreadful bad."
She turned up this young woman's face with her hand as she said it. This young woman was seated on the floor, pondering in the foreground of the afflicted. There was nothing repellent either in her face or head. Many, apparently worse, varieties of epilepsy and hysteria were about her, but she was said to be the worst here. When I had spoken to her a little, she still sat with her face turned up, pondering, and a gleam of the mid-day sun shone in upon her.
Whether this young woman, and the rest of these so sorely troubled, as they sit or lie pondering in their confused dull way, ever get mental glimpses among the motes in the sunlight, of healthy people and healthy things? Whether this young woman, brooding like this in the summer season, ever thinks that somewhere there are trees and flowers, even mountains and the great sea? Whether, not to go so far, this young woman ever has any dim revelation of that young woman — that young woman who is not here and never will come here; who is courted, and caressed, and loved, and has a husband, and bears children, and lives in a home, and who never knows what it is to have this lashing and tearing coming upon her? And whether this young woman, God help her, gives herself up then and drops like a coach-horse from the moon? [Chapter 3, "The Wapping Work-house," p. 16]
Commentary
". . . if way to Better there be, it exacts a full look at the Worst" [Thomas Hardy, "In Tenebris," II, line 14 — Poems of the Past and the Present, 1902]
Charles Dickens realised that the newly-franchised Victorian middle class could not effect a kinder, more just society without being shown the worst excesses of the industrial capitalist system; once again, he focuses on the dubious institution of the workhouse. Originally published in All the Year Round on 18 February 1860, the journalistic piece entitled "Wapping Workhouse" is an exposé of the plight of women who must, out of extreme desperation, resort to the union workhouse. A Police Court Magistrate, Henry Selfe, in The Times for 23 January 1860, had identified the establishment at Wapping on the Thames was "a perfect bear-garden" (cited in Slater and Drew, 41) in terms of its deplorable conditions for the reception of female paupers. Before the end of January 1860 Dickens had gone down to Wapping to verify Selfe's remarks, which he found a considerable exaggeration. Prominent in Dalziel's illustration for the same chapter, "A Young Man ... All Dirty and Shiny and Slimy" and in Dickens's opening account of his encounter with a navvy is the swing bridge machinery of "Baker's Trap," a favourite destination for would-be suicides.
The condition of the poor, a consistent theme throughout Dickens's fiction and his non-fiction social commentaries of the 1850s in Household Words, is a recurrent image through these Uncommercial Traveller essays from 1860 through 1869. Here, Dickens narrows his focus to consider the plight of pauper women. In particular, he describes the less than humane treatment of those who exhibit the symptoms of a whole range of mental illnesses and challenges, ranging from severe depression to epilepsy. Granted, their housing (or, perhaps, one should say "warehousing") is more sanitary than that of London's St. Mary of Bethlehem Mental Hospital ("Bedlam") as described in revoltingly vivid detail by such graphic social commentators in the previous century as William Hogarth, but it is hardly medically sound or caring.
At the beginning of this second article, Dickens's highly observant and socially conscious persona, the Uncommercial Traveller, determines to travel to Wapping Stairs on the Thames to inspect the Union workhouse there. Dickens's persona mentions that his trip downriver has been motivated by the remarks of a police magistrate, recently reported by one of the metropolitan morning newspapers, "that there was no classification at the Wapping Work-house for women" (15). His investigation in the warren of wards focusses on young women suffering various forms of neurological disorders and mental illness, including the subject of C. S. Reinhart's illustration.
Taking his cue from Dickens about the Cockney wardswoman's resembling Sarah Gamp, Phiz's boozey sickroom attendant from Martin Chuzzlewit (1843-4), Dalziel depicts a stout, powerful woman of middle-age with a nurse's apron and keys — and a rough visage and prominent, alcoholic nose — superintending a thin, depressed young woman whose vacant stare suggests that she has been drugged. Like a lunatic in Bedlam, she is exhibited for the curious, middle-class stranger; undoubtedly her keeper expects a monetary reward from the Uncommercial Traveller. Reinhart's wardswoman parallels Dalziel's lock-keeper as a local character epitomizing the neighbourhood of the workhouse and its numerous social problems.
Scanned image and text by Philip V. Allingham [You may use this image without prior permission for any scholarly or educational purpose as long as you (1) credit the photographer and (2) link your document to this URL in a web document or cite the Victorian Web in a print one.]
Bibliography
Bentley, Nicolas, Michael Slater, and Nina Burgis. The Dickens Index. New York and Oxford: Oxford U. P., 1990.
Dickens, Charles. The Uncommercial Traveller, Hard Times, and The Mystery of Edwin Drood. Il. Charles Stanley Reinhart and Luke Fildes. The Household Edition. New York: Harper and Brothers, 1876.
Dickens, Charles. The Uncommercial Traveller. Il. Edward Dalziel. The Household Edition. London: Chapman and Hall, 1877.
Hardy, Thomas. "In Tenebris," II. Poems of The Past and The Present: "Miscellaneous Poems". New York and London: Harper and Bros., 1902.
Scenes and Characters from the Works of Charles Dickens; being eight hundred and sixty-six drawings, by Fred Barnard, Hablot Knight Browne (Phiz); J. Mahoney; Charles Green; A. B. Frost; Gordon Thomson; J. McL. Ralston; H. French; E. G. Dalziel; F. A. Fraser, and Sir Luke Fildes; printed from the original woodblocks engraved for "The Household Edition." New York: Chapman and Hall, 1908. Copy in the Robarts Library, University of Toronto.
Slater, Michael, and John Drew, eds. Dickens' Journalism: 'The Uncommercial Traveller' and Other Papers 1859-70. The Dent Uniform Edition of Dickens' Journalism, vol. 4. London: J. M. Dent, 2000.
---
Created 31 March 2013

Last modified 6 January 2020