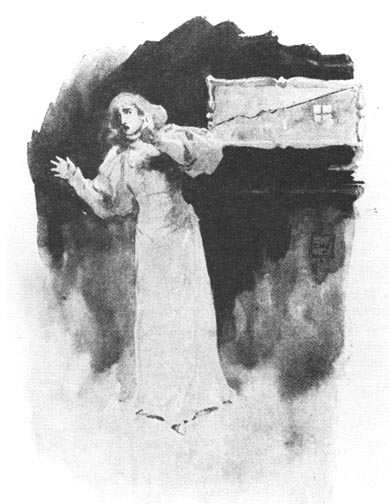 The Lady of Shalott
Charles Howard Johnson (dates unknown)
Half-tone process on paper
1/4 x 4 3/4 in. (18.5 x 12. cm.)
Published in Tennyson's Complete Works (1891)
Lent by the Alderman Library, University of Virginia.
Commentary by Miriam Neuringer
Charles Howard Johnson's sparse style of illustration graces the pages of a late nineteenth-century American edition of Tennyson's poetry. Johnson's vignette depicts that moment when the Lady's "mirror crack'd from side to side." Johnson, an American illustrator about whom little is known, includes only the two essential narrative elements, the Lady and the mirror, both of which he represents with little decorative detail. Hence, his image contrasts greatly with that of Hunt's famous Moxon engraving of this subject.