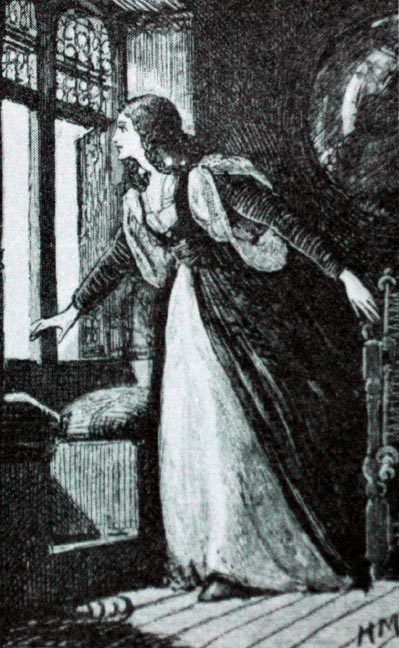 The Lady of Shalott
Henry Marriott Paget (1856-1936)
Line drawing reproduced photomechanically (photozinc or gelatine process) on paper
5 1/4 x 3 3/8 in (13.3 x 8,6 cm.)
Published in The Works of Alfred Tennyson (1881)
Lent by the Yale University Library.
Commentary by Peggy A. Fogelman
Henry Marriott Paget's Lady of Shalott demonstrates the popularity of Alfred Tennyson's poem among those nineteenth-century artists who never achieved fame as illustrators but shared Pre-Raphaelite fascination with escapist themes of chivalric romance. Stories of heroic adventure in exotic lands naturally appealed to Paget, an artist and illustrator who traveled extensively throughout Italy, Greece, and Canada between 1879 and 1909 and resided in Constantinople in 1912, recording the events of the Balkan War for the Sphere.
He produced the majority of his book illustrations and contributions to periodicals in the 1890s. [continued below]