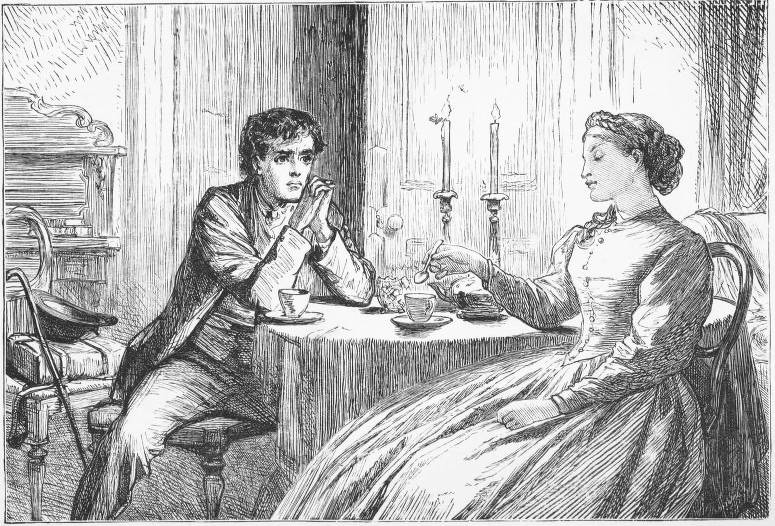 "The Moth and the Candle," by George Housman Thomas, 1824-1868. Engraved by William Luson Thomas (Thomas's brother). 1866. From Armadale, Vol.II, by Wilkie Collins. Source: the 1866 Smith, Elder edition, uploaded to the Internet Archive by the University of Illinois at Urbana-Champaign. Caption and commentary by Jacqueline Banerjee. [You may use this image without prior permission for any scholarly or educational purpose as long as you (1) credit the source and (2) link your document to this URL in a web document or cite the Victorian Web in a print document]
Here, G. H. Thomas has chosen his own caption, using words not found in the text itself, for the scene in which Miss Gwilt first encourages Ozias Midwinter to show how he feels about her:
Perfectly modest in her manner, possessed to perfection of the graceful restraints and refinements of a lady, she had all the allurements that feast the eye, all the Siren-invitations that seduce the sense — a subtle suggestiveness in her silence, and a sexual sorcery in her smile. "Should I be wrong," she asked, suddenly suspending the conversation which she had thus for persistently restricted to the subject of Midwinter's walking tour, "if I guessed that you have something on your mind — something which neither my tea nor my talk can charm away? Are men as curious as women? Is the something — Me?" (462).
She goes on to reveal that Midwinter's friend Allan has been having her spied on, and that she doesn't care for him at all. Midwinter can hardly credit that his friend should have behaved in such an ungentlemanly manner, but his heart leaps when he hears of her indifference to him. He kisses her hand, and then lets her hold his.
Despite her success, Miss Gwilt is troubled when he leaves, feeling her conscience smitten by his good-heartedness, and her own heart unexpectedly touched: "'What am I doing ?' she asked herself in a sudden panic of astonishment. 'Am I mad enough to be thinking of him in that way?'" (468). Later, we might even look back and wonder which of the two was the candle, and which the moth.
Related Material
References
Collins, Wilkie. Armadale Ed. Catherine Peters. Oxford: Oxford University Press (Oxford World's Classics), 2008.
---
Last modified 9 November 2011