History
The "magnificent seven" cemeteries in London had done much to relieve pressure on individual churchyards (see the discussion of the Brompton Cemetery). Yet the demand for burial space was still growing exponentially. Accordingly, the Ealing and Old Brentford Burial Board put forward a plan for a new burial ground in 1861. Ealing Cemetery, now called South Ealing Cemetery, was designed by the competent and well-regarded local architect Charles Jones (1830-1913). "The cemetery was laid out with a series of straight drives with circular areas at intersections and an axial drive leading from the main entrance to two circular beds. The Gothic style cemetery buildings included 2 lodges, stone gate piers, and a pair of chapels joined by a porte-cochère" ("South Ealing Cemetery"). This latter arrangement, with a belfry, "became a common solution to the problem of designing cemetery-chapels in the second half of the nineteenth century" (Curl 154).
The cemetery had to be extended twice, in 1907 (presumably by Jones) and 1940. Soon after designing the Ealing Cemetery, Jones designed one for Twickenham as well (1867-68). — Jacqueline Banerjee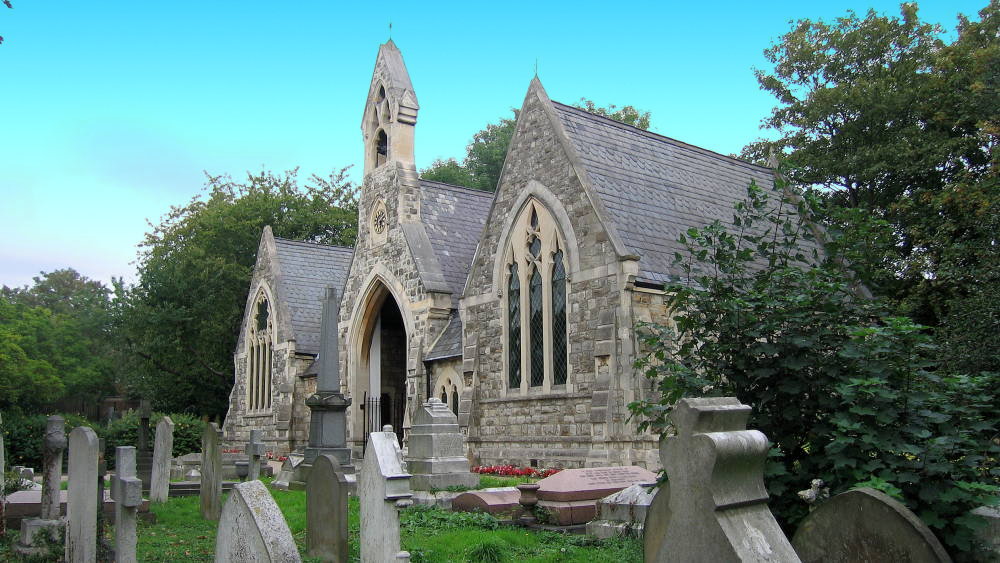 Bibliography
Curl, James Stevens. The Victorian Celebration of Death. Paperback ed. Stroud: Sutton, 2004.
"South Ealing Cemetery." London Gardens Online. Web. 25 February 2013.
Rutherford, Sarah. The Victorian Cemetery. Botley, Oxford: Shire, 2008.
White, John Foster. "Ealing: Queen of the Suburbs: A Guided Walk." Ealing Civic Society. Web. 25 February 2013.
---
Last modified 5 March 2013