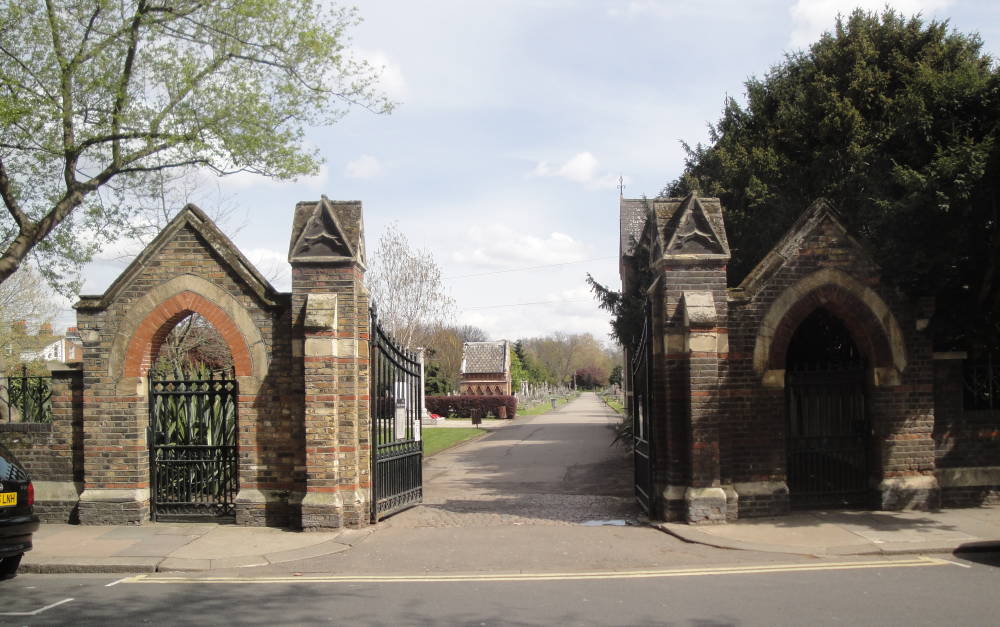 Opened in 1868 on Margravine Road, London W6, the Margravine or Hammersmith Cemetery was laid out by a local architect, George Saunders, who also designed its neo-Gothic lodges and chapels. Only one of the latter survives, the other having been demolished in 1939. It is built of of sandstone with ashlar dressings, and has an octagonal side turret (Kelly and Bassi 14). The first burial took place here on 3 November 1869, and by the early 1990s there had been 83,197 recorded burials here (see Meller 14). The impressive Young family mausoleum is the only mausoleum in the cemetery, though there are some other striking monuments, such as those to George Robert and Caroline Broad, and the comfortable "bed" provided for Sextus Gisbert Van Os and his wife. — Jacqueline Banerjee.
The Cemetery
Mausoleums
Memorials and Gravestones
Bibliography
Kelly, Rob, and Paul Bassi. "Margravine Cemetery Management Plan 2009-2014." London Borough of Hammersmith & Fulham. Web. 21 February 2013.
"The Margravine Cemetery". London Borough of Hammersmith & Fulham. Web. 21 February 2013.
Meller, Hugh. London Cemeteries: An Illustrated Guide and Gazetteer. Aldershot: Scolar Press, 1994. Print.
Rutherford, Sarah. The Victorian Cemetery. Botley, Oxford: Shire, 2008.
---
Last modified 1 March 2013