History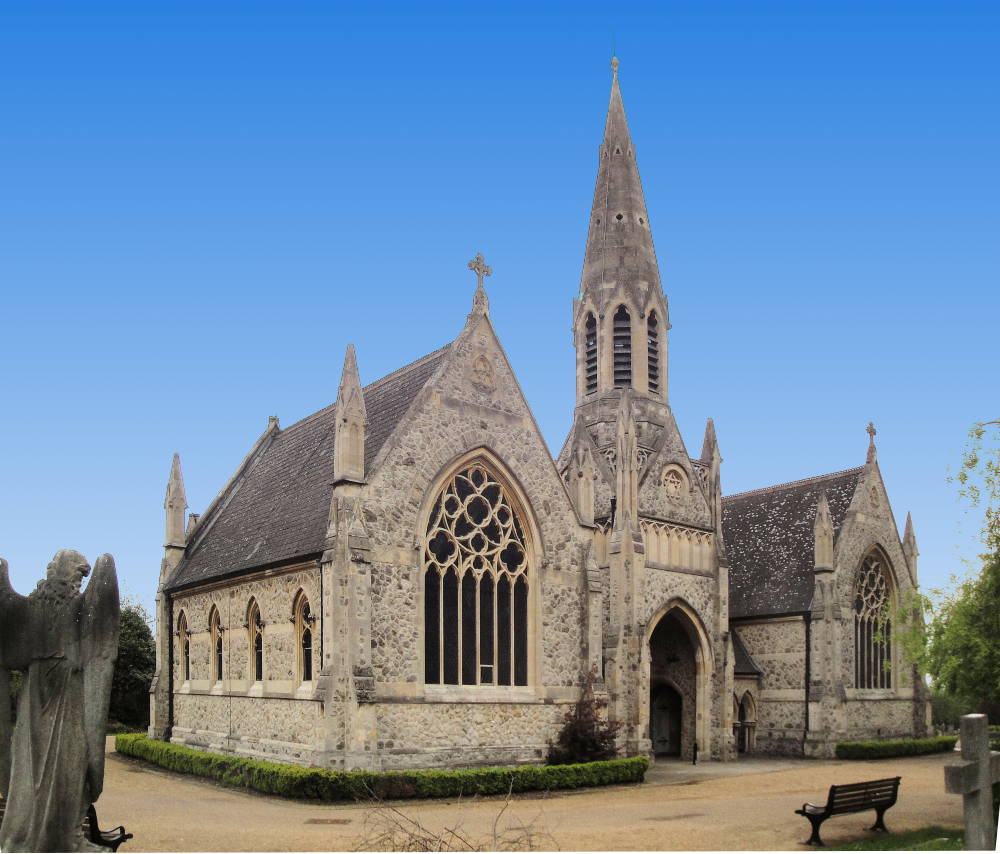 Hampstead Cemetery is on Fortune Green Road, Hampstead, London NW6. A Burial Board project of 1874-6, it was designed by Charles Bell (1846-99), a Lincolnshire-born architect who had only begun practising independently in London in 1870. He designed many Methodist chapels, and, as architect to the Tottenham School Board, a number of schools. The cemetery is considered one of the most notable ones (see Rutherford 34), with the usual cemetery buildings — lodges and Grade II listed chapels, linked by a central arch, in "random Kentish rag rubble with Bath stone dressings" (listing text), in the now conventional Decorated Gothic style. Only the Anglican one remains in use for its original purpose, now for any denomination.
Many famous people who lived in this pleasant, leafy part of London are buried here, such as the illustrator Kate Greenaway, whose home and studio were in NW3, the surgeon and pioneer of antiseptics Sir Joseph Lister, the sculptor Sir William Goscombe John, and the architectural historian Banister Fletcher, the latter's "lovely memorial" having been designed by his son, Sir Banister Flight Fletcher (Curl 160): many examples of Banister Fletcher's architectural drawings can be found on our website. A number of the tombs are Grade II* listed, but this has not prevented the theft of the beautiful bronze figure by Goscombe John to his wife Marthe (see "Marthe Goscombe John" for a line drawing of it).
The grounds were laid out by Joseph E. Meston, known for his earlier work on the Victoria Embankment Gardens (see "Hampstead Cemetery"). They were extended in 1901. Over 60,000 people are buried here (see "Hampstead Cemetery"). — Jacqueline Banerjee
Bibliography
"Basic Biographical Details: Charles Bell." Dictionary of Scottish Architects. Web. 6 March 2013.
Curl, James Stevens. The Victorian Celebration of Death. Paperback ed. Stroud: Sutton, 2004.
"Hampstead Cemetery." London Gardens Online. Web. 6 March 2013.
"Hampstead Cemetery Mortuary Chapels, Fortune Green Road." Images of England (English Heritage). Web. 6 March 2013.
"Marthe Goscombe John." Find-a-Grave. Web. 6 March 2013.
Rutherford, Sarah. The Victorian Cemetery. Botley, Oxford: Shire, 2008.
---
Last modified 6 March 2013