History
At the start of the Victorian period, seven great cemeteries were planned in different parts of London. The "magnificent seven" were: Kensal Green (1833), West Norwood (1836), Highgate (1839), Abney Park (1840), Brompton and Nunhead (both 1840), and Tower Hamlets (1841). But London continued to expand. When London County Council was established in 1888, the borough councils took on the responsibility of meeting the increased demand for burials. The Borough of Wandsworth duly acquired farmland, and its Borough Council Surveyor laid out Putney Vale Cemetery there in 1887. He designed two chapels for it, one for the Church of England, and one for other denominations (or none). He also designed a cemetery lodge. The firm of J. Melady & Sons, from nearby Barnes, did the planting. The cemetery opened in 1891, and needed extending in 1909 and 1912. In 1938, one of the chapels was converted to a crematorium by E. J. Elford. The crematorium part is at the back of the chapel, in the guise of a tower. Elford also designed a Garden of Remembrance, laid out around the same time.
The cemetery is known for its "good range of turn-of-the-century monuments (many featuring Edwardian ladies in attitudes of mourning) and two especially fine mausolea" (Curl 166). The latter both date from 1910. One, Ionic in style, was built for Edwin Tate (1847-1928), son of the Victorian sugar magnate Henry Tate. It seems curious that it was built years before he died, but the brief listed buildings text dates it even further back, calling it "late 19c." Perhaps it was originally built for the children he had lost (see peerage records). The other mausoleum, referred to by James Stevens Curl as "a powerful in antis Egyptianising job with palm-leaf capitals" (166), was for Alexander Gordon (c.1841-1910), of a large American manufacturing concern, Niles Tool Works. These and a third mausoleum with Doric pilasters, for the prominent Sainsbury family and dating from 1900, are all Grade II listed buildings. Among the many well-known people laid to rest at Putney Vale are Dickens's eighth child, Henry Fielding Dickens (1849-1933), who became a distinguished lawyer, and the sculptor Jacob Epstein (1880-1959). — Jacqueline Banerjee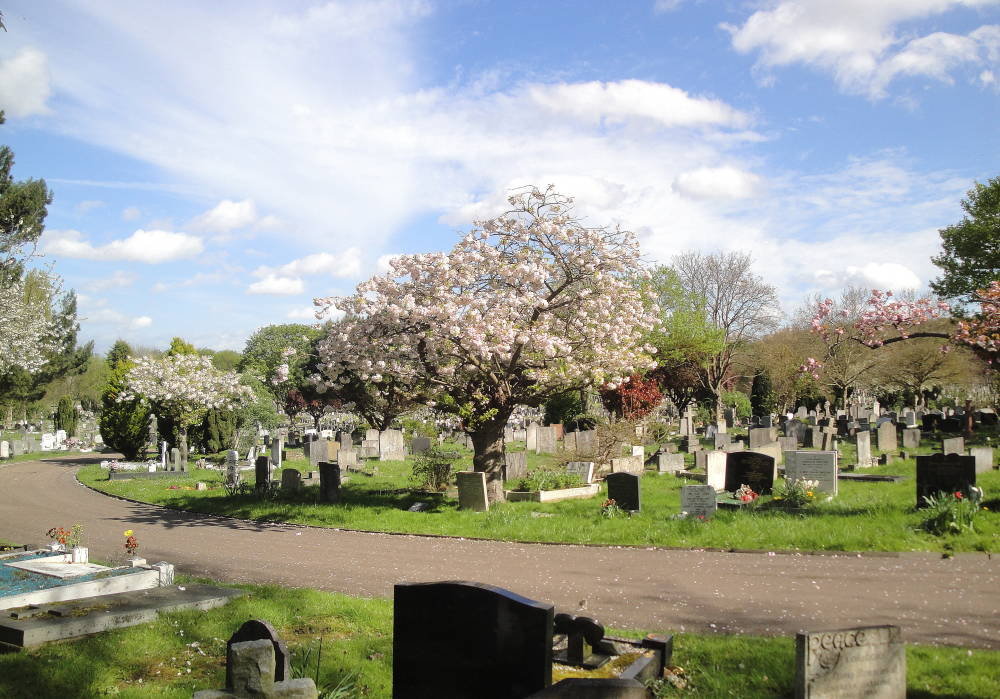 Sources
Curl, James Stevens. The Victorian Celebration of Death. Paperback ed. Stroud: Sutton, 2004. Print.
"Edwin Tate Mausoleum, Wandsworth." British Listed Buildings. Web. 20 February 2013.
"Egyptian London Newsletter" (December 20) (for Alexander Gordon). www.egyptianlondon.co.uk. Web. 20 February 2013.
"The Gordon Mausoleum." The Mausolea and Monuments Trust. Web. 20 February 2013.
thepeerage.com (for Edwin Tate). Web. 20 February 2013.
"Putney Vale Cemetery and Crematorium." London Gardens Online. Web. 20 February 2013.
Rutherford, Sarah. The Victorian Cemetery. Botley, Oxford: Shire, 2008. Print.
"The Sainsbury Mausoleum." The Mausolea and Monuments Trust. Web. 20 February 2013.
"The Tate Mausoleum." The Mausolea and Monuments Trust. Web. 20 February 2013.
---
Last modified 20 February 2013