Photographs by the present author, reproduced here by kind permission of Woking Crematorium. Early sketch scanned by JB. You can use the scan without prior permission for any scholarly or educational purpose as long as you (1) credit the source and (2) link your document to this URL in a web document or cite the Victorian Web in a print one. Click on the images for larger pictures.
Modern Cremation
Woking Crematorium Chapel and Crematorium.
Burial has a long history in Western Europe, encouraged both by Egyptian customs and the Christian promise of resurrection (see Curl 179). But in the first part of the Victorian period cremation began to be suggested as the ultimate answer to a major public health issue — the overcrowded and unhygienic graveyards of that time. Even John Claudius Loudon (1783-1843), the influential landscaper and cemetery designer, saw it as the trend of the future (see Curl 181). Movements in Europe, especially Italy, also provided an impetus. Then cremation acquired an eminent, well-connected and energetic advocate: Sir Henry Thompson (1820-1904), Professor of Surgery at University College Hospital, a pioneering urologist whose patients included Queen Victoria's uncle, King Leopold of the Belgians. A talented polymath with friends in both the arts and the sciences, Sir Henry noted the Italian experiments in this area, and was much taken with the crematory apparatus that he saw at the Vienna Exposition of 1873. "The proposal to adopt it [cremation] in recent practical times originally proceeded mainly from Italy," he wrote later (1). He was largely responsible for the founding of the Cremation Society in 1874, and became its first chairman. In1878, the society bought an acre of land in Surrey from the Necropolis Company, which had opened a vast cemetery at Brookwood on Woking Common. Adding to the perception of the area as "the great camp of the dead" (Mee 332), the plot was only two miles from Brookwood, in the quiet village of St John's on the outskirts of Woking.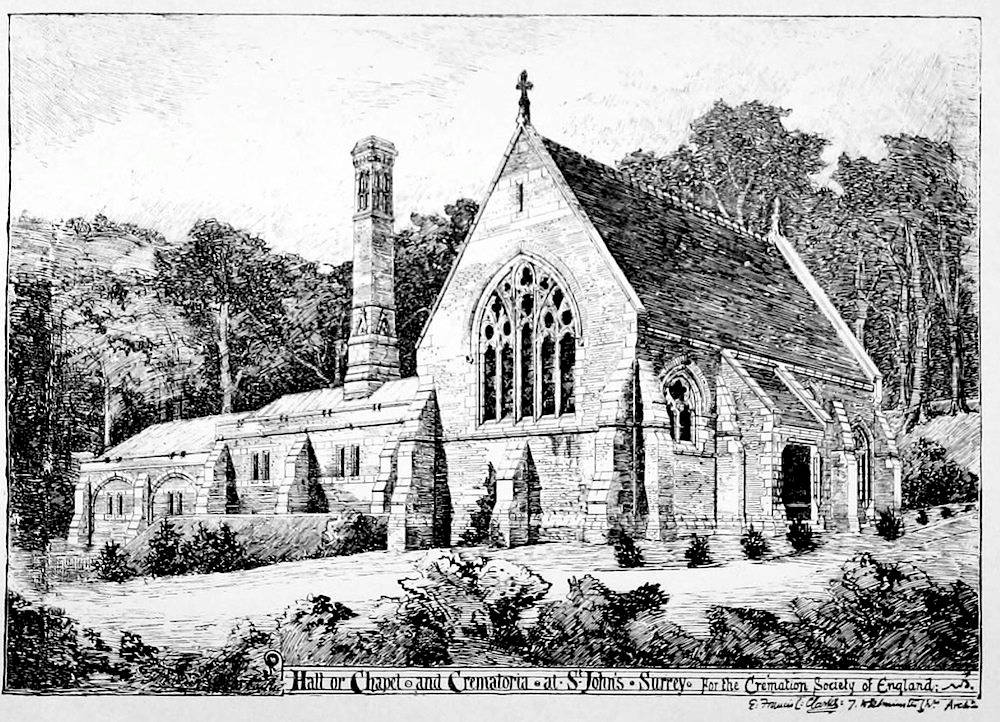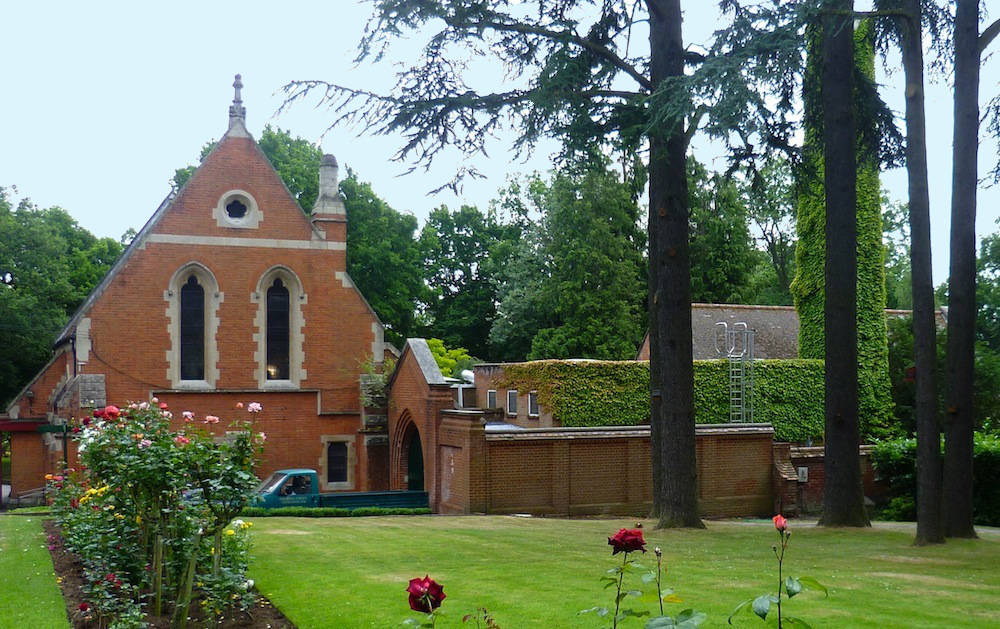 Left: The architect's design for the crematorium, looking a little different from the way it does now, with a pointed roof over the crematory, and the rather elegant chimney shaft rising from it (Thompson, frontispiece). Right: The crematorium from the other side.
The crematory part, with its 60' high crematory chimney shaft now tastefully draped with ivy, was built soon afterwards, in 1879. Following experiments on dead horses, and a judge's ruling that cremation was "not an offence provided that no nuisance was caused thereby" (Curl 185), the first human cremation took place there on 26 March 1885. It was that of Jeanette Pickersgill, of Clarence Gate, London, the wife of Royal Academician Henry William Pickersgill, a well-known portrait-painter; she herself had published a book of poetry, and had expressly wished to be cremated (see Parsons). But it was some time before the practice became more widely accepted. Another "first" was reported in some newspapers and magazines in 1888. This was the cremation of Camillo Roth of the London stock exchange, the first Jewish person to be cremated in this country. Again, it was noted in Reynold's Magazine of 15 April that this was by his own "testamentary directions" (8),
There was no special ceremony for these early cremations, but, as the idea slowly began to win acceptance, the need for a chapel was felt. This was built nearly ten years after the crematory itself. It was designed by Edward Francis Channing Clarke, the Cremation Society's architect. Most probably born in Aston in 1843 (FreeBMD), Clarke was practising in London by 1868 (see "Edward Francis Channing Clarke"). He used mellow red brick with Bath stone dressings, in a 13c. Gothic style. If the mechanism for disposing of the body was to be new and unconventional, the appearance of the facility was to be comfortingly traditional.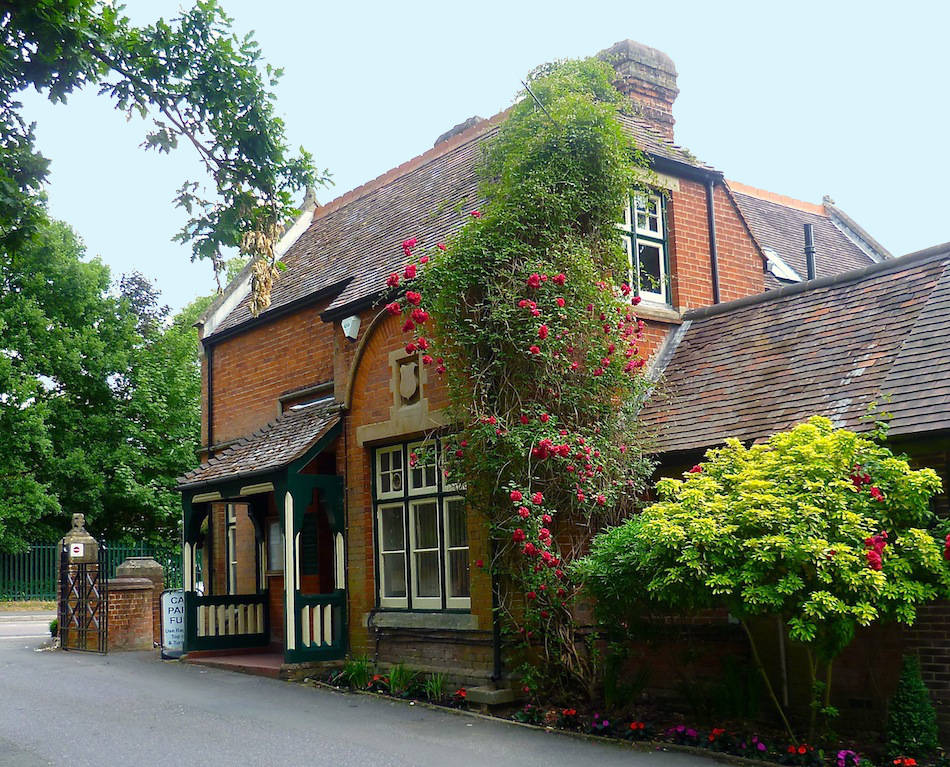 It was particularly important for the crematorium to be "agreeable in appearance, ... harmonizing well with the surrounding woods" (Thompson 27), and to have reassuring ecclesiological associations that would preempt criticisms of it as promoting a "heathen practice" (qtd. in Jalland 206; see also Curl 183). Built in 1900 in an Arts and Crafts style, the "pretty porter's lodge," as it was rightly described by Thompson himself at the time (28), was for the use of the crematory's superintendent. This also needed to present a welcoming, cottagey front to the complex. Even apart from objections raised by local residents and various members of the clergy, and the general prejudice of the public at large, not everything went smoothly: the first superintendent, a coal and coke merchant who had plied his trade in Camden Town, was later sacked for misconduct (Woking Crematorium 4).
Interior of the Chapel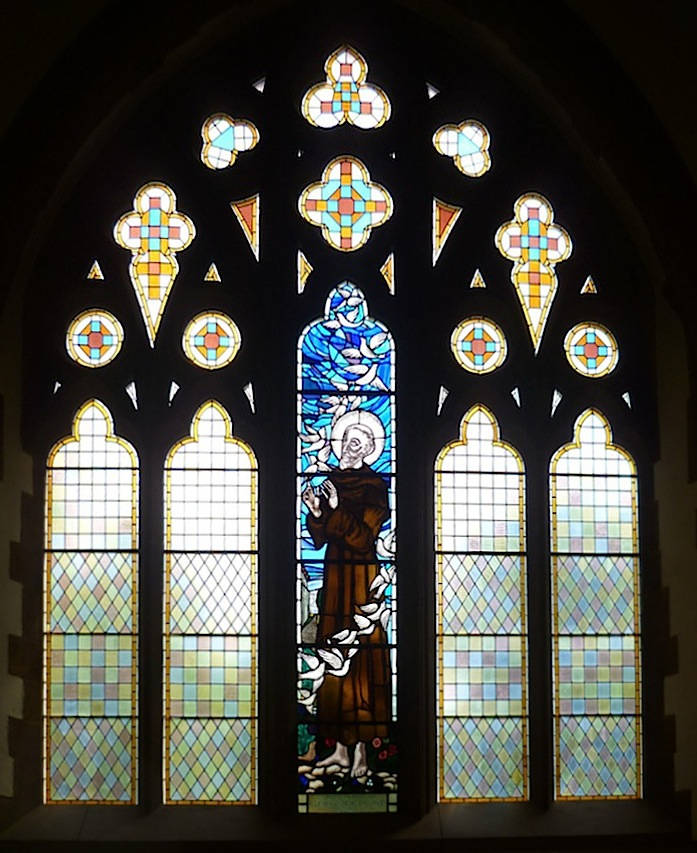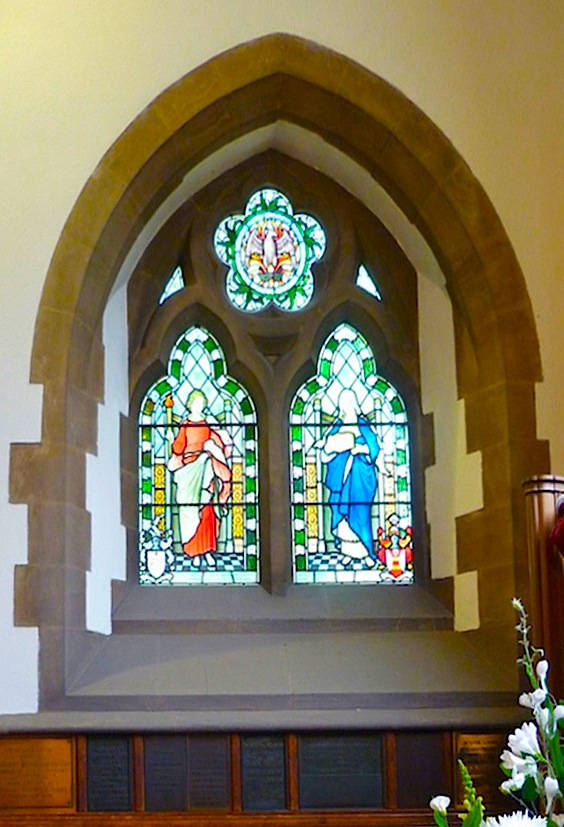 Left to right: (a) The light and airy chapel interior, with its barrel roof. (b) The east window, showing St Francis, and doves taking flight like souls to heaven. (c) The north window, a memorial window for Sir Henry Thompson, founder and President of the Cremation Society, and Sir Charles Cameron, the next president.
A notice under the memorial north-east window explains that the female figure in the red robe holds a flaming torch, "marking the beginning of the movement," and the one in blue "holds the urn designed by the Society's Founder to signify its line of advance." Above them is a phoenix arising from the flames, and decorating the corners below are the coats of arms of both Sir Henry and Sir Charles. The latter succeeded to the presidency in 1884 (Woking Crematorium 3). The lilies in the border suggest purity. The window itself is not Victorian: it was designed by R. H. Corbould and erected by the Council in 1928. The chapel is a little more spacious than it looks, as it has a gallery at the other end — albeit a small one.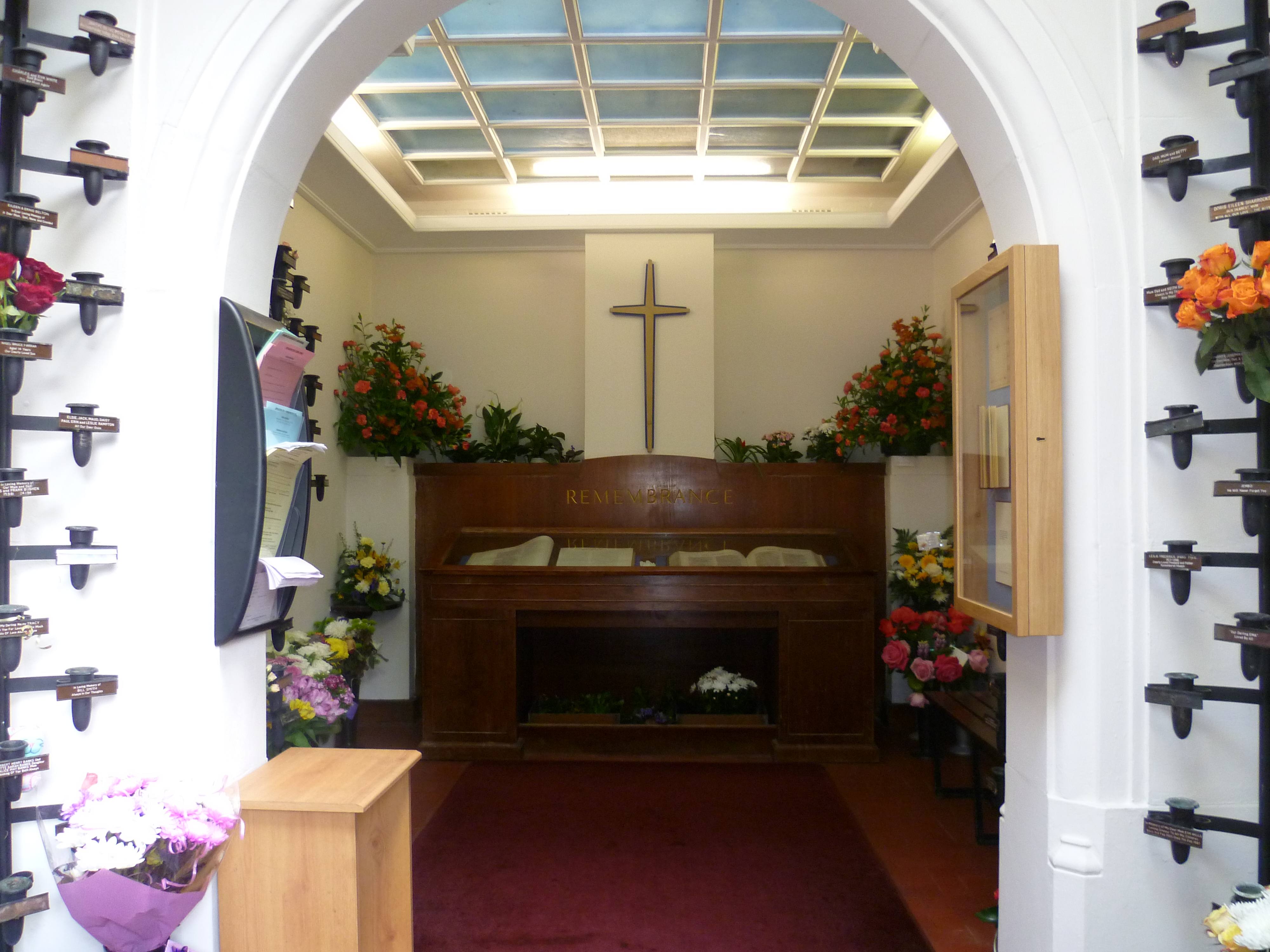 The Edwardian catafalque from 1903 "is considered to be one of the finest catafalques in the country" (Woking Crematorium, 9). Made of beautifully toned alabaster, it has brass embellishments and an intricately carved surround. For keeping the ashes after the cremation, there were temporary niches in the chapel itself (see Thompson 142). But in 1890 a columbarium was built, and this had space for 3000 urns. Again, it was the first such facility in the country (see Woking Crematorium, 9). The Shrine of Remembrance shown at the near left here is at the back of this building. Some of the memorial plaques in the chapel itself date back to the earliest days, but the idea of Books of Remembrance came later, and the one in here dates back "only" to 1940.
Crematorium Cemetery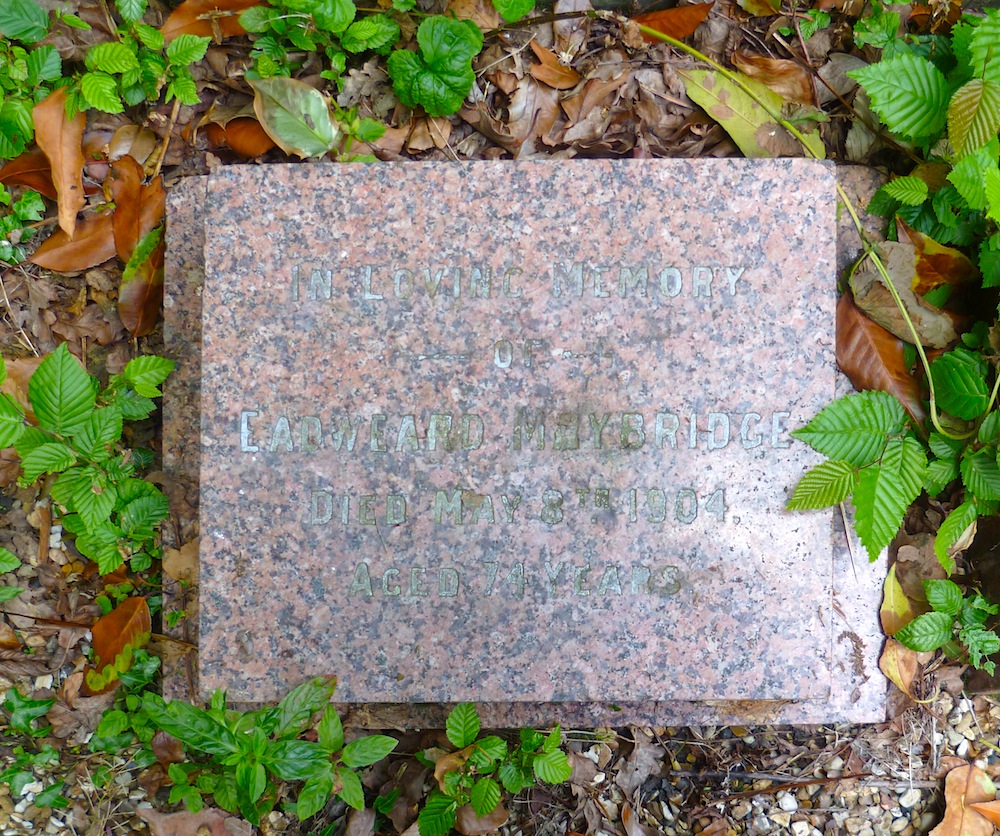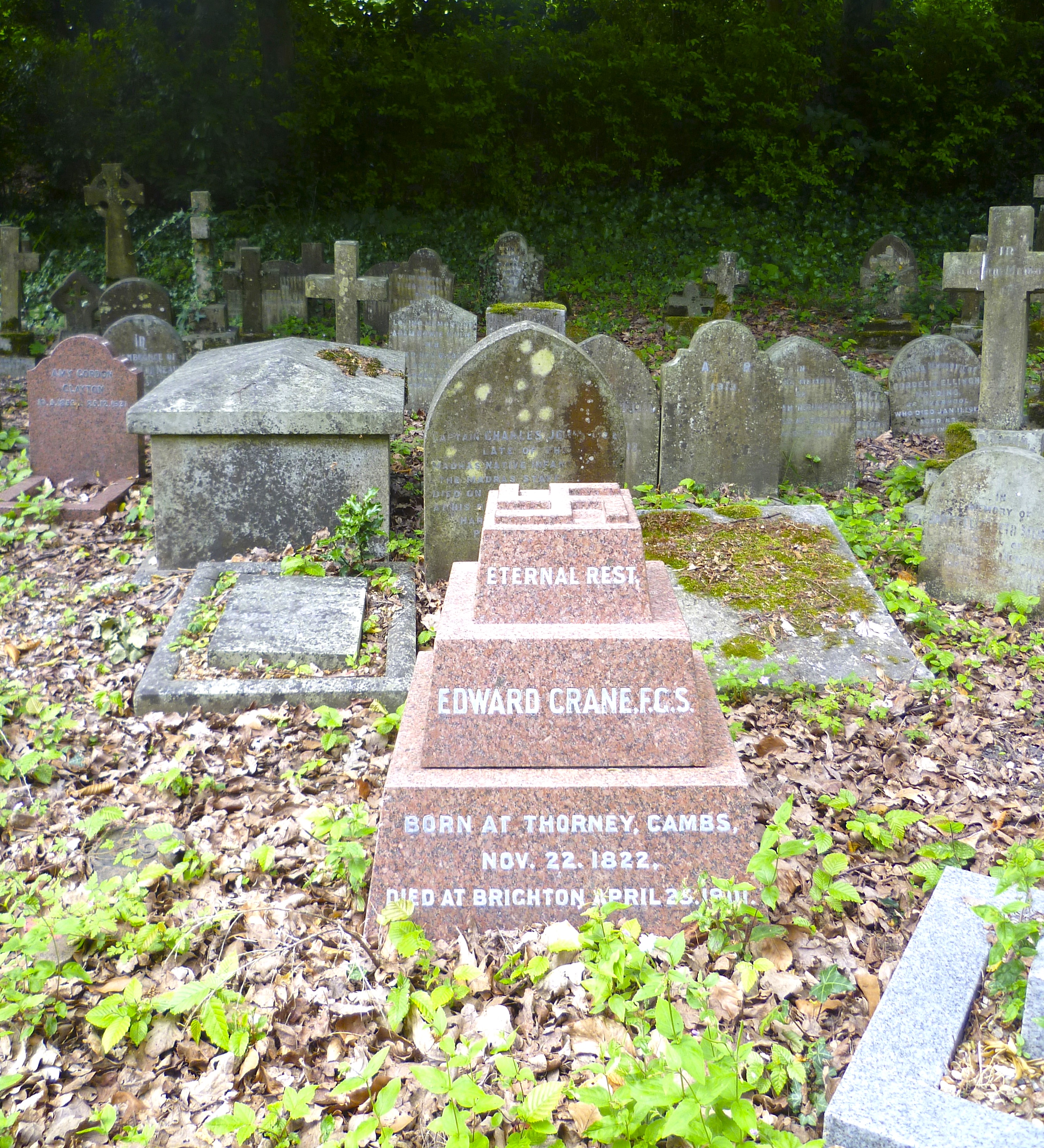 A general view of the cemetery followed by memorials for (left to right): Dr. George Hoggan (1837-1891); Eadweard Muybridge (1830-1904); and Edward Crane (1823-1891).
"For those who desire the ashes to be buried in the grounds of the crematorium," writes Thompson, "a special portion has been railed off and cultivated" (142-43). This little plot, set aside for the purpose in 1890, is now sadly overgrown, but contains memorials to some of the earliest and most interesting proponents of cremation, when the idea appealed mainly to radicals and free-thinkers (see Rutherford 57).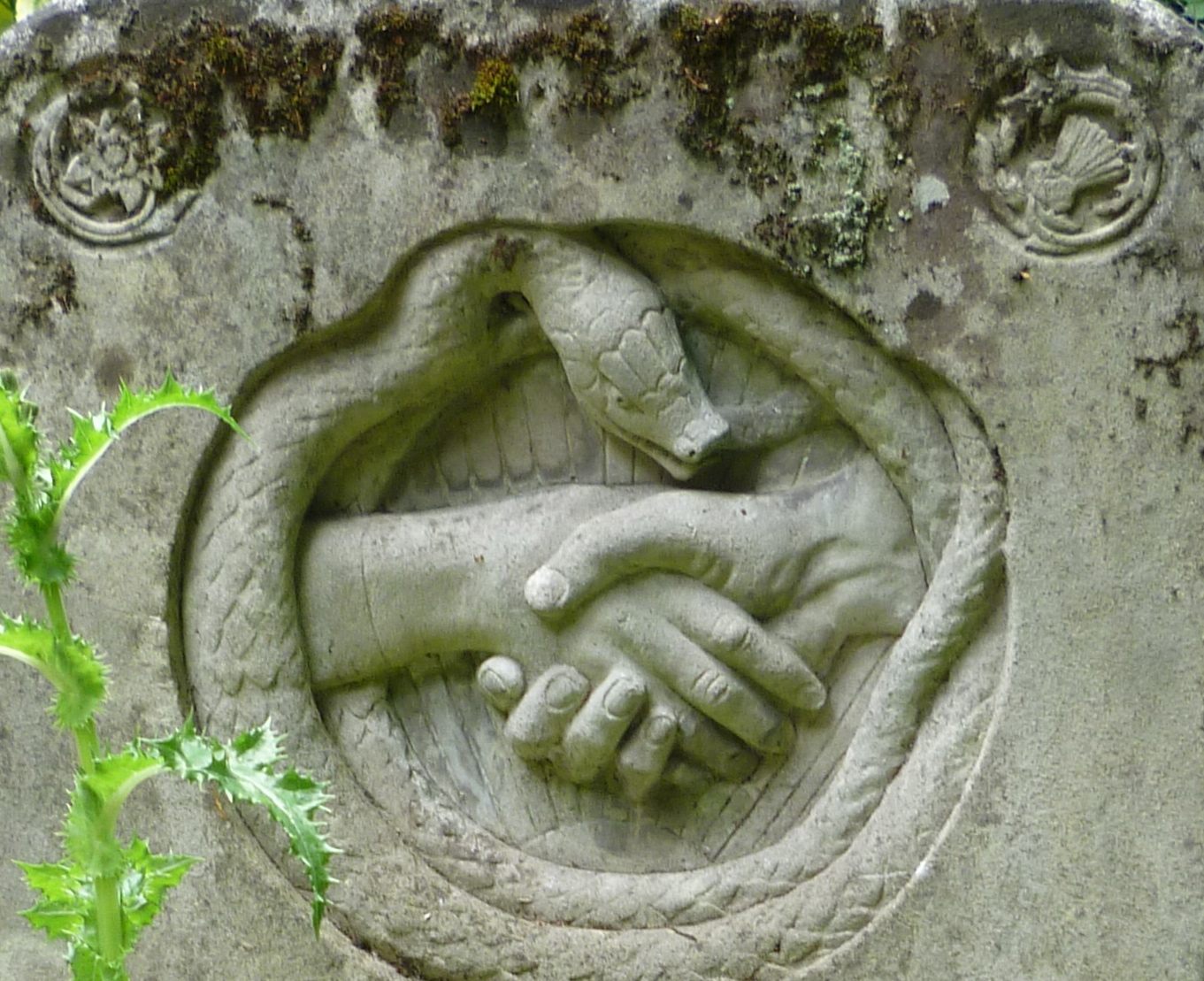 Dr. George Hoggan was the enlightened husband of Frances Elizabeth Hoggan, née Morgan, a pioneering woman physician: they practiced and also wrote papers together. He was also a committed anti-vivisectionist. The carving on his headstone is particularly striking. It shows a daffodil in one corner (because his wife was Welsh) and a thistle in the other (presumably he was Scottish) and in the middle is a serpent with its tail in its mouth, as a symbol of eternity and renewal, with clasped hands against a rising sun, suggesting comfort, reunion and resurrection.
More famous, but also notorious, was Eadweard Muybridge (it is hard to read the version of his name on the flat polished-granite stone shown above). He was the Kingston-upon-Thames book-seller who helped to pioneer moving pictures, and perhaps shot his wife's lover on returning from America. Edward Crane is also of interest, as a geologist who made important contributions to the Brighton Museum. His obituary states that he too was cremated here by his express instructions. Sadly, the spiritual symbol at the top of his little stepped monument has different connotations now. But it was, at the time, peculiarly appropriate for a scholar of the ancient past.
The Grounds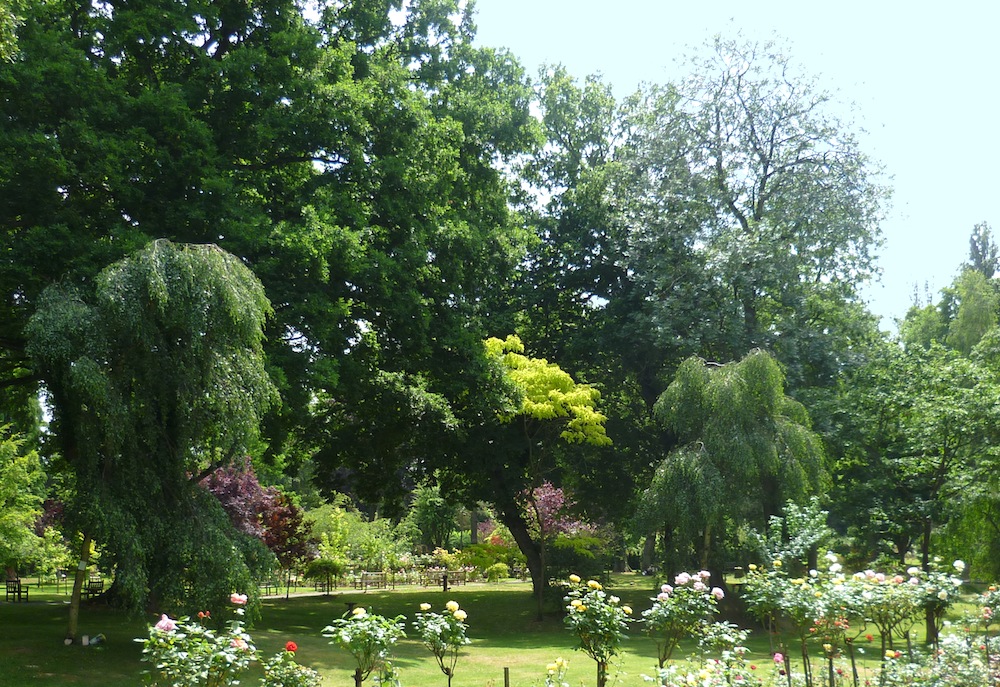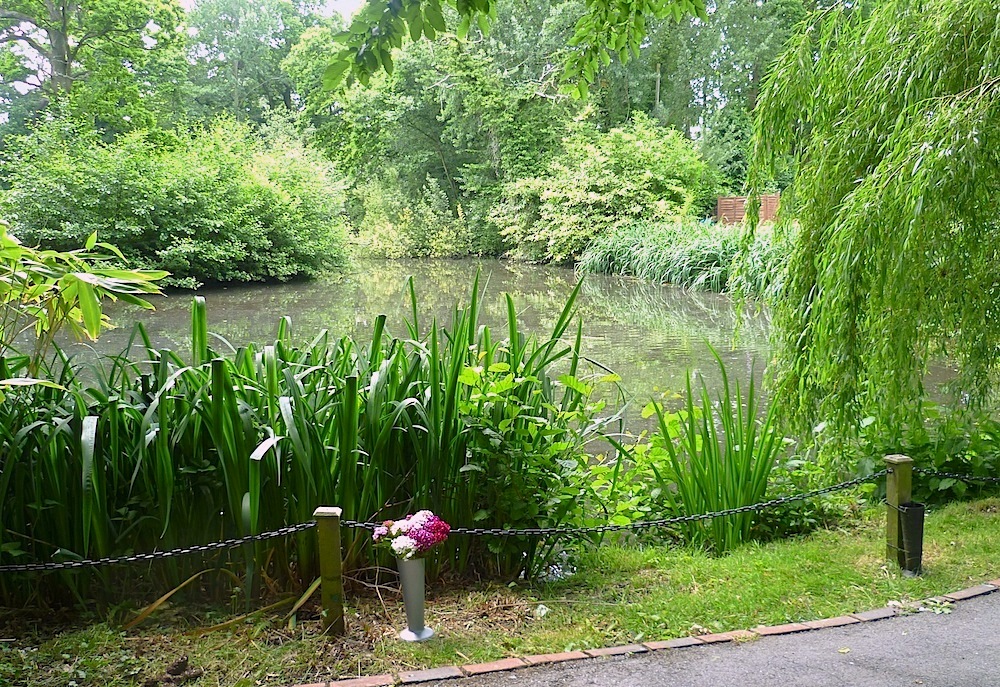 After the Cremation Act of 1902 fully recognised its legality and established regulations for it, cremation became slightly more popular. Woking Crematorium was soon followed by others, the next two being Manchester (1892) and Glasgow (1893-95), and by 1904 there were nine crematoria in Britain. Still, at this time, "of the 4,407 cremations carried out, 2653 of these were at Woking" (Woking Crematorium 6). In 1911, the Cremation Society was able to buy up more land, extending its grounds to ten acres. This is now a lovely piece of parkland with memorial cloisters, a more recent Shrine of Remembrance, a lake complete with a weeping willow, and gardens named after Chaucer, Shakespeare, Milton, Keats, Wordsworth and Tennyson.
Among the other well-known Victorians cremated here (though their ashes were not necessarily kept at the crematorium) were the Marquess of Queensbury (1844-1900); the Rev. Hugh Reginald Haweis (1838-1901) and his wife; Dr Barnardo (1845-1905); Sir Hubert Parry (1848-1918); and Thomas Hardy. In Hardy's case, his body (minus his heart, which was famously extracted and taken to Stinsford in Dorset) was placed in the crematory at St John's in 1928, but after that his ashes were sent to Westminster Abbey (see a recent commemorative wreath-laying ceremony there). Appropriately, Prince Arthur, the Duke of Connaught and Strathearn, Queen Victoria's last surviving son, was cremated here in 1942 (Pearson 103). As so often, the Victorians led the way. In 1967, cremation finally became more widely practised than burial; 70% of funerals now take place in crematoria (Woking Crematorium, 7).
Sources
19c. Newspapers (Gale: Cengage Learning). Web. 1 July 2013.
"Crematory and Columbarium of Woking Crematorium, Woking." British Listed Buildings. Web. 8 July 2013.
Curl, James Stevens. The Victorian Celebration of Death. Paperback ed. Stroud: Sutton, 2004. Print.
"Edward Francis Channing Clarke." Dictionary of Scottish Architects. Web. 8 July 2013.
Elston, M. A. "Hoggan [née Morgan], Frances Elizabeth (1842-1927)." Oxford Dictionary of National Biography. Online ed. Web. 8 July 2013.
FreeBMD. Web. 8 July 2013.
Gale News Vault (for Reynold's Magazine). Web. 8 July 2013.
Jalland, Pat. Death in the Victorian Family. Oxford: Oxford University Press, 1996. Print.
Mee, Arthur, ed. The King's England: Surrey: London's Southern Neighbour. London: Hodder and Stoughton, 1938. Print.
"Obituary of Edward Crane." Cambridge Journals. Web. 8 July 2013.
Parsons, Brian. "Cremation in England Part 2: Early Coffins and Transport.." ICCFA (Internationl Cemetery, Cremation and Funeral Association.). Web. 8 July 2013.
Paton, Alex. "Thompson, Sir Henry, first baronet (1820-1904)." Oxford Dictionary of National Biography. Online ed. Web. 8 July 2013.
Pearson, Lynn F. Discovering Famous Graves. Princes Risborough, Bucks.: Shire, 1998. Print.
Rutherford, Sarah. The Victorian Cemetery. Botley, Oxford: Shire, 2008. Print.
Thompson, Sir Henry Modern Cremation: Its History and Practice. London: Kegan Paul, Trench, Trübner, 1891. Internet Archive. Web. 8 July 2013.
The Times Digital Archive (Gale: Cengage Learning). Web. 8 July 2013.
White, Jerry. London in the Nineteenth Century: "A Human Awful Wonder of God." London: Cape, 2007. Print.
Woking Crematorium: A History of Woking Crematorium. Booklet published by the London Crematorium Company plc. Available at the crematorium.
"Woking Crematorium Chapel, Woking." British Listed Buildings. Web. 8 July 2013.
---
Last modified 8 July 2013