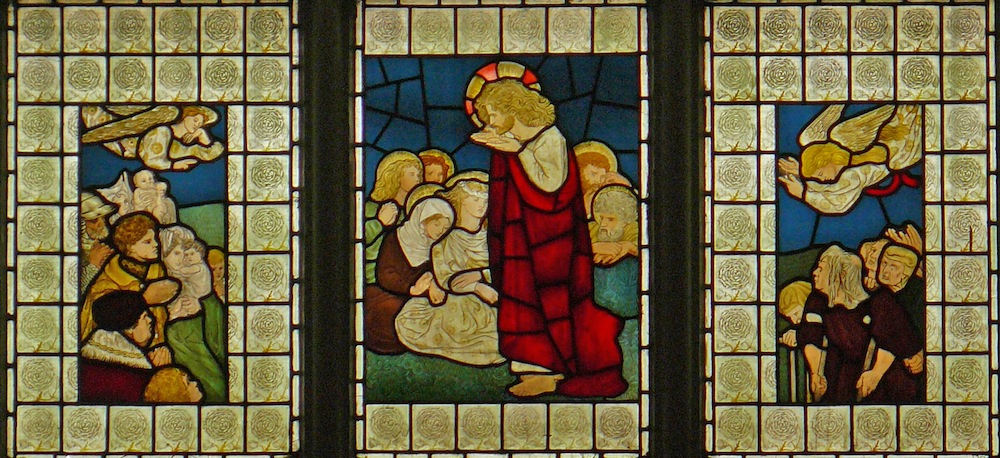 The Sermon on the Mount, by Dante Gabriel Rossetti, on the east side of the galleried interior of James Pennethorne's (former) Christ Church, Albany Street, London: this is now St George's Cathedral, an Antiochian Orthodox church.
Made by Morris & Co., the sequence dates from 1864 (see listing text), and was installed when the church was being altered and decorated by William Butterfield. The poet Christina Rossetti, the artist's sister, lived in the neighbourhood (from 1854 at 45 Upper Albany Street, and then in Euston Square and finally in Torrington Square) and used to worship here.
Photograph by Colin Price, reproduced here by kind permission of Father Samir Gholam. Text and formatting by Jacqueline Banerjee. [Click on the image to enlarge it, and follow the links below for more detail about the individual panels.]
Related Material
Sources
"Christ Church, Albany Street." Historic England. Web. 29 September 2016.
Duguid, Lindsay. "Rossetti, Christina Georgina (1830–1894), poet." Oxford Dictionary of National Biography. Online ed. Web. 29 September 2016.
---
Created 29 September 2016