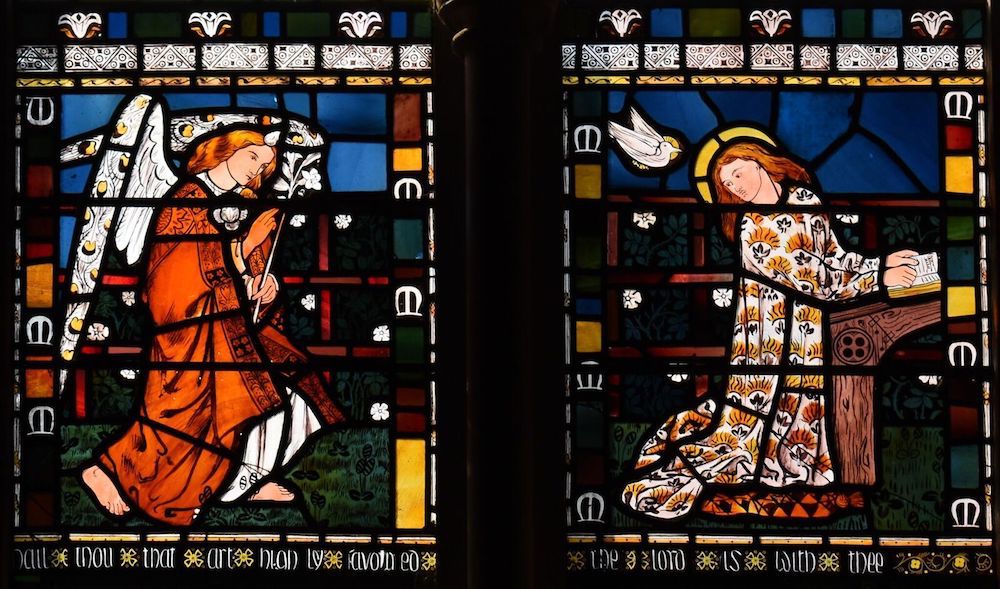 The Annunciation, in the south window of the chancel of G. F. Bodley's All Saints, Selsley, Gloucestershire, designed by William Morris in 1862 as part of a collaborative scheme of Morris & Co. stained glass windows here, with the partners starting with the Creation in the West rose window, and coming to the Annunciation in the chancel, most probably with the bird, at least, designed by Philip Webb, who is also credited with the "overall design" of the stained glass scheme (Jenkins 263). According to David O'Connor, the design for this window was based on Van Eyck's "great Ghent altarpiece, the Adoration of the Lamb. But it is so fresh and distinctive that any such influence has been thoroughly subsumed in the Morris & Co. production.
Photograph by Dr. Jim Cheshire, who retains the copyright. Dr. Cheshire has most generously shared his photographs of the church with us, and provided caption material. Commentary and formatting by Jacqueline Banerjee. [Click on the image to enlarge it.]
Related Material
Bibliography
"Church of All Saints." Historic England. Web. 25 June 2018.
Jenkins, Simon. England's Thousand Best Churches. Rev. ed. London: Allen Lane, 2004.
O'Connor, David. "Morris stained glass: 'an art of the Middle Ages.'" In William Morris and the Middle Ages: A Collection of Essays together with a Catalogue of works.... Ed. Joanna Banham and Jennifer Harris. Manchester: Manchester University Press, 1984. 31-46.
---
Created 25 June 2018