cholars are mostly silent on the topic of Dickens's relationship to Liverpool. When the city is mentioned, it is usually in passing. More than one source even mistakenly asserts that Dickens's first trip to Liverpool was in 1842 when he sailed for America, though he had actually stayed there in 1838 on his trip to Wales. Liverpool has not seemed to attract much critical attention. However, this international port held a significant place for Dickens, both as the point of embarkation for his trips to North America and as a center for travels in the northwest of England. When in Liverpool, the Adelphi Hotel served as the celebrated author's home base. In 1841 the population of Liverpool was around 286,000, with the whole county of Merseyside at 354,000 people (Belchem, Merseypride, 4). Liverpool was "the largest provincial town in England and was easily the country's second most important port city (after London). Population growth in Liverpool during the eighteenth century had been spectacular" (Belchem, Liverpool 800, 174-5). Even before the Irish Famine and European diaspora, immigration and in-migration rates were staggering, and the city certainly felt the effects of its rapid expansion. "In the early nineteenth century, Liverpool . . . [had] one of the highest rates of mortality in Britain." After the 1840s the city was labelled the "Black Spot on the Mersey" and the mean life expectancy "for labourers in Liverpool in the 1830s was just 15 years . . . ." On this simple measure at least, conditions of life in nineteenth-century Liverpool were "worse than in almost all other towns in England." Housing pressures revealed the inequities of the social structure, with only a 1.5 % vacancy rate in 1801: "infectious diseases . . .were heavily concentrated in the . . . central and dockside wards . . . associated with poverty and overcrowding" (Belchem, Merseypride, 173, 224, 209, 225).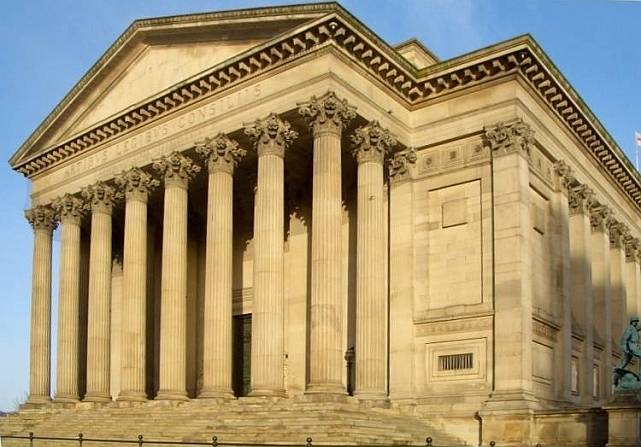 Left to right: (a) The Albert Docks by Jesse Hartley with Philip Hardwick, (b) The Portico of St. George's Hall by by Harvey Lonsdale Elmes and C. R. Cockerel, and (c) End View of St. George's Hall. [Click on thumbnails for larger images and additional information.]
Despite its significant problems, Liverpool was an exciting city that appealed to the energetic Dickens. Much of the world's trade came through Liverpool. In 1842 a new Southern hospital opened and work also had just begun on St George's Hall, a neoclassical style building which contains concert halls and law courts and which was built opposite Lime Street railway station in the centre of Liverpool (itself only recently opened in 1836). The massive Albert Dock project had just begun in 1841, and the Coburg Dock, used by the Britannia, was completed in 1840.
Some praised the city for its "great spirit of liberality and toleration" as well as the "flowering of . . . intellectual pursuits . . . with the establishment" of several organizations: "the Athenaeum (1799), Lyceum (1802), the Botanic Gardens (1802) and. . . the Liverpool Royal Institution (1814)" [Liverpool 800, 143]. As historian Graeme J. Milne notes,
Liverpool was one of a global network of major port cities . . . linked by trade and mobility, and perhaps having more in common with one another than with the industrial cities of their hinterlands. If nineteenth-century Liverpool seems odd compared with the average English provincial town, it fits well enough in the company of . . . [foreign ports], and the outlook of many of its people was moulded, for good and ill, by that sense of being citizens of the world. [257]
Dickens, too, set Liverpool apart. Walter Dexter asserts, "There was no town in England, outside London itself, that was more often visited by Dickens, and a favourite with him too, than Liverpool" (254). From the time of his first visit in 1838, he always stayed at the Adelphi Hotel, opened in 1826. Dolby in Charles Dickens As I Knew Him explains that after a reading in Manchester, Dickens chose to take the train back "the same night to Liverpool," in order to eat and sleep at his favorite hotel, the Adelphi — "kept by . . . James Radley . . . , the man who by geniality and good management obtained for the hotel a [steady] popularity." Dolby remarks that "it is not to be wondered at that Mr. Dickens should prefer to return to this his favourite hotel, and, except London, his favourite city . . . rather than spend the night in the gloomy atmosphere of Manchester" (256).
Dickens had earlier noted Birmingham and Manchester's "miles of cinder-paths and blazing furnaces and roaring steam engines, . . . such a mass of dirt and gloom and misery as I never before witnessed" (MacKenzie 75). Naturally, when the Dickens party arrived in Liverpool the evening of January 2nd, 1842, they stayed at the Adelphi. The morning following their arrival in the city, they stowed their baggage on the Britannia at Coburg Dock. To get to the ship, they would have had to pass through several crowded streets, but we hear nothing about that in American Notes or the letters. That evening, the Dickenses, along with a party of friends and family, enjoyed a feast at the hotel, and the next morning they returned to the ship, which was now anchored "in the stream," that is, the Mersey River. Catherine stayed on board, but Dickens returned yet again to the Adelphi for "a farewell celebration" (Letters, 9). All passengers were supposed to be on board by one o'clock, but Dickens delayed at the Adelphi until two and arrived, with his friends, on the last mail boat running to the Britannia.
Reference
Belchem, John, ed. Liverpool 800: Culture, Character, and History. Liverpool: Liverpool U.P., 2006.
Belchem, John. Merseypride: Essays in Liverpool Exceptionalism. Liverpool: Liverpool U.P., 2006.
Dexter, Walter. The England of Dickens . London: Cecil Palmer, 1925.
Dolby, George. Charles Dickens As I Knew Him: The Story of the Reading Tours in Great Britain and America (1866-1870). London: T. Fisher Unwin, 1885.
Dickens, Charles. The Letters of Charles Dickens. The Pilgrim Edition. Ed Graham Storey, Kathleen Tillotson, and Nina Burgis. Volume Three: 1842-43. Clarendon Press: 1974.
MacKenzie, R. Shelton. Life of Charles Dickens. Philadelphia: T. B. Peterson & Brothers, 1870.
Milne, Graeme J. "Maritime Liverpool" in Liverpool 800: Culture, Character, and History, ed. John Belchem. Liverpool: Liverpool U.P., 2006.
---
Last modified 30 April 2011