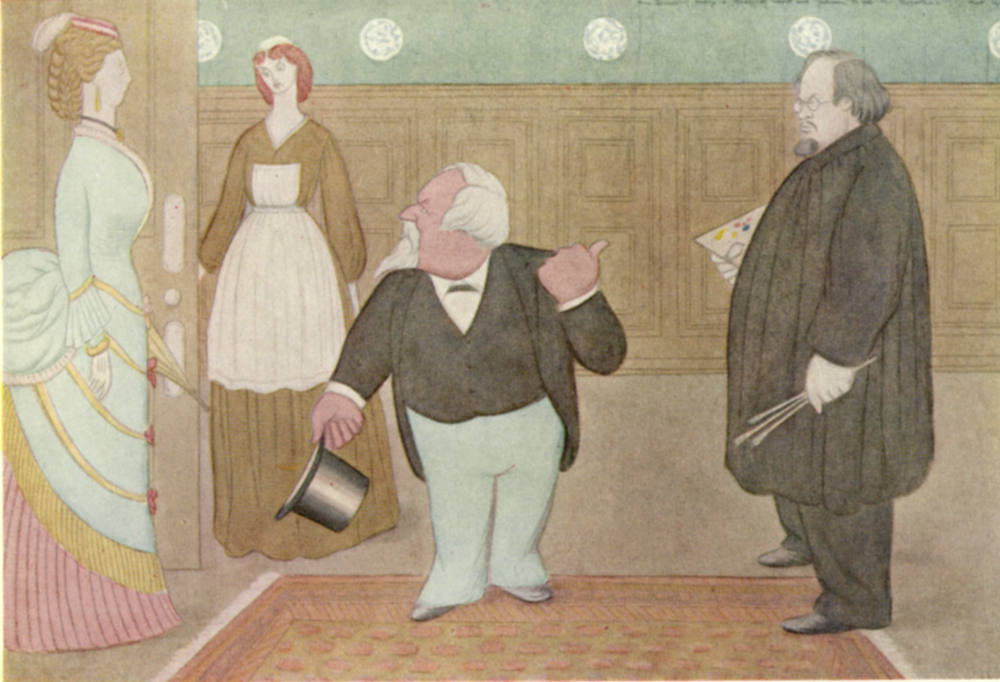 Mr. Browning brings a lady of rank and fashion to see Mr. Rossetti.. Plate 15 from Max Beerbohm, Rossetti and His Circle. 1922. Click on image to enlarge it [Disponible en español]
This image, which apparently mocks Browning's social-climbing or snobbery in later life when he returned to England after the death of his wife, represents a meeting that would not have taken place, since the two had a falling out years before. Early in Rossetti's career, however, he worshipped Browning and went so far as to copy out the entirety of "Pauline."
When the PRB took form in the years before 1850, Browning was a poet's poet unknown to the general public and far from the cult status he attained after the publication of The Ring in the Book in 1868-69. Many of the most important of Rossetti's early poems, including "Jenny," "A Last Confession," and "The Blessed Damozel," show the major influence of Browning's dramatic monologues [GPL].
Bibliography
Beerbohm, Max. Rossetti and His Circle. London: William Heinemann, 1922.
---
Last modified 19 May 2021