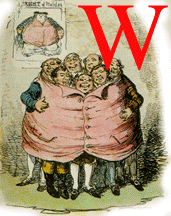 e this week have much gratification in introducing to our readers of Erin. His right to a niche in our gallery cannot be questioned; his poetry has been more extensively read than that of any living author. Those who have not sought it otherwise have become familiar with it through the medium of the charming music to which it is wedded; and it would be difficult to find an educated individual in Great Britain unable to repeat some of his verses. No writer, living or dead, has enjoyed a popularity more universal. "The Melodies," the fadeless laurels of his fame, have been translated into Irish, Latin, Italian, French, Russian, and Polish.
Mr. Moore is the son of a respectable citizen of Dublin, where the poet was born on the 28th May, 1780. His infantine days seem to have left the most agreeable impressions on his memory; his home was essentially a home of love; his tastes and his friendships, formed almost in boyhood, have tinged his principles and feelings throughout life; and from the earliest there seems to have been a prophetic anticipation, by all who knew him, of his subsequent celebrity. At the age of fourteen he entered the university. While resident there he was distinguished by the most devoted attachment to fatherland, his classical attainments, and the sociability of his disposition.
Towards the close of 1799 he was enrolled a member of the Middle Temple, in London; and the year following he published "The Odes of Anacreon," and at once "became famous." Assuming the name of "Little," our author published, in 1801, a volume of poems, chiefly amatory. In the autumn of 1803 he embarked for Bermuda, where he had obtained the appointment of Registrar to the Admiralty. This was a patent place, the duties of which were of a nature so unsuited to his temper of mind, that he found it necessary to fulfil them by means of a deputy, by whose subsequent misconduct he suffered severe pecuniary loss, from which he relieved himself by that most brilliant production of his pen, "Lalla Rookh." In 1804 he resigned his appointment; and two years after he published his remarks on the manners and society of America in his "Odes and Epistles."

The fate of Addison with his countess dowager holding out no encouragement for the ambitious love of Mr. Moore, he wisely and happily allowed his good taste to regulate his choice in a wife, and married Miss Dyke, a lady of great personal beauty, most amiable disposition, and accomplished manners; with whom and his children he enjoys a life of enviable happiness.
Mr. Moore found the music of his country comparatively lost to the world, and time was rapidly diminishing that which memory alone preserved; the attempt to combine it with appropriate words was commenced in 1807. Its success is almost without parallel in the history of literature — the music of Ireland is now known and appreciated all over the civilized world.
In reviewing "Lalla Rookh," one of our ablest critics has said that the poetry is, as it were, "a thornless rose; its touch is velvet, its hue vermillion, and its graceful form is cast in beauty's mould." . . . . By the general consent of his ablest critics our author's place has been assigned among the first masters of the art; and though living in an age unusually prolific of poetry, he has manfully outstripped all his competitors in the race of popularity — rather a sure proof of extraordinary merit. However great the fame he may have acquired as the author of "Lalla Rookh," [1817] it is probable that as the author of "The Irish Melodies" he will descend to posterity unrivalled and alone. Lord Byron prophetically observes "that they will be perpetuated with the music, and both will last as long as music and poetry." Mr. Moore's own opinion is, "that it is the only work of his pen whose fame may boast a chance of prolonging its existence to a day much beyond our own."
The satirical verse of Moore is, in wit, learning, and in indescribable careless beauty, absolutely unrivalled. He doth but satirize in jest, his arrows fly in every direction beautifully feathered and. unerringly directed, but they have neither barb nor venom.
With regard to our author personally, Sir Walter Scott in his diary observes that "there is a manly frankness with perfect ease and good-breeding about him which is delightful. He is a little, a very little man; his countenance is plain, but the expression so very animated, especially in speaking or singing, that it is far more interesting than the finest features could have rendered it." Lord Byron says that "Moore has a peculiarity of talents — poetry, music, voice — all his own, and that there is nothing he may not do will but seriously set about it. In society he is gentlemanly, gentle, and altogether more pleasing than any individual with was acquainted." The kindness of his heart, the goodness of nature, and the benevolence of his disposition are appreciated by all who have the privilege of his acquaintance.
Mr. Moore resides at Sloperton-cottage, Devizes, in Wiltshire, in the vicinity of his friend Lord Lansdowne, where ha has preferred retirement to celebrity, except that which the Muses have so lavishly bestowed upon him, and resists all attempts to lure him into the arena of public life. As a scholar his learning is not only extensive but sound, and he is pre-eminent for those qualities which attract and charm in society. An engraving of Sloperton-cottage has appeared in our journal, No. 51.
Reference
"Thomas Moore." The Illustrated London News 27 May 1843 (Vol. 2), 372.
---
Last modified 5 October 2006