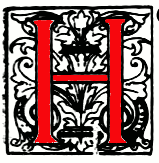 enry Morley was a dynamic lecturer and prolific writer who reached out to multitudes of people. He is not widely known today, but "Professor More-and-Morley," as he was aptly if comically nicknamed in Punch, had a huge impact on the educational opportunities of his time.
Morley's own educational background was mixed. He spent the two happiest years of his childhood at the Moravian School on the Rhine (which George Meredith was later to attend). In a sonnet entitled "A Christmas Wish" he wrote appreciatively that the Moravian Brothers' "touch of love/ Gave life to love" (Solly 33). They certainly nurtured their pupils' imagination. Perhaps this was why Morley found the literature lectures at King's College London boring after he had returned to England and completed his schooling in Stockwell. Having enrolled in the department of general literature at the college at the age of 16, he missed lectures "day after day for no other reason than that they were dry" (qtd. in Solly 36), and moved on after two years to take up medical studies, also at King's. He matriculated at the University of London in 1839, and became a "free member" of the Society of Apothecaries in 1843 without having taken his degree (39).
Henry Morley. Click on thumbnail for larger image.
Although he did go into medical practice, he felt later that this was the lot chosen for him, rather than by him (his father was a doctor too). He was, in fact, a born writer and educator. He had already written pieces entitled "The Comparative Excellence of Ancient and Modern Literature," and "Spectral Impressions" for the King's College Literary and Scientific Society, and verse for the King's College Magazine, a short-lived enterprise which he started himself. After paying off debts incurred by a feckless medical partner, he told his future wife that he would now take "the road which I am by nature best fitted to walk on" (qtd in Solly 96): he would open a school. This was to be run on similar lines to the Moravian Brothers', where both teaching and learning would be a pleasure, and help to develop the whole being — truly revolutionary ideas in the Britain of that time.
Although Morley had the highest respect for the schoolmaster's calling, and the school which he established in Liscard, Cheshire, was successful, writing also beckoned. A friend of the Gaskells and Dickens, in 1851 he accepted Dickens's invitation to come to London and join the staff of Household Words, and soon established himself as a journalist and biographer of note. Then, from 1857, he began lecturing in the King's evening department, that pioneering venture which, not surprisingly, soon got a "glowing" write-up inHousehold Words (Hearnshaw 256). His lectures, described by one of his listeners as "always chatty and always profound ... a constant delight" (qtd. in Solly 231) ranged widely and bore witness to a remarkable memory. The future Solicitor-General, Sir Edward G. Clarke, would one day pay tribute to "the inspiration of the teaching and example of Henry Morley," and besides, to his geniality, kindness and happy domestic circumstances (qtd. in Hearnshaw 257). With his busy double role of writing and lecturing, Morley had, indeed, found his true path in life.
Morley claimed that he had a natural inclination to laziness. If he was right, he fought it off very successfully. Moving on from his evening classes to a professorship in English Literature at University College, which he held from 1865-1889, and taking up also a professorship at Queen's College from 1878 until his retirement, he became ever more prolific, both as a writer and as a lecturer. A set of cheap editions issued as "Morley's Universal Library" was followed by the 214 still cheaper editions that made up "Cassell's National Library," all with introductions by Morley himself. On top of these, his preliminary outline for a projected fourteen-volume history of English literature (of which he completed ten before his death) was a bestseller. Meanwhile, students flocked to his lectures, of which he gave not hundreds but thousands, and all round the country. "There was a time when he was giving twenty-two lectures a week at University College alone," writes his biographer (Solly 258). To say that he was "one of the most prolific lecturers ever known in British academic life" is no exaggeration (Harte 9).
As a key figure both in the admission of women to the university, and the university extension programme, this great populariser evidently took to heart the Moravian philosophy of education as a spiritual responsibility, and was a boon to the University of London in the first century of its existence — and beyond. One of the students inspired by his lectures in the late eighties was Rabindranath Tagore, who spent a year at University College at that time, and adapted some of Morley's ideals when he established his own pioneering educational institution, now the Visva Bharati University in West Bengal.
The best place to meet Morley now is online: his biography has been digitalised (see "Sources" below); his work for Household Words is increasingly well represented, on the Victorian Web and elsewhere (see Note); and his lively introductions, for example to A Bundle of Ballads and Sir Philip Sydney's Defence of Poesie (both on Project Gutenberg) are getting a new lease of life in the IT age. He would surely have approved.
Related Web Resources
References
Harte, N. B. The Admission of Women to University College London: A Centenary Lecture. London: University College London, 1979.
Hearnshaw, F. J. C. The Centenary History of King's College, London, 1828-1928. London: Harrap, 1929.
Hunter, Fred. "Morley, Henry (1822-1894)." Oxford Dictionary of National Biography. Online ed. Viewed 23 February 2007.
Solly, Reverend Henry Shaen. The Life of Henry Morley, LL.D. London: Edwin Arnold, 1898. Now available online: Internet Archive. The Life of Henry Morley.
---

Last modified 30 February 2007